JEFFERSON CITY — Despite losing out on a $10 million federal grant this week, St. Charles officials are still moving forward with plans to develop two dozen acres adjoining Bangert Island, a muddy slice of land rising from the Missouri River.
The U.S. Department of Transportation on Tuesday announced 55 recipients of the agency's latest round of Better Utilizing Investments to Leverage Development grants. The Bangert Island project was not on the list, though city officials plan to reapply. This is the second straight year city officials failed to win a BUILD grant.
St. Charles Mayor Dan Borgmeyer remained optimistic about the project, saying a strong economy has led to increased business interest. The city has rebranded the development "Riverpointe" to combat a misconception among some that the city would build on Bangert Island itself, he said.
The mayor said investor interest is high.
"It used to be they came to us and said, 'What will you give us?'" Borgmeyer said. "And now they're saying, 'Can we still get in the deal?' There is a very heightened sense of action going on here."
The first phase of Riverpointe calls for a 22-acre mixed-use development between the island and the Streets of St. Charles development, just south of the Blanchette Bridge. A "water-quality basin" between the island and the mainland is also planned.
Phases two and three call for development of about 100 more acres of land that surrounds the island.
The city had considered selling its phase one land to a developer, but officials were concerned an outside party's timeline would delay construction, Borgmeyer said.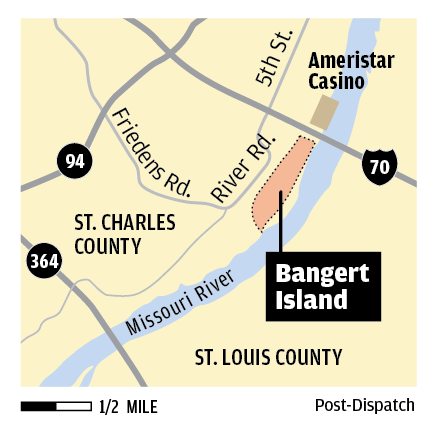 "We believe that we already have enough interest," Borgmeyer said. "We have people right now that want to turn dirt, so to speak, Jan. 1, and we told them we can't meet that deadline."
Brad Temme, director of engineering for the city, said that with the absence of the BUILD grant, the city "has to identify funding for infrastructure" — things like sewers, water lines, roads and streetlights.
He said St. Charles plans to seek county road board funds and state cost-share funds. Private investment may also play a role, Temme said.
The city may have to pitch in if all outside funding avenues are exhausted, he said.
"I think things are still moving," he said. But, Temme added that the loss of the federal grant "will definitely hinder the timeline for moving forward on it."
He expected the city will have at least a portion of the site work on phase one done by July 2020.
St. Charles has secured $1 million from the Army Corps of Engineers to develop plans to dig out the muddy channel between mainland St. Charles and Bangert Island, city officials said.
Temme said the money will go toward "riverbank improvement" between the island and the mainland.
Borgmeyer said Bangert Island, which is now a county park, will remain preserved.
"Our project in St. Charles has absolutely nothing to do with Bangert Island," he said, adding that deed restrictions forbid motorized transit on the island.
"When you leave (the island) it's like you're wearing a mosquito suit," Borgmeyer said. "It's flooded most of the time, and in my opinion it's a very hostile environment on the island. And the majority of the time, or a great deal of the time, it's flooded."