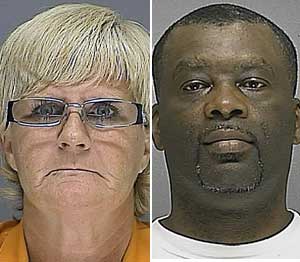 DAYTONA BEACH, Fla. - The Florida woman recently accused of trying to sell her infant grandson for $75,000 is apparently the same woman who hit a $1 million Missouri lottery jackpot two years ago with lucky numbers picked at a Hazelwood gas station.
Patty Bigbee, 45, and her boyfriend Lawrence Works, 42, were arrested last Friday in Daytona Beach and charged with illegal sale or surrender of a child, the Florida Department of Law Enforcement said. Bigbee was also charged with communication fraud.
But in June 2008, Bigbee was being celebrated for winning a $1 million Powerball jackpot.  She is quoted on the Missouri Lottery's website as saying she planned "to use her winnings to buy a house, a car, share with her friends and family and treat her cat, Black, 'like royalty.'"
Florida officials told the Orlando Sentinel that Bigbee apparently squandered her winnings -- perhaps precipitating the baby-selling allegation.
Authorities intervened before the baby was sold. The child, who is now 11 weeks old, is in the custody of the state Department of Children and Families.
Despite her lottery winnings, Bigbee does not appear to have been in Missouri long. Public records show she lived at addresses in Hazelwood for a couple years. Before that, she was in prison in Michigan, serving eight years for armed robbery. She was released in 2007. 
In 1992, she was imprisoned in Ohio for passing bad checks.
In a new development in the case today, Bigbee's daughter and the child's biological mother, Stephanie Bigbee Fleming, 22, of Bradenton, Fla., was charged with being a principal to illegal sale or surrender of a child, according to the Florida Department of Law enforcement.
Fleming allegedly knew about her mother's attempt to sell her then 8-week-old son and wanted some of the money to pay for a new car, authorities say.
She was being held at the Manatee County Jail on $50,000 bond.
Fleming and Bigbee had agreed on a price for the infant, according to authorities. They discussed how to split the proceeds, with Fleming to take $9,000 of the sale to buy a car, authorities said.
Acting on a tip, FLDE agents said they arrested Bigbee last week after she attempted to sell the child to a couple for $75,000. They said the price was negotiated down to $30,000. Bigbee was charged with illegal sale or surrender of a child and communication fraud. A phone number listed for her was not in service.
Works was involved in the sale, even transferring the child's belongings to the car he thought belonged to the woman buying the child, said FDLE spokeswoman Susie Murphy.
The informant was Bigbee's biological daughter, whom she had given up for adoption 26 years ago, Murphy said. An affidavit said Bigbee and Danielle Skiver, 27, had found each other on Facebook in July and were communicating.