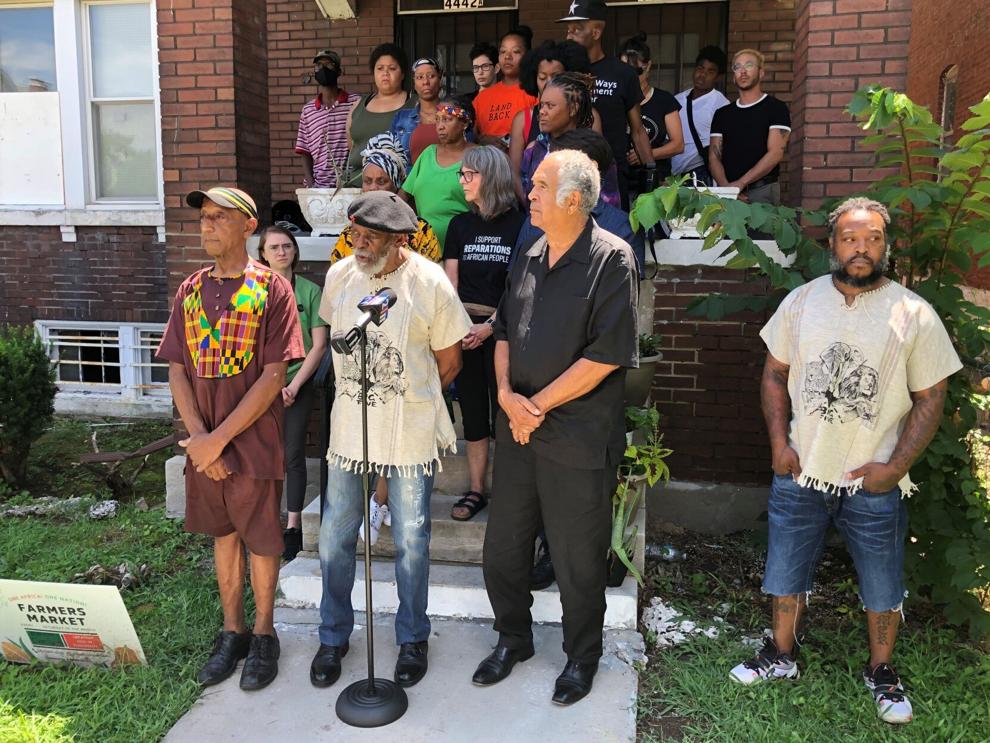 ST. LOUIS — As chairman of the African People's Socialist Party, Omali Yeshitela wears a black beret with a red star on it. He calls people "comrade." He said he's traveled to the likes of Nicaragua and Russia for years to speak about the ongoing implications of colonialism on Black people.
Yeshitela, 80, whose roots are in St. Petersburg, Florida, said he eventually set up shop here in north St. Louis in 2017 because the protest movement following the police shooting of Michael Brown inspired him. Home base is a 9,000-square-foot Uhuru House, an event space named after the word "freedom" in Swahili and an international movement Yeshitela founded in 1991.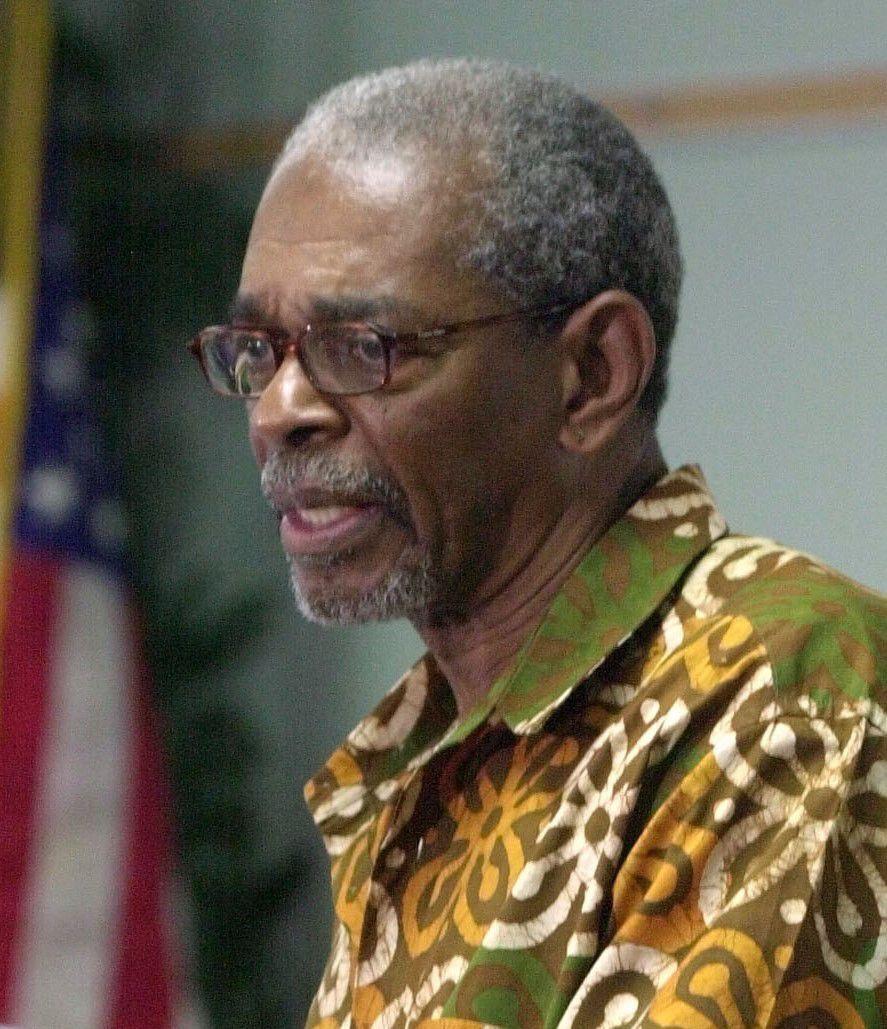 Yeshitela, and affiliated organizations, have since torn down a handful of derelict properties in north city with intentions to rebuild, opened a community garden, and fielded two candidates for Board of Aldermen who unsuccessfully ran with reparations at the top of their platforms.
Somewhere along the line, the feds apparently saw too many red flags. On Friday morning, agents stormed Yeshitela's home in the 4400 block of Red Bud Avenue. Affiliated properties in the 4600 block of Gravois Avenue and in Florida were also raided as part of an ongoing investigation into a Russian influence campaign.
Yeshitela said agents showed up around 5 a.m. with at least one armored vehicle. He said they tossed flash grenades and broke windows.
"They actually sent a drone into the house. They forced us out of the house at gunpoint," Yeshitela said at a 12:30 p.m. press conference on his front steps on Red Bud. He was flanked by more than a dozen supporters who viewed the raid as a threat against organizing in the Black community.
Yeshitela said he and his wife, Ona Zené Yeshitela, were detained at the property and eventually released. He said he never saw a search warrant. Federal agents left them with a document that said they took the following items from the home: two iPhones, Apple watch, iPad, flash drives, hard drives, laptops, yellow notepads and assorted "legal and financial documents."
It's unclear what was taken from the Gravois address, but a man who was there said he was also detained at gunpoint before being released.
In an email, Joshua Morrill, acting assistant special agent in charge of the FBI in St. Louis, described the Missouri raids as "court-authorized law enforcement activity" involved with an ongoing investigation that on Friday included unsealing the indictment of a Russian national.
Aleksandr Viktorovich Ionov, founder and president of the Anti-Globalization Movement of Russia, was charged with one count of conspiracy to defraud the United States. According to the indictment, he, along with officers in Russia's internal security and counter intelligence service, allegedly used "members of U.S. political groups as foreign agents of Russia within the United States, without notification to the Attorney General."
Ionov allegedly recruited members of the various groups within the United States and other countries, including Ukraine, to attend Russian conferences that encouraged them to "advocate for separating from their home countries."
Partnerships were allegedly formed that provided financial support to the groups that would "publish pro-Russian propaganda, as well as other information designed to cause dissension in the United States and to promote secessionist ideologies."
In one instance, on Aug. 13, 2015, Ionov allegedly urged somebody who lived in St. Petersburg, Florida, and St. Louis, Missouri, to write a petition "ASAP" to the United Nations alleging the United States had committed genocide against African people in the U.S., and to send the petition to the UN office in New York, as well as websites for the White House and change.org.
An attorney for Ionov couldn't be reached by the Post-Dispatch on Friday.
The indictment says the U.S. groups in question are based in Florida, Georgia and California. None of the groups, nor their leaders, were formally named.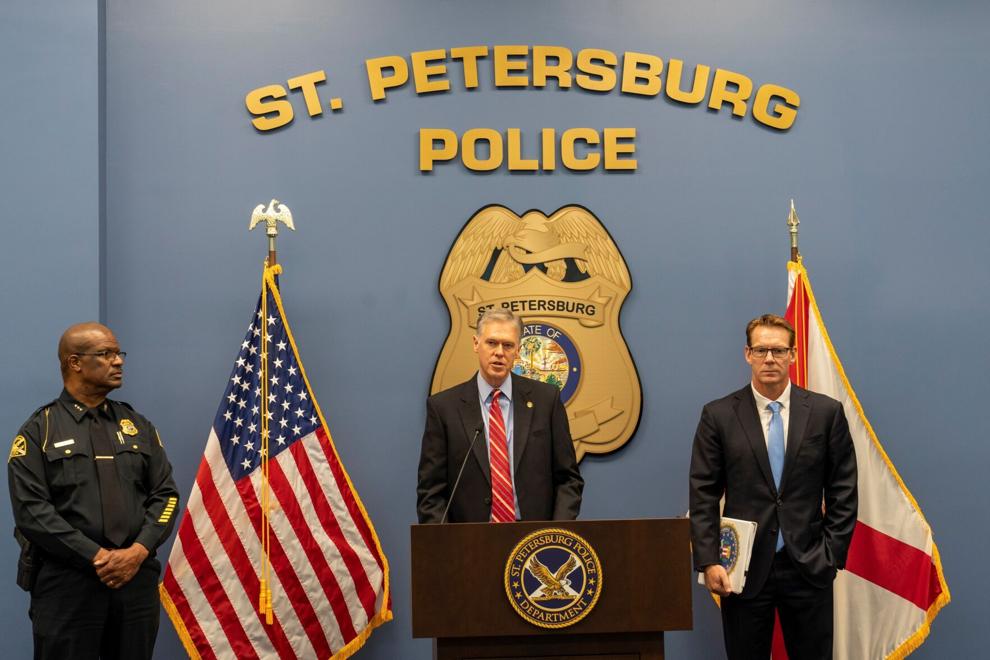 Yeshitela said he was one of them. He hasn't been charged with a crime. He said he hosted his own press conference Friday to counter the federal narrative.
He said he knew Ionov and had gone on two paid trips to Russia. He said he attended an anti-globalization conference there, but that he's been battling colonialism for 50 years.
"The U.S. government is attempting to use us, the African People's Socialist Party and the Uhuru Movement, as pawns in this struggle that they are engaged in, trying to deal with the clear political and economic change that is happening in the configuration of power in the world," Yeshitela said. "And they see themselves as contending with Russia. Russia is a bone in their throat."
He said his association with Ionov wasn't enough to justify raiding his home. He said they take donations from a wide array of contributors.
"Don't tell us we can't have friends that you don't like," he said.
He said he thinks there were several reasons for the federal action.
"One is because of our effectiveness struggling for Black people and Black power in this country and around the world, especially in St. Louis," he said.
In an in-depth Post-Dispatch report in 2020 about Yeshitela and his affiliates in St. Louis, they said they weren't waiting for a top-down reparations windfall from the government. Instead, they were using private donations to fund development, mainly in the form of direct donations from white people who were fed up with the city being divided. They said they were using the money and other resources to empower the Black community to become economically and politically self-reliant.
"Black is back" was the refrain shouted at events and printed in their own broadsheet newspaper. The mantra of their political party was: "Lead the struggle of the African working class and oppressed masses against U.S. capitalist-colonialist domination and all the manifestations of oppression and exploitation that result from this relationship."
A recent Post-Dispatch request for an update on their various projects in the region wasn't provided. Yeshitela said they were delayed by COVID and other factors.