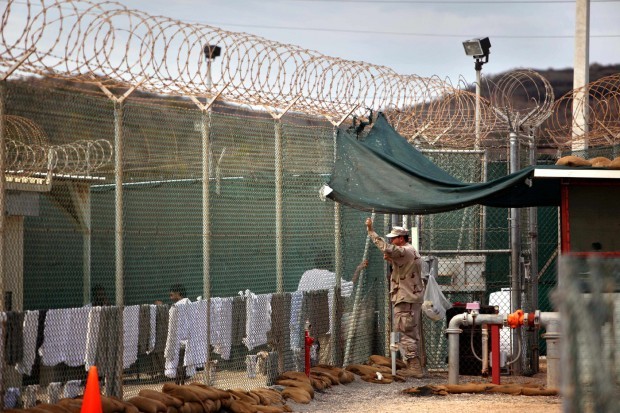 WASHINGTON • The White House is resuming military trials for terrorism detainees at the U.S. Naval Base on Guantanamo Bay, Cuba, a clear sign that the administration of President Barack Obama feels it cannot fulfill a key campaign promise to close the island prison.
Obama also announced that he was setting new review guidelines for prisoners there that he said would "broaden our ability to bring terrorists to justice, provide oversight for our actions, and ensure the humane treatment of detainees" — all more signals that the White House does not foresee the facility's being shuttered any time soon.
But he left open the possibility of federal trials in this country for some of the detainees.
"I strongly believe that the American system of justice is a key part of our arsenal in the war against al-Qaida and its affiliates," Obama said. "And we will continue to draw on all aspects of our justice system including Article III (federal civilian courts) to ensure that our security and our values are strengthened."
Administration sources said the executive order would provide Guantanamo detainees with more periodic reviews and other provisions to evaluate their cases, determine how resolved they remain in fighting the United States, and help to safeguard their rights while in military custody.
They also indicated that more detainees would probably be taken to Guantanamo Bay, and that others already there would soon be prosecuted. As one senior administration official said, "We can expect to see a new round of charges come out real soon, possibly in days or weeks."
At the start of his presidency in January 2009, following up on one of his top campaign pledges, Obama placed a ban on the filing of any new military tribunal charges against Guantanamo Bay prisoners, a move roundly embraced by his liberal base. The administration finds itself hamstrung by congressional prohibitions, led by Republicans, that prevent the White House from mothballing the prison and bar the allocation of government funds to transfer prisoners for trials in federal courts in this country.
Legal groups usually supportive of the president were highly critical Monday.
"With the stroke of a pen, President Obama extinguished any lingering hope that his administration would return the United States to the rule of law by referring detainee cases from Guantanamo Bay to federal courts rather than the widely discredited military commissions," said Tom Parker of Amnesty International.
Anthony D. Romero, the ACLU's executive director, said the best way to get the U.S. out of the "Guantanamo morass" was to close it altogether and move any remaining prisoners to federal courts.
"Providing more process to Guantanamo detainees is just window dressing for the reality that today's executive order institutionalized indefinite detention, which is unlawful, unwise and un-American," he said.
"Do I think it's going to close any time soon? No," said Mason Clutter, policy counsel for the Constitution Project, a bipartisan group that has called for shutting the prison. "Is that the administration's fault? Partly. But Congress is to blame here too. They've pretty much tied his hands in fulfilling that promise."
Attorney General Eric H. Holder Jr. said Monday that the congressional obstacles had been "unwisely sought" and added that "we oppose those restrictions, and will continue to seek their repeal."
But it was his decision in 2009 to move high-ranking al-Qaida operative Khalid Sheikh Mohammed and four other alleged Sept. 11, 2001, plotters from Guantanamo Bay to New York City that provoked widespread outrage among both Republicans and Democrats. It damaged momentum for closing the prison, and forced the administration to reconsider where they would try the high-value terrorism detainees.