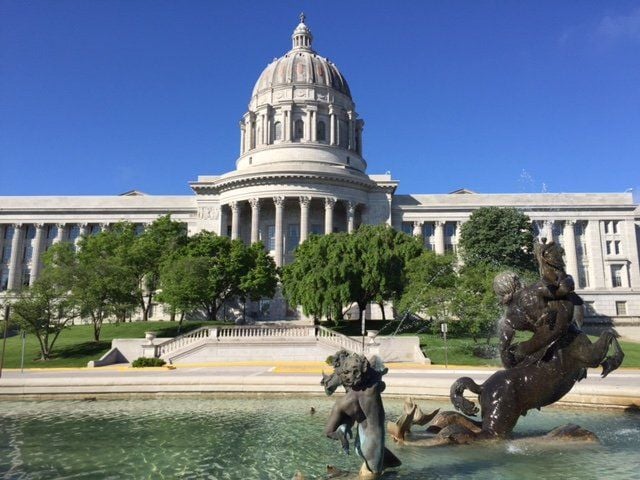 JEFFERSON CITY • Tuesday was the ninth annual NAACP Day at the Missouri Capitol, billed as an opportunity for lawmakers to meet with representatives from the nation's largest civil rights organization. Rarely a controversial affair, it is similar to events sponsored by numerous groups who hope to influence legislators.
Things were different this time.
Angered by a GOP committee chairman who shut off the microphone of state NAACP President Nimrod Chapel during Chapel's testimony Monday night, Democratic lawmakers and advocates unleashed condemnations of the Republican committee chairman, Bill Lant of Pineville, with at least one comparing his actions to those in the Jim Crow South.
The fracas prompted the House speaker to apologize — although Lant himself said he has "nothing to apologize for."
Chapel came to the witness stand and criticized the measure, which would require plaintiffs to meet a higher standard of proof in discrimination suits. He asserted that its supporters, such as the University of Missouri System, Washington University in St. Louis and private businesses, were "united in expanding discrimination."
Lant grew frustrated with the insults and asked Chapel to keep his commentary germane to the bill.
Then Chapel called the legislation "nothing but Jim Crow," and Lant cut him off.
The incident prompted House Minority Leader Gail McCann Beatty to send a heated letter to Speaker Todd Richardson on Tuesday morning.
"It seems the trigger that set Rep. Lant off was that Mr. Chapel simply said things Rep. Lant didn't want to hear," Beatty said. "Put another way, a white man abused his power to stop a black man from expressing a contrary view."
At a news conference with other progressive groups on Tuesday, Chapel didn't directly accuse Lant of racism, but he came pretty close.
"I was there complaining that this bill would allow discrimination against working families, and he literally said shut up," he said.
"I'm the only one that he did that to; I don't know any other way to take it."
Both Chapel and Beatty called for Lant to be stripped of his chairmanship. Chapel also requested meetings with Gov. Eric Greitens and House Speaker Todd Richardson to discuss the incident.
Both men tried to make amends in speeches before the NAACP on Tuesday.
"I want to start by addressing something that happened last night where the House of Representatives was not at our best," Richardson said. "This is a place where we ought to always welcome the free exchange of ideas."
"Mr. Chapel, I want to personally tell you that you are always welcome to present your views and your thoughts and the views of (the NAACP) to our members," he said.
He added in an interview afterward that he'd asked Lant to hold a second hearing before the bill gets a vote and to allow Chapel to speak.
Greitens delivered a plea for unity to the chapter, encouraging them to ignore media coverage that he said obsessed over conflict to sell newspapers.
He declined to take questions from reporters after speaking.
"We can't let their bad business derail our good work," Greitens said during his speech.
He also emphasized his desire to lower high unemployment rates in black communities and the need to better prepare black students for college classrooms.
"We will sit down and find ways to work together," he added.
But even as Greitens called for bipartisanship, two floors above him, legislators were considering expanded police protections, a tense debate in which black Democrats questioned the Legislature's tepid response to police reform bills after the Ferguson unrest.
Rep. Brandon Ellington, D-Kansas City, called it "interesting and heartbreaking" that lawmakers would rush to protect police, but decline to work on "any type of accountability legislation."
"(We're sending) a message that we want to be pro-law enforcement, but anti-civilian," Ellington said.
As for the legislation debated on Monday night, a myriad of concerns remain. But Richardson there are no plans to remove Lant as committee chairman.
Sponsoring Rep. Kevin Austin said requiring people to prove their race, religion, sex or other protected status was the "motivating factor" driving a boss to mistreat or fire them rather than just a "contributing factor" to win cases like wrongful termination suits would just bring Missouri in line with federal standards.
But Rep. Steven Roberts, D-St. Louis, said the proposal effectively legalized discrimination.
He said proving a boss or co-worker mistreated someone solely because of their race or gender was next to impossible without a confession, something a defendant would likely be loath to provide.
"This bill needs to be killed," he said. "This will make Missouri the most difficult place in the country to sue for discrimination."
Tom Mickes, an attorney who said he'd represented several businesses and more than 100 school districts, had played down similar rhetoric Monday evening, saying the bill was about "rebalancing" the legal playing field between businesses and workers.
But Sheree Brewer, a postal worker from Florissant who is suing a colleague for displaying racist posters at her desk, found that assertion laughable.
"If you let employers off on their responsibility of preventing discrimination in the workplace or punishing the person who did it, that is empowering a bully," she said. "And that destroys lives."
Chapel took special exception to Republicans giving the bill a hearing during Black History Month, and wasn't convinced it was a coincidence.
"It seems like it's hard to miss," Chapel said. "To bring back a bill that really hearkens back to the '50s and '60s, when African-Americans in particular were legally discriminated against, I don't think was an accident."
A date has not yet been set for another hearing on the bill.
Our daily political newsletter featuring local and national updates and analysis.