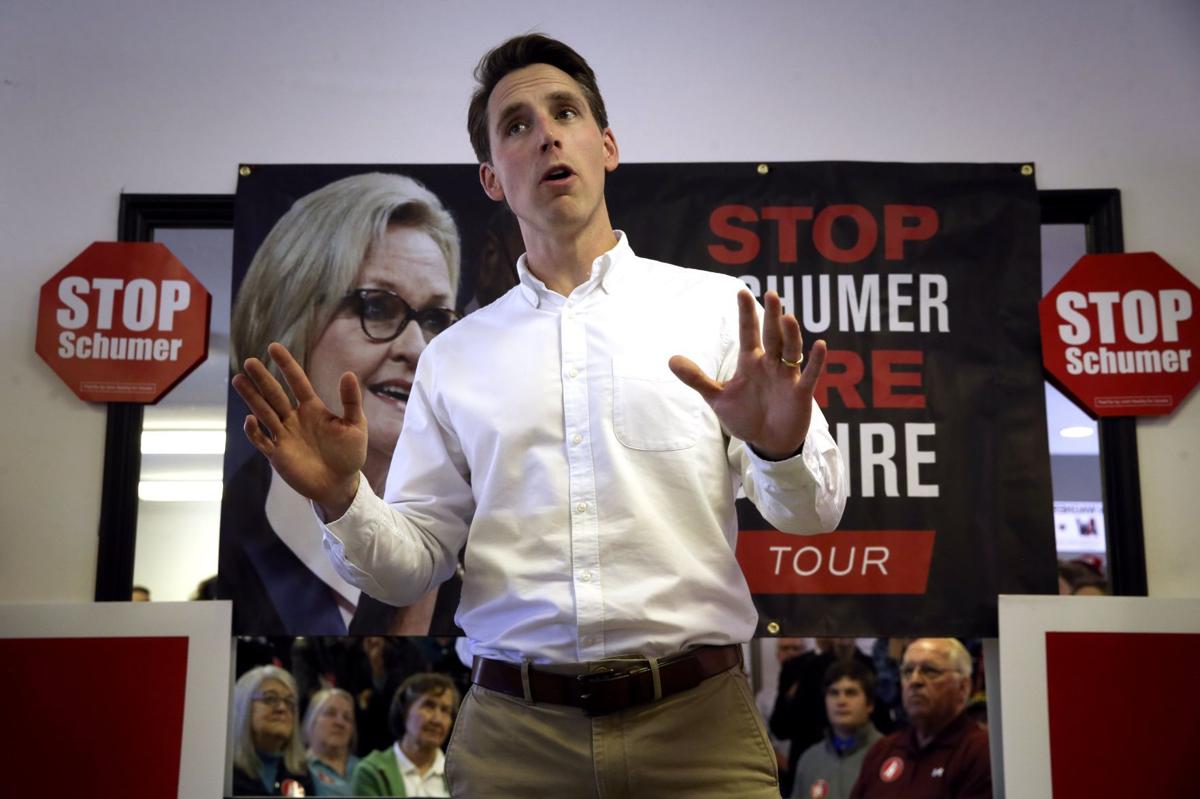 UPDATED at 10:30 a.m. with new comments from Sen. Claire McCaskill.
LA PLATA, Mo. • Seizing on a report that Attorney General Josh Hawley had political consultants working out of his public office, Sen. Claire McCaskill compared those acts to the lawbreaking that got the previous Republican attorney general sent to prison for two years.
McCaskill told reporters Thursday that "this is a huge, red line that (Hawley) has crossed." 
Hawley, during a campaign stop on Wednesday, dismissed suggestions in a Kansas City Star report that consultants paid by his state campaign fund played an outsize role in the early days of his work as attorney general.
"We follow all applicable laws in the Attorney General's office," Hawley said. "Missouri specifically allows the state committee to spend money in support of the office."
The allegations came late in a tight, nationally watched campaign that will help determine control of the U.S. Senate.
McCaskill told reporters it was too late before the Tuesday election to change her advertising to highlight the allegations. She also said she would not alter her closing argument to voters that is focused on an appeal to political centrism and a critique of "dark money" in politics, to shift primarily toward the allegations.
But she also said she that voters, as well as prosecutors, read the newspapers.
"It is against the law to use state resources for political gain," McCaskill, a former prosecutor in Kansas City, said "You cannot use taxpayer-paid staff to assist in any political purpose. The last attorney general went to prison for utilizing his office and his state staff to promote him politically. Those are the facts."
In 1993, Missouri Attorney General William L. Webster was sentenced to two years in prison for conspiracy and embezzlement of state resources after an investigation revealed Webster was using state resources for political purposes.
The Star report this week found that the same political consultants that are now running his campaign against McCaskill had assisted him in directing the attorney general's office when he took over in 2017.
Topics on the agenda at various meetings with consultants Timmy Teepell and Gail Gitcho included official business such as the budget, staffing decisions, and how to roll out major policy initiatives against sex trafficking and opioid abuse.
Hawley said the outside assistance, which was financed by his state campaign fund, helped him in his first run for office.
"From Day One, we've made combating human trafficking, taking on the opioid industry, protecting Missouri consumers a top priority. And I came into office wanting to do that and you can see that reflected in everything, from our notes, our meetings, our calendars, all of that from the very first," Hawley said during the campaign stop.
Teepell is among the entourage traveling with Hawley as he made stops in Mexico, Hannibal, La Plata and Macon Wednesday.
McCaskill, citing the Star report, said that despite an Election Night, 2016 promise that it was a new day of political reform and openness in Missouri, that Hawley broke that promise almost as soon as he assumed office.
"Within 10 days of taking office Hawley had his Washington  D.C. political consultants in his political office running meeting, sending emails to state-plaid staff, .... communicating efforts to politically promote him nationally to his taxpayer paid staff. We know that political operatives were working on budgets, staffing and office organization. We know that taxpayer-funded staff was confused about who they reported to, an who they even worked for."
"This cant be accepted as normal," McCaskill said. "It's not right."
McCaskill said claims that she was utilizing some members of her federal staff, who have taken paid vacation to work these final days on her campaign, were not the same thing. At least two of her paid Senate staffers - assisting the campaign while on vacation - were in Bridgeton Wednesday night for a rally with Vice President Joe Biden.
That's a common practice on Capital Hill: Staffers paid by taxpayers taking vacation time to help their bosses win re-election.
"You would not believe the lengths we go through to make sure we follow every letter of the law," McCaskill said, "We won't even allow state staff to pick me up at airports if I am making one political stop. ... We are very, very careful, because we know what the law is."
"To try to equate someone taking a vacation,not getting paid by the campaign but using their own time to be of assistance, is not the same as political consultants directing your staff," McCaskill said "That is apples and oranges. One is illegal, the other is not."
Hawley vs. McCaskill: Coverage of the 2018 Senate race
Post-Dispatch coverage of the 2018 race for Missouri's U.S. Senate seat.