Also in the news this Tuesday: the Las Vegas massacre claims another victim, Chick-Fil-A donation strategy and doctor claims Trump hospital visit was "routine."
Woman mauled by kangaroo while walking dog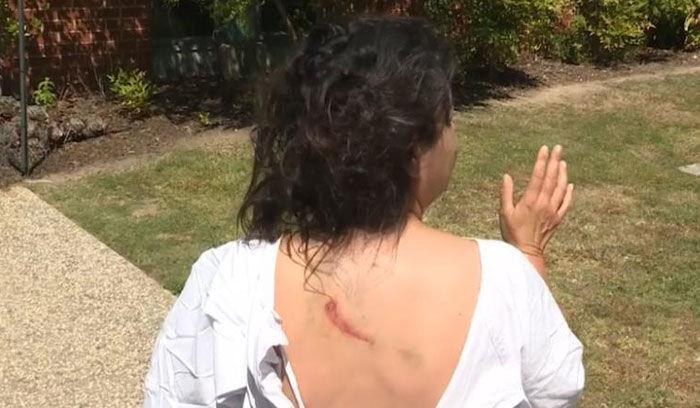 A woman in Australia needed 25 stitches to her face and almost lost an eye after being mauled by a kangaroo while walking her dog.
The attack happened near a popular walking trail in the city of Wodonga, in the state of Victoria, according to CNN affiliate 9News. Dina, who declined to share her last name, let her pet dog off its leash and it began chasing a large male kangaroo -- prompting her to try to intervene.
"I ran up the embankment to try and get my dog away but not realizing that I was only three or four meters behind the roo," Dina told 9News. "And that's when I sensed the roo was panicking, and thinking, 'I'm being attacked on all sides.'"
She turned around right as the kangaroo attacked her from behind, knocking her to the ground.
"He gouged out the back of my leg, I know now if I hadn't turned around, I would probably have been disemboweled," she told 9News.
The kangaroo began "pounding" and jumping on her, she said. She played dead, and told herself to "just wait until it is over."
It eventually worked, and the kangaroo left her with blood gushing from her head, according to CNN affiliate 7News. Passerby then helped her tend to her wounds and took her to the hospital.
Dina needed 25 stitches to her face, and said she was just grateful her eye hadn't been gouged out. She had to undergo surgery for her leg wounds.
Dina added that she didn't blame the kangaroo because her dog had chased it, causing the attack.
It was "absolutely not" the kangaroo's fault, she said -- "if anything, we're encroaching on their ecology. I could sense his panic. I really felt for him, the poor thing."
What to watch: Day 3 of Trump impeachment hearings
They heard the July 25 phone call for themselves.
And now, Army Lt. Col. Alexander Vindman and adviser Jennifer Williams are set to tell Americans and the world about its content and their concerns as the lead witnesses in perhaps the most consequential week of the impeachment hearings against President Donald Trump.
They are the first two of nine witnesses called to testify before the House Intelligence Committee this week. The procession includes officials closest to Trump as lawmakers grind through their investigation of the 45th president.
Vindman and Williams were listening with others in the White House Situation Room and heard Trump pressure Ukraine's president to do him the "favor" of investigating Joe Biden and his son, all while the U.S. had placed a hold on aid to Ukraine.
What to watch as the marathon week of hearings opens at 9 a.m. EST Tuesday:
___
WHO'S UP FIRST
Vindman is a Soviet-era immigrant who came to the U.S. as a toddler and grew up to become a decorated soldier and a White House aide. Now, he is a 20-year Army officer assigned to the National Security Council at the white-hot center of the inquiry.
Vindman, 44, testified last month in closed session that he twice raised concerns about Trump and his European Union ambassador, Gordon Sondland, inappropriately pushing Ukrainian leaders to investigate the former vice president and his son.
"I have a deep appreciation for American values and ideals and the power of freedom. I am a patriot, and it is my sacred duty and honor to advance and defend our country, irrespective of party or politics," Vindman said in written remarks.
He earned the Purple Heart after being wounded in Iraq in 2004 leading infantrymen.
In October, Vindman attended his closed-door testimony wearing his Army service uniform, with a chest full of military ribbons and other commendations. The visual underscored Trump's conflict with the military and national security establishment.
Republicans are expressing concern about Vindman's "judgment" in handling his concern about the call.
___
'JENNIFER WILLIAMS, WHOEVER THAT IS'
Trump and the world are about to find out. Williams is Vice President Mike Pence's special adviser for Europe and Russia, on detail from the State Department.
On July 25, she was in the Situation Room taking notes as Trump spoke with Ukrainian President Volodymyr Zelenskiy about potential 2020 rival Joe Biden's son Hunter, who sat on the board of Burisma, a Ukrainian gas company.
"It was President Trump who raised Burisma," Williams testified on Nov. 7. Later, she says that "I believed those references to be more political in nature and so that struck me as unusual."
The word Burisma does not appear in the rough transcript of the call released by the White House.
"Tell Jennifer Williams, whoever that is, to read BOTH transcripts of the presidential calls," Trump tweeted in part over the weekend. He called her a "Never Trumper."
___
ZELENSKIY FELT PRESSURED BEFORE THE CALL
The president and his allies have pointed to Zelenskiy's statement during a September press conference, shoulder-to-shoulder with Trump, in which the Ukrainian president said he didn't feel any pressure in the July 25 call.
But even before that call, Zelenskiy had reported feeling pressure from the Trump administration to investigate Biden, The Associated Press reported.
Zelenskiy was concerned Trump and associates were pressing him to take action that could affect the 2020 election, two individuals said. They spoke on condition of anonymity because of the diplomatic and political sensitivity of the issue.
State Department officials in Kyiv and Washington were briefed on Zelenskiy's concerns at least three times, the two individuals said, and notes summarizing his worries were circulated within the department.
___
DOES TRUMP WEIGH IN?
He did last week, castigating the ambassador he fired, Marie Yovanovich, on Twitter and giving weight to her account of being bullied out of her job by members of the administration.
House Speaker Nancy Pelosi several times over the past few days has suggested that if Trump wants to testify — she mockingly explained the word "exculpatory" — he's welcome to do so in person or in writing.
He hasn't said he will do so. But Trump did tweet: "Even though I did nothing wrong, and don't like giving credibility to this No Due Process Hoax, I like the idea & will, in order to get Congress focused again, strongly consider it!"
_
Governor defends 'Meth. We're on it' anti-drug campaign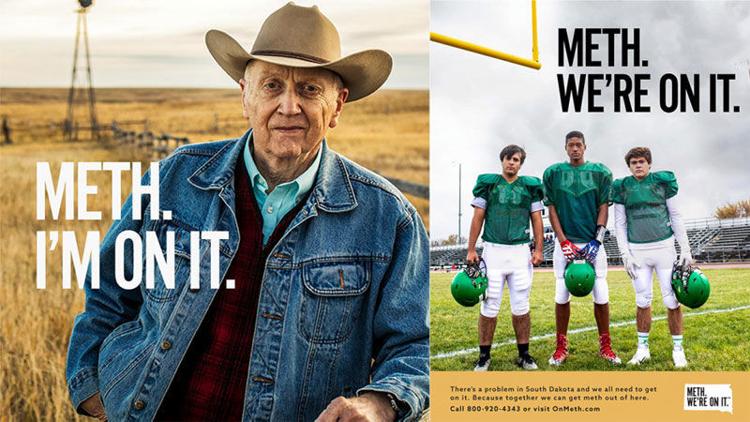 South Dakota sparked online guffaws Monday by rolling out an anti-drug campaign featuring people saying, "Meth, I'm on it," and the governor said the backlash proves the effort to raise awareness is working.
The nearly $1.4 million campaign aimed at tackling the state's methamphetamine epidemic includes $449,000 paid to the Minneapolis-based ad agency that created the tagline. A press release for the campaign said it uses "impactful, even shocking" images of South Dakotans to try to communicate that meth should be tackled by everyone.
The images featured the words, "Meth. I'm on it." over photos of people in cowboy hats, in a coffee shop or on a football field.
"We didn't want this to look like every other anti-drug campaign," said Laurie Gill, the Secretary for the Department of Social Services, which oversaw the campaign.
Many on social media joked about the images making it appear the people in the photos are on meth.
One Twitter user posted, "It seems that if I'm on meth, I can live to a ripe old age, eat in restaurants, play football with my pals, and have a family. That sounds much better than the life I'm having now. Somebody get me some meth."
Another Twitter user posted: "Surprising anti-meth campaign in South Dakota. With the theme 'Meth. I'm on it,' what could go wrong?"
Gov. Kristi Noem defended the campaign, posting, "Hey Twitter, the whole point of this ad campaign is to raise awareness. So I think that's working ..."
Noem, appearing in a video for the campaign, said South Dakota's meth problem is "growing at an alarming rate." According to the state's Department of Social Services, the number of 12- to 17-year-olds who reported using meth in the last year is double the national average. The state has also seen the number of people seeking treatment for meth addiction double from 2014 to 2018.
The ad campaign includes a website, billboards and TV ads that will run through May. Gill said the price paid to Broadhead Co. to produce the ads was justified considering that meth addiction is on the rise in South Dakota.
Chick-fil-A tries to halt protests by ending donations to groups who oppose gay marriage
Chick-fil-A is ending donations to three groups that oppose gay marriage in an effort to halt protests and broaden its customer base.
But the move has angered some of the fast food chain's fans.
The Atlanta-based company said Monday that starting next year, it will focus its giving on three areas: hunger, homelessness and education.
"This decision was made to create more clarity — and to better address three critical needs facing children across the communities Chick-fil-A serves," the company said in a statement.
Chick-fil-A President Tim Tassopoulos said the company — which is closed on Sundays — will still consider donations to faith-based groups. The company wouldn't say whether it will consider an organization's position on gay rights before donating.
But in the meantime, it doesn't plan to continue its support of three groups that oppose gay marriage and have been the target of protesters' ire.
In 2017 and 2018, the Chick-fil-A Foundation gave $2.4 million to the Missouri-based Fellowship of Christian Athletes for sports camps for underserved youth and $165,000 to the Salvation Army to buy Christmas gifts for needy children. The foundation also gave $6,000 to the Paul Anderson Youth Homes.
Chick-fil-A's decision to no longer support the groups angered some conservatives, who say they stood by the restaurant in 2012 when CEO Dan Cathy said in several interviews that he didn't support gay marriage. In more recent interviews, Cathy — who is the son of Chick-fil-A's founder — has reiterated his personal beliefs but says he treats all customers with respect.
The Salvation Army issued a statement saying it was "saddened" by Chick-fil-A's decision. It said the move was based on misinformation that, when perpetuated, puts at risk its ability "to serve those in need, regardless of sexual orientation, gender identity, religion or any other factor."
Chick-fil-A, which operates around 2,400 restaurants, has been also feeling heat from opponents. Earlier this year, airports in Buffalo, New York, and San Antonio blocked the restaurant from opening at their sites because of the company's gay rights record. Some college campuses have banned the chain. A location in the United Kingdom is closing because of protests.
GLAAD, an LGBTQ rights group, said it greeted Monday's news with "cautious optimism," but said Chick-fil-A has made similar pledges before.
President's doctor claims weekend hospital visit was 'routine'
President Donald Trump's physician released a memorandum Monday night stating the President's recent visit to Walter Reed National Military Center was a "routine, planned interim checkup."
The news comes days after Trump's trip to the hospital outside Washington drove speculation about the President's health because it did not follow routine protocol for a presidential medical exam.
"This past Saturday afternoon the President traveled up to Walter Reed National Military Medical Center for a routine, planned interim checkup as part of the regular, primary preventative care he receives throughout the year," Physician to the President Dr. Sean Conley said. "Due to scheduling uncertainties, the trip was kept off the record."
Conley states that "despite some of the speculation, the President has not had any chest pain, nor was he evaluated or treated for any urgent or acute issues."
"Specifically, he did not undergo any specialized cardiac or neurologic evaluations," he said.
The memorandum comes after medical staff at Walter Reed did not get a staff-wide notice about a presidential visit to the medical center in Bethesda, Maryland, ahead of Trump's arrival, according to a person familiar with the matter.
Typically, Walter Reed's medical staff would get a general notice about a "VIP" visit ahead of a presidential visit, notifying them of certain closures at the facility. That did not happen this time, indicating the visit was non-routine and scheduled last minute.
The source said it was possible that a small group of doctors involved in Trump's medical exams were notified before Trump arrived at Walter Reed, but that all medical staff at Walter Reed would typically be aware if the President were arriving for a routine medical exam.
Conley said in a statement earlier this year that Trump was in "very good health" after a full physical examination.
"While the reports and recommendations are being finalized, I am happy to announce the President of the United States is in very good health," he said, "and I anticipate he will remain so for the duration of his Presidency, and beyond."
In that exam, Trump weighed 243 pounds, 4 pounds more than the previous year and putting him in the obese category. His blood pressure was measured as 118/80, and results showed he had increased his daily dose of rosuvastatin, a medication used to treat high cholesterol, according to the exam results.
Last year's exam revealed that Trump has a common form of heart disease and high cholesterol.
Woman wounded in Las Vegas massacre dies of her injuries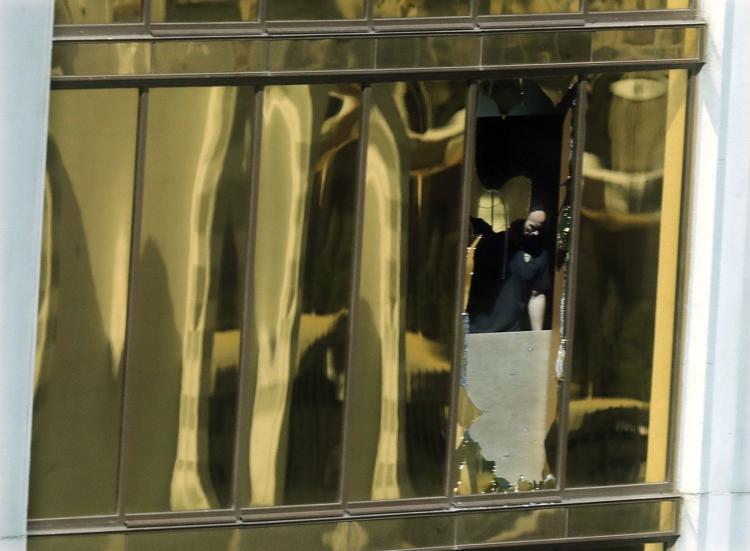 A Southern California woman who was wounded in the 2017 Las Vegas mass shooting has died of her injuries, the San Bernardino County Sheriff's Coroner Department said.
Kimberly Gervais, 57, of Mira Loma, California, was one of the more than 500 people injured when Stephen Paddock opened fire from his hotel room on the Route 9 Harvest Music Festival on October 1, 2017.
Fifty-eight people were killed in the attack, making it the deadliest mass shooting in modern US history. Gervais' death could potentially be the 59th fatality, depending on the findings of an autopsy.
Gervais, who suffered spinal injuries and had been recovering at a nursing facility in Redlands, California, died Friday, the coroner said in a statement Monday.
An autopsy will be performed to determine the cause and manner of death, the statement said.
"She'll never leave my heart, ever," Dena Sarvela, Gervais' sister, told CNN affiliate KPTV.
Gervais went to the festival with two other friends, one of whom was killed in the shooting, Sarvela told KPTV.
The night before the festival, Sarvela says Gervais told her she was ready to sell her business, retire and enjoy her life, KPTV reported."She worked her life, and butt off for -- just to go enjoy, you know, and she doesn't get that, she doesn't get that chance," Sarvela said.
She said that Gervais had been in pain despite being paralyzed from the neck down in the shooting, the affiliate reported. "There was scrap metal still in her because he used exploding bullets," Sarvela explained.