Your daily 6: Brain surgery for Carter, Trebek chokes up and how impeachment has changed
Also in the news this Tuesday: most of the country is feeling an arctic blast and White House press secretary makes time for Fox but no others. 
Former President Jimmy Carter facing brain surgery
Former U.S. President Jimmy Carter was admitted to a hospital on Monday evening for a surgery to relieve pressure on his brain, caused by bleeding due to his recent falls, his spokeswoman said.
The procedure is scheduled for Tuesday morning at Emory University Hospital, Deanna Congileo said in a statement.
Carter has fallen at least three times this year, and the first incident in the spring required hip replacement surgery. He traveled to Nashville, Tennessee, and helped build a Habitat for Humanity home after getting 14 stiches following a fall on Oct. 6. And he was briefly hospitalized after fracturing his pelvis on Oct. 21. He received a dire cancer diagnosis in 2015 but survived and has since said he is cancer-free.
Nearly four decades after he left office and despite a body that's failing after 95 years, the nation's oldest-ever ex-president still teaches Sunday school roughly twice a month at Maranatha Baptist Church in his tiny hometown of Plains in southwest Georgia. His message is unfailingly about Jesus, not himself.
Rev. Tony Lowden, Carter's pastor, said the ex-president was hospitalized Monday on what he called "a rough day."
"We just need the whole country to be in prayer for him," Lowden said in a telephone interview.
The church has announced that Carter will not be teaching his Sunday school class this week.
Carter is resting comfortably, and his wife, Rosalynn, is with him, Congileo said.
Contestant's message leaves Trebek choked up on 'Jeopardy!'
A contestant's heartfelt answer on "Jeopardy!" brought host Alex Trebek to tears as he continues to fight with pancreatic cancer.
During the "Final Jeopardy" round that aired Monday, Trebek asked contestants for their answers. When he got to Dhruv Gaur, the host paused, according to CNN affiliate WBAL-TV.
"We love you Alex!" Gaur wrote on his answer, worth $1,995. In place of the word love, Gaur wrote a heart.
"That's very kind of you, thank you," Trebek said, choking up. The "wrong" answer cost left Gaur with $5.
Right before Gaur's message, Trebek shared he was reentering treatment for pancreatic cancer, Gaur tweeted. Trebek announced his diagnosis in March.
"We were all hurting for him so badly," Gaur tweeted. "When Final Jeopardy came up, I could've tried to puzzle it together, but really, just kept thinking about Alex."
Gaur was glad he got to say "what everybody at the tournament was thinking."
The other contestants announced last week they're organizing a charitable play-along as well to raise money for pancreatic cancer research.
Since announcing the diagnosis, Trebek has worked to raise awareness about the disease.
He teamed up with the World Pancreatic Cancer Coalition to make a video last month encouraging people to wear purple in November and help spread the word about the disease and its symptoms on social media.
Pancreatic cancer is often deadly and goes undiagnosed until late stages.
World Pancreatic Cancer Day is November 21.ia Company. All rights reserved.
No briefings from White House press secretary, but time for Fox News
White House press secretary Stephanie Grisham has yet to hold a single briefing since ascending to the position of President Trump's chief spokesperson in July, bu ths has appeared on Fox News or the Fox Business Network at least 13 times.
During those appearances, she has disparaged critics of the president and assailed the press. She also has appeared to talk with other conservative television organizations.
Her first interview as White House press secretary was with Eric Bolling, a host on the Sinclair Broadcast Group, the media organization with local stations that pushes a conservative political worldview in some of its newscasts.
And Grisham has also appeared on One America News Network, a far-right media organization.
She has not appeared on any mainstream television outlets including CNN, NBC, ABC or CBS.
Prior to the Trump administration, White House press secretaries would typically brief the press on a daily basis. Grisham's predecessor, Sarah Sanders, stopped holding daily briefings in March, but would occasionally appear at the podium to take questions. If she continues her current practice, Grisham will be the first press secretary to not hold a single briefing.
As of Monday, it has been 245 days since the last briefing from a White House press secretary.
In an email to CNN Business, Grisham said that she will "hold a press briefing when the President wants me to."
"That is ultimately his decision," Grisham said. "The briefings, which are meant to inform the public, were becoming a spectacle."
"In addition, the President himself answers questions on a weekly basis, as do I and my entire team," she added. "We've also had briefings at the podium with subject matter experts, and to be honest many [in the] press have told me that is more helpful."
Grisham said that she also appears on radio and engages with print reporters, telling CNN Business, "TV isn't everything."
That said, Grisham said that she has "no qualms about appearing on other networks," though she has avoided doing so since taking the job of White House press secretary.
Grisham also told CNN Business that she is "dealing with an illness in my family" and has had to "travel across the country often."
US held nearly 70,000 migrant kids in custody this year
The 3-year-old girl traveled for weeks cradled in her father's arms, as he set out to seek asylum in the United States. Now she won't even look at him.
After being forcibly separated at the border by government officials, sexually abused in U.S. foster care and deported, the once bright and beaming girl arrived back in Honduras withdrawn, anxious and angry, convinced her father abandoned her.
He fears their bond is forever broken.
"I think about this trauma staying with her too, because the trauma has remained with me and still hasn't faded," he said, days after their reunion.
This month new government data shows the little girl is one of an unprecedented 69,550 migrant children held in U.S. government custody over the past year, enough infants, toddlers, kids and teens to overflow the typical NFL stadium. That's more kids detained away from their parents than any other country, according to United Nations researchers. And it's happening even though the U.S. government has acknowledged that being held in detention can be traumatic for children, putting them at risk of long-term physical and emotional damage.
Some of these migrant children who were in government custody this year have already been deported. Some have reunited with family in the U.S., where they're trying to go to school and piece back together their lives. About 4,000 are still in government custody, some in large, impersonal shelters. And more arrive every week.
___
This story is part of an ongoing joint investigation between The Associated Press and the PBS series FRONTLINE on the treatment of migrant children, which includes the film "Kids Caught in the Crackdown" premiering on PBS and online Nov. 12 at 10 p.m. EST/9 p.m. CST.
___
The nearly 70,000 migrant children who were held in government custody this year — up 42 percent in fiscal year 2019 from 2018 — spent more time in shelters and away from their families than in prior years. The Trump administration's series of strict immigration policies has increased the time children spend in detention, despite the government's own acknowledgment that it does them harm. In 2013, Australia detained 2,000 children during a surge of maritime arrivals. In Canada, immigrant children are separated from their parents only as a last resort; 155 were detained in 2018. In the United Kingdom, 42 migrant children were put in shelters in 2017, according to officials in those countries.
"Early experiences are literally built into our brains and bodies," says Dr. Jack Shonkoff, who directs Harvard University's Center on the Developing Child. Earlier this year, he told Congress that "decades of peer-reviewed research" shows that detaining kids away from parents or primary caregivers is bad for their health. It's a brain-wiring issue, he said.
"Stable and responsive relationships promote healthy brain architecture," Shonkoff said. "If these relationships are disrupted, young children are hit by the double whammy of a brain that is deprived of the positive stimulation it needs, and assaulted by a stress response that disrupts its developing circuitry."
Younger children are at greater risk, because their biological systems are less developed, he said. Previous harm, and the duration of separation, are also more likely to lead to trauma.
One Honduran teen who was held in a large detention center for four months before reuniting with his mother said that, as each day passed, his fear and anxiety grew.
"There was something there that made us feel desperate. It was freedom. We wanted to be free," he recalled. "There was despair everywhere."
Then and now: How Trump impeachment hearing is different
The public impeachment inquiry hearings this week usher in a rare and momentous occasion in American history as Congress debates whether to remove a president from office.
There are consistencies in the process — televised hearings, partisan rancor and memorable speeches — but each impeachment process also stands alone as a reflection of the president, the Congress and the times.
Even if the two most recent impeachment proceedings — against Presidents Richard Nixon and Bill Clinton — offer instructive clues about the path ahead, there are notable differences in the case surrounding Donald Trump.
A look at then and now:
___
THEN: During the Clinton impeachment, the House held no serious hearings because the independent counsel, Kenneth Starr, had delivered dozens of boxes of evidence with recommendations for charges. Even during the Nixon proceedings decades earlier, lawmakers were considering evidence gathered through months of investigations by specially appointed prosecutors — first Archibald Cox and later Leon Jaworski. In both cases, the impeachment proceedings followed extensive and complete law enforcement investigations.
NOW: The House Intelligence Committee has taken on the primary role of assembling a case against Trump, with no supplemental Justice Department or law enforcement investigation. These impeachment proceedings are unfolding simultaneous to the investigation itself.
"The House actually having to investigate on its own with the benefit of nobody else's resources, that's new," said Frank Bowman, a University of Missouri law professor and legal historian and author of "High Crimes and Misdemeanors: A History of Impeachment for the Age of Trump."
___
THEN: During Watergate, the Senate held televised hearings that served to turn public opinion against Nixon, and he eventually resigned before a formal vote by the full House. The most sensational moments — including the testimony of White House counsel John Dean and Sen. Howard Baker's famous question, "What did the president know and when did he know it?" — occurred not during House impeachment hearings but during special Watergate hearings in the Senate.
NOW: The House hearings represent the public's first time hearing witnesses involved in the controversy. The three witnesses up first have appeared behind closed doors, and transcripts of their private depositions released last week suggest the potential for dramatic and quotable testimony. For instance: One State Department official, George Kent, accused Trump's personal lawyer Rudy Giuliani of leading a "campaign of slander" against the U.S. ambassador to Ukraine. Another, William Taylor, has said he had a "clear understanding" of a desired quid pro quo: military aid in exchange for investigations of a political rival.
___
THEN: Nixon's exit was sealed when members of his own party came out against him, with some breaking ranks and voting to adopt articles of impeachment. Three top Republican leaders in Congress, including Sen. Barry Goldwater of Arizona, visited Nixon at the White House in August 1974 to warn him he faced near-certain impeachment. Even Democrats who voted against convicting Clinton made clear their disapproval, with then-Sen. Joe Lieberman of Connecticut famously taking to the Senate floor to call the president's conduct immoral.
"When we look back on '74, it wasn't that all Republicans turned on Nixon — far from it. But enough did that it became apparent that he wasn't going to be able to hold the ground," said William Howell, a political science professor at the University of Chicago.
NOW: There have been sporadic grumblings of discontent from Republicans in Congress, most notably from Sen. Mitt Romney of Utah, but the Trump impeachment proceedings are unfolding in a considerably more partisan and polarizing time than the Clinton and Nixon eras, and there's no reason to think there's going to be any significant abandonment in support of Trump from his own party.
It's cold here, there and across 70 percent of America today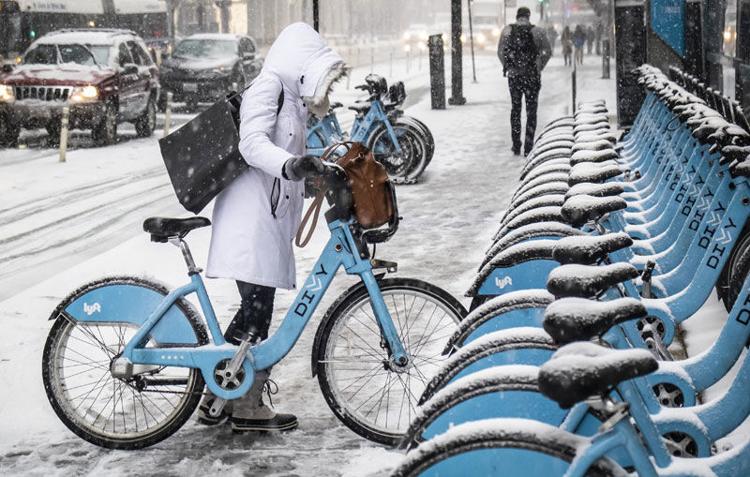 It's cold - and it's cold across much of the United States, where 70 percent of the nation will experience freezing temperatures in an early arctic blast.
More than 240 million peole are under winter warnings, watche and advisories and by Tuesday night, record-breaking low temperatures are expected across the country.
Cities in Wisconsin have already reported record-breaking lows, according to National Weather Service Green Bay, with Oshkosh reaching 23 degrees and Rhinelander hitting 17 degrees Fahrenheit Monday night. Two other Wisconsin cities have broken a record set in 1950, with Wisconsin Rapids reaching 21 degree and Marshfield reaching 19,the National Weather Service said.
In the northeast, cities like New York, Philadelphia and D.C. will start out with rain Tuesday morning and end the day with snow.
The cold air is moving south Tuesday where states like Georgia will see dramatic temperature drops within the span of hours from the mid-50s to near freezing. Even parts of Florida have been issued frost and freeze warnings.
Snow and ice will create dangerous travel conditions in the Plains, Midwest and Northeast.
This winter storm has already caused issues for flights.
More than 1200 flights were canceled Monday at Chicago's O'Hare airport. That morning, an American Eagle flight slid off the runway. At the time, there was light snow with visibility of less than a mile, wind gusts of 30 miles per hour and a temperature of 23 Fahrenheit.
Chicago's Midway Airport has also reported nearly 100 cancellations in the 24 hours.