Your daily 6: CEOs beg for action on gun violence, boy's cancer fight and married murder suspects caught
Also in Thursday's headlines: Debate day for Democrats, wall spending threatens other areas and 'disgusting' Baltimore gets a visit. 
CEOS of 145 businesses implore Senate to act on gun violence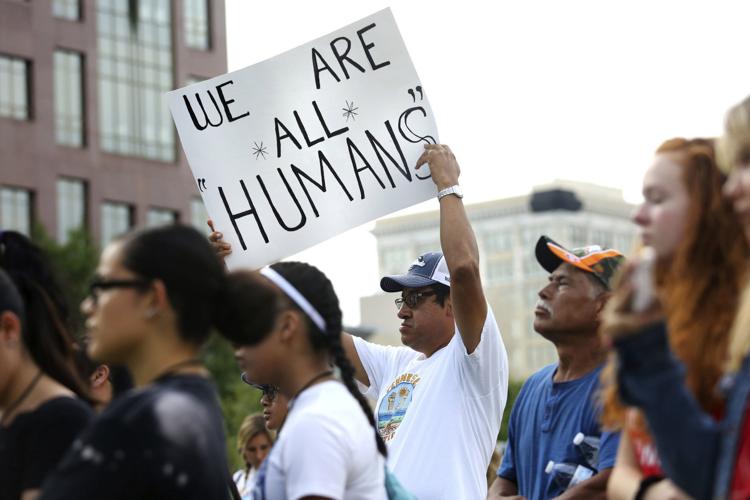 145 business leaders have signed a letter demanding the US government take action on gun violence.
Their plea, which follows the recent rash of mass shootings, is among Corporate America's strongest statements yet against America's gun violence epidemic.
In a draft letter addressed to the Senate, the leaders demand that lawmakers "support common-sense gun laws" already passed by the House and that "doing nothing about America's gun violence crisis is simply unacceptable." It was first obtained by the New York Times.
The group is pushing senators to pass a bill that requires background checks on all gun sales and red flag laws. The latter enables those who have seen warning signs (aka red flags) to seek a court order to intervene and temporarily prevent someone who is in crisis from having access to a firearm. That is a policy that President Trump has supported, however his plan on gun policy remains unclear.
The business leaders say the proposals outlined in their letter are "bipartisan" and "widely supported by the American public."
The group primarily includes CEOs from tech, media and startups. Major names on the list include Airbnb CEO Brian Chesky, Lyft cofounders Logan Green and John Zimmer, Uber CEO Dara Khosrowshahi, Twitter CEO Jack Dorsey, Levi Strauss CEO Chip Bergh and Thrive Global founder Arianna Huffington.
Two notable names with connections to Washington, DC, have also signed the letter including Thrive Capital founder Joshua Kushner, according to the Times. He is the brother of Jared Kushner, Trump's son-in-law and senior adviser. And Steve Pagliuca, the co-chairmen of Bain Capital, which was founded by Sen. Mitt Romney, also signed it.
But other well-known names are missing, including the CEOs from Apple, Google, Facebook and major banking firms that have cut ties with gun makers. For example, Goldman Sachs CEO David Solomon didn't sign it. He has previously told CNN Business that government officials need to "try to improve the framework we all operate in," because gun control is an issue that private businesses can't fix.
Walmart CEO Doug McMillon also isn't on the list. His company recently decided to reduce its gun and ammunition sales.
Calls for gun control have grown louder since two mass shootings in August took place within 24 hours of one another: A gunman killed 22 people and wounded 24 others in a shooting at a Walmart in El Paso, Texas, last Saturday. Hours later, a man killed nine people in a popular nightlife district in Dayton, Ohio.
10 candidates taking stage in Democratic debate
And then there were 10.
The Democratic Party's strongest presidential contenders — according to polls and fundraising, at least — meet on the same debate stage for the first time Thursday night.
The lineup in Houston will be different but the dynamic familiar: Former Vice President Joe Biden will fight to preserve his front-runner status as a crowded stage of lower-tier candidates scrap for attention and momentum any way they can. Opportunities and risks abound for a race that is far from settled.
Some big questions heading into the third Democratic debate, to be carried on ABC:
HOW WILL INTERNAL DIVISIONS PLAY OUT WITH A COMPLETELY NEW GROUP?
These 10 have never shared the stage before. Biden and Elizabeth Warren will stand shoulder to shoulder for the first time and may attract much of the pre-event hype, but any number of significant friction points could emerge in a group that highlights the extraordinary diversity of the 2020 class. There will be three women on stage, four racial minorities, one gay man and an age gap that spans four decades. Don't forget about the ideological divide that features a democratic socialist on one side and an establishment-backed moderate on the other. There will almost certainly be fireworks on multiple fronts, especially with the second-tier candidates desperate for a breakout moment.
___
WHERE HAVE ALL THE MODERATES GONE?
This moment marks a dramatic contraction of the Democratic Party's 2020 class of candidates, which has essentially been cut in half — for now, at least. Suddenly gone are several outspoken moderate voices — former Colorado Gov. John Hickenlooper, former Maryland Rep. John Delaney and Ohio Rep. Tim Ryan — who were not shy in previous debates about warning the party against nominating someone too far to the left. Their absence leaves Biden with far fewer allies in his push for pragmatism over ideological purity. And it may make it easier for progressive policy besties Bernie Sanders and Warren to continue pulling the party leftward on health care, taxes, immigration and education. President Donald Trump is only too happy to let Democrats showcase their plans to transform America.
___
HOW FRAGILE IS THE FRONT-RUNNER?
Biden holds a significant lead over the crowded field, despite signs of soft support, a weak organization and repeated missteps. His performance on Thursday will either create more anxiety for his supporters or strengthen his claim on the mantle of undisputed front-runner. What's clear is that Biden will be at the center of the action. He plans to be aggressive if provoked, and his opponents are prepared to test him. Kamala Harris wounded Biden in a testy exchange over race in June, but Biden effectively deflected attacks in last month's meeting. Which Biden will show up?
DOES AGE MATTER?
South Bend, Indiana, Mayor Pete Buttigieg has something the rest of the top tier does not: youth. At just 37 years old, he's more than three decades younger than Biden, Sanders and Warren. He has so far been reluctant to seize on his opponents' age to help himself, but with voting set to begin in less than five months, he's under increasing pressure to use his comparative advantage more aggressively — especially as the 76-year-old Biden faces increasing questions on the campaign trail about whether he's lost a step after four decades in politics. It's a delicate issue that cuts both ways. But the generational divide is a key factor as Democrats work to reassemble the coalition that twice elected President Barack Obama.
Woman shares intimate photo of son, 4, battling leukemia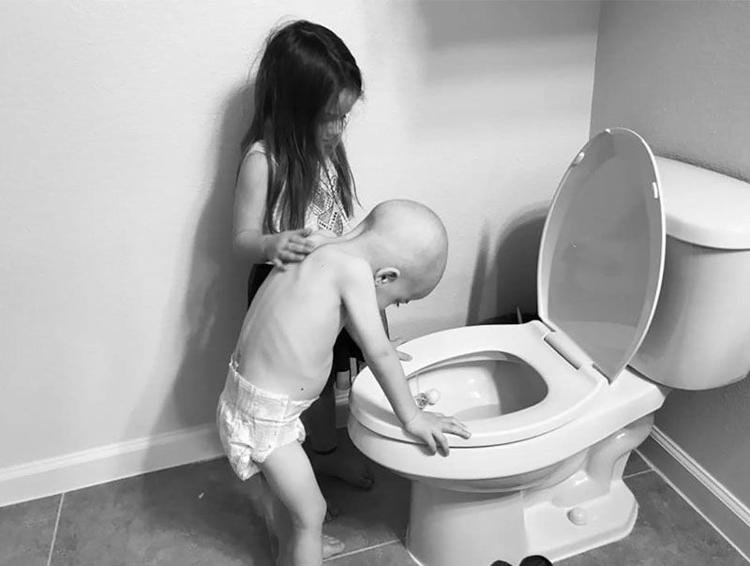 A mother in Texas shared an unfiltered peek into how childhood cancer is affecting her family with stirring photos ofher 4-year-old son.
Kaitlin Burge posted stirring photos of her son, Beckett, leaning over a toilet, with his 5-year-old sister, Aubrey, standing guard. Beckett was diagnosed with acute lymphoblastic leukemia over a year ago.
"Vomiting between play sessions. Waking up to throw up. Standing by her brother's side and rubbing his back while he gets sick," she wrote. "This is childhood cancer. Take it or leave it."
Burge said she took the photos in January, but they depict a "typical day in the life" for her son. Beckett takes a chemotherapy pill every night in addition to monthly trips to a clinic where he receives chemo through a port, and with chemo comes nausea.
Her children make sacrifices for their brother
The photos, she said, show the reality of childhood cancer and its implications across families.
"Our family's been split up," she said of sending her children to stay with their grandmother or her brother while Beckett's in the hospital. "We're all tired. Your relationships are tried. You lose a lot of friends. You don't get to go out and live the life you've been living prior to this."
And focusing on Beckett's health has meant she has less time to devote to Aubrey and her 23-month-old daughter.
"The siblings are forgotten about a lot of the time. They make a lot of sacrifices that people don't realize," she said.
Aubrey has stayed by his side in the hospital and at home. At first, she didn't understand why her formerly playful younger brother slept all the time, couldn't walk on his own or got to skip school, Burge wrote.
"She was so used to being the big sister," she told CNN. "Her world flipped."
Beckett should complete treatment in August 2021 after more than three years. It feels like an eternity for her family, Burge said.
The process has grown increasingly costly, so a friend made a GoFundMe for Beckett's medical expenses.
When Beckett was diagnosed, she felt like she was alone. But parents of children with cancer have embraced her post, revealed the community she didn't always know was there, she said.
"Finding positive, I think, in the ugly, is a good outlook on life."
Spending for border wall, abortion battle put other funding bills in disarray
Fights over abortion and President Donald Trump's U.S.-Mexico border wall have thrown Senate efforts to advance $1.4 trillion worth of agency spending bills into disarray, threatening one of Washington's few bipartisan accomplishments this year.
A government shutdown remains unlikely, but agencies face weeks or months on autopilot while frozen at this year's levels if the logjam isn't broken.
At issue are 12 annual budget bills to fund the day-to-day operations of the government. The bills are needed to fill in the details of this summer's budget and debt deal — which reversed cuts scheduled to slash the Pentagon and domestic programs and increased the government's borrowing cap so it won't default on its payments and Treasury notes.
Sweeping votes on July's budget blueprint were a kumbaya moment in Trump's polarized capital. But the Senate Appropriations Committee, tasked with filling in the details, has been beset by infighting in advance of a bill drafting session on Thursday.
Democrats complain that panel chairman Richard Shelby, R-Ala., following the lead of Majority Leader Mitch McConnell, R-Ky., is shortchanging the popular health and education measure to fund Trump's $5 billion request for his border wall. They are also furious about Trump's moves to raid $3.6 billion in military base construction projects to pay for 11 additional border fence segments totaling 175 miles in Texas, New Mexico and Arizona.
"That's created a real problem," said Sen. Patrick Leahy, D-Vt., the most senior member of the Appropriations Committee. "To take money from substandard schools for children of military people ... that's left a very bad taste."
Sen. Dick Durbin, D-Ill., is poised with an amendment to an almost $700 billion Pentagon funding bill to block Trump's unprecedented fiscal maneuvers, and he has several potential GOP allies on the committee.
Durbin's threat doesn't seem to have Republicans on edge, but Republicans say that Democrats such as Sen. Patty Murray, D-Wash., a savvy panel insider, are breaking summertime promises to avoid adding "poison pills" to the measures that could bog them down or attract Trump veto promises.
In particular, Murray is pressing to overturn a Trump executive order that takes away federal family planning funds from organizations like Planned Parenthood that counsel women about their abortion options.
The stakes were raised last month when Planned Parenthood announced it would stop accepting Title X federal family planning funds rather than comply with a Department of Health and Human Services edict to comply with the abortion counseling ban. Two Planned Parenthood clinics in Ohio closed this week.
Murray's amendment would likely pass the Appropriations panel, where two pro-abortion rights GOP women would likely side with her. Facing that prospect, Shelby dropped the health funding measure from the agenda, along with a foreign aid bill that also faced an abortion controversy.
After blasting Baltimore as 'disgusting,' president pays a visit
Months after President Donald Trump derided the congressional district that includes Baltimore as a "disgusting, rat and rodent infested mess," groups appalled by his attacks plan to protest his expected appearance Thursday before Congressional Republicans on an annual retreat on the city's waterfront.
Trump's visit will be limited to a speech to the Republicans at the hotel hosting the event. He is not scheduled to tour any neighborhoods.
"I think it's engendered a lot of anger from the people in the city," protest organizer Sharon Black said about the president's attacks on the majority African American congressional district.
Black, with the group Peoples Power Assembly, said organizers expect hundreds of protesters to gather about two blocks from the hotel. Other rallies are planned for Friday and Saturday.
Trump's barrage of tweets began in late July against Maryland's 7th Congressional District. They included calling its representative, Democrat Elijah Cummings, "racist" and a "brutal bully." He charged that Cummings' district is "considered the worst run and most dangerous anywhere in the United States."
Cummings has represented Maryland in Congress for decades and currently chairs the House Oversight and Reform Committee, which is investigating the Trump administration. His district includes neighborhoods that have struggled with poverty and crime, but also has more affluent areas and landmarks such as Johns Hopkins University and its hospital and the Social Security Administration.
His office did not respond to a request for comment on the president's upcoming trip.
Lester Davis, spokesman for Baltimore Mayor Bernard "Jack" Young, said city officials and the White House did not reach out to each other about a potential tour of the area.
Young said that if Trump travels beyond the city's Inner Harbor, he will notice "that every neighborhood is not crime-ridden and dirty." Meanwhile, City Council president Brandon Scott said he hopes the visit will allow Trump to see some of the infrastructure challenges that the city faces.
Baltimore, a once-gilded American seaport, has undeniable drug and violent crime challenges. The city saw more than 300 homicides in 2018 for the fourth year in a row. It also contends with deep-rooted poverty and swaths of the city are populated with vacant, boarded-up homes.
The family company of the president's son-in-law, Jared Kushner, owns thousands of apartments and townhomes in the Baltimore area and has been criticized for years for the same kind of despair and neglect that the president accused local leaders of failing to address.
While residents have complained about mold, bedbugs, leaks and mice, the Kushner Cos. has said it is proud of its Baltimore-area properties and has worked to maintain a "high quality residential experience for our tenants" by investing "substantial amounts" in upkeep.
Husband and wife murder suspects who escaped back in custody
The married couple accused of killing a 72-year-old man and then escaping as they were being transported from New York to Arizona to face charges has been taken into custody.
Blane and Susan Barksdale were located and arrested without incident by the Navajo County Sheriff's Office and the US Marshals Service, the Sheriff's Department announced on its Facebook page late Wednesday. The sheriff's department did not provide details about when, how or where the couple was taken into custody.
Blane Barksdale had been on the Marshals Service's list of the 15 most wanted fugitives since Monday.
"Persons placed on the US Marshals top 15 list are usually career criminals with histories of violence, and whose incident offenses pose a significant threat to public safety," US Marshal for the district of Arizona David Gonzales said Monday. "Blane Barksdale has the dubious distinction of fulfilling that requirement."
The couple escaped custody in late August as they were being extradited on charges of arson, burglary and murder in connection with the death of a Vietnam veteran in Tuscon, Arizona. They used a medical emergency to get the guards to pull over and then threw them in the back of the van, Gonzales said.
While on the run, they might have been getting help from white supremacists, Gonzales said at a news conference Monday.
"Somebody like Blane in prison -- with both local -- with both state and federal prison, would be associated with Aryan Brotherhoods, white supremacist gangs. So those are the type of individuals we think that might be assisting," Gonzales said.
In April, police responded to a fire that led to an explosion at Vietnam veteran Frank Bligh's home.
But he and his vehicle were nowhere to be found, and investigators discovered evidence the fire was set intentionally and that Bligh had been killed, Tucson police said.
On May 1, an arrest warrant was issued for the Barksdales on charges including first-degree murder, first-degree burglary, arson and auto theft, police said.
But the Barksdales had fled the state, sparking a nationwide search. They were found in Henrietta, New York, a suburb of Rochester, and arrested without incident on May 24.