Also trending this morning: Massachusetts Sen. Elizabeth Warren listed race as 'American Indian' on Texas bar registration, lawyer with bed bugs falling out of clothing causes courthouse to close early and Texas man dies after vape pen explodes in his face.
Must-watch moments from Trump's State of the Union address
(CNN) -- President Donald Trump delivered one of the longest State of the Union addresses on record. Did you catch the most watchable moments and reactions from lawmakers? These are the videos you don't want to miss from the State of the Union address.
Pointed applause 
President Trump called on Americans to "reject the politics of revenge, resistance, and retribution." This line caused House Speaker Nancy Pelosi to stand up and clap in the President's direction. 
Last year, she was still in prison 
You may remember Alice Johnson, a first-time nonviolent drug offender whose sentence President Donald Trump commuted following his meeting with Kim Kardashian West. Johnson was seated with the first family during Trump's address, and wiped away tears as the President recounted her story.
Democrats react on cam
"Politics, war and partisan investigations." What do those have in common? President Trump said all three are a threat to America's economic growth. The facial expressions of some high-ranking Democrats would suggest they do not wholeheartedly agree with Trump's statement.
Shout-out to women in white
As President Trump highlighted the number of women now in Congress and in the workforce, female lawmakers stood and cheered multiple times, concluding with a chant.
A popular guest 
President Trump noted advances in the medical field, like childhood cancer and HIV/AIDS. Melania Trump's guest, 10-year-old cancer survivor Grace Eline, elicited cheers from the crowd.
Vatican clarifies pope on issue of 'sexual slavery' of nuns
VATICAN CITY (AP) — The Vatican on Wednesday clarified comments by Pope Francis about a case of what he called "sexual slavery" within a French congregation of nuns, saying he was referring to an abuse of power that was reflected in instances of sexual abuse.
Francis cited the case when responding to a question about the sexual abuse of nuns by clergy during a press conference Tuesday returning home from the United Arab Emirates. It was the pope's first-ever public acknowledgment of the problem of priests and bishops sexually abusing nuns. He stressed that the Vatican had been confronting the issue for some time and vowed to do more.
Vatican spokesman Alessandro Gisotti said Wednesday Francis "spoke of 'sexual slavery' to mean 'manipulation' or a type of abuse of power that is reflected in a sexual abuse."
The Community of St. Jean admitted in 2013 that its late founder had behaved "in ways that went against chastity" with women in the order, according to the French Catholic newspaper La Croix. The Vatican under Pope Benedict XVI ultimately dissolved an offshoot of the congregation.
The issue has come to the fore amid the Catholic Church's overall reckoning with the sexual abuse of minors and the #MeToo-inspired acknowledgement that adults can be victims of abuse whenever there is an imbalance of power in a relationship. In the past year, The Associated Press and other media have reported on cases of abused nuns in India , Africa, Europe and South America — evidence that the problem is by no means limited to a certain geographic area.
In November, the organization representing all the world's female Catholic religious orders, the International Union of Superiors General, publicly denounced the "culture of silence and secrecy" that prevented nuns from speaking out and urged sisters to report abuse to their superiors and police. And just last week, the women's magazine of the Vatican newspaper L'Osservatore Romano identified the clerical culture of the all-powerful clergy as the culprit.
The magazine, "Women Church World," noted that the scandal involves a corollary: nuns being forced to abort the priests' children or bear children that the priests refuse to recognize.
Francis' acknowledgement of the problem comes as he prepares to decide the fate of the disgraced American ex-cardinal, Theodore McCarrick, who is accused of abusing minors as well as adult seminarians.
Texas man dies after vape pen explodes in his face, medical examiner's office says
FORT WORTH, Texas — A 24-year-old Fort Worth man died last month after his vape pen exploded in his face, according to the Tarrant County medical examiner's office.
William Brown was at a vaporizer store in Keller when it happened. His grandmother, Alice Brown, said he had just purchased the device and was using it for the first time in her car.
He died at John Peter Smith Hospital two days after crawling from the car to the trunk area where he collapsed on the pavement, she said. She said she believes William Brown was attempting to get help. Alice Brown said somebody who saw her grandson called an ambulance.
The medical examiner ruled William Brown's cause of death as penetrating trauma from an exploding vaporizer pen. His left carotid artery was severed, the report says. Alice Brown said doctors at John Peter Smith Hospital told her that William suffered a stroke inside the car and eventually had bleeding in his brain.
William Brown is at least the second person in the United States reportedly killed by an exploding e-cigarette.
Warren listed race as 'American Indian' on Texas bar registration
(CNN) -- Massachusetts Sen. Elizabeth Warren listed her race as "American Indian" on a State Bar of Texas registration card in 1986, the Washington Post reported Tuesday.
The Post's reporting represents a previously unknown instance of Warren claiming her race as Native American and the first document that appears to definitively show Warren making the claim in her own handwriting. According to the Post, Warren has previously declined to answer whether she or an assistant filled out forms in which her race was listed as Native American.
Warren's longstanding assertions of having Native American heritage have dogged her political career and provided fodder for attacks from President Donald Trump. Her use of DNA testing to confirm her limited Native roots last year was met with fierce criticism from some Native American groups. The prospective 2020 Democratic presidential candidate is expected to formally announce her entrance into the race on Saturday after forming an exploratory committee on New Year's Eve.
The card, obtained by the Post in an open records request, lists Warren's alma maters of the University of Houston and Rutgers Law School but no other racial identifiers.
A Warren aide did not dispute to CNN the card's legitimacy or Warren's handwriting, and noted that the form was not a part of the application to the bar, but rather a registration card to the Texas Bar after the senator was already admitted. The aide declined to comment on whether there might be other unreported examples of Warren having claimed American Indian heritage.
"As Senator Warren has said she is not a citizen of any tribe and only tribes determine tribal citizenship. She is sorry that she was not more mindful of this earlier in her career," said Kristen Orthman, a spokeswoman for Warren, in a statement.
Republican National Committee spokesman Mike Reed accused Warren of apologizing at a time that was politically convenient.
"Now, four days before her formal presidential launch, she's issued a politically opportunistic apology that doesn't go nearly far enough," Reed said in a statement. "Warren pretended to be a minority to climb the Ivy League ladder -- a lie that will continue to haunt her presidential ambitions."
News of the card comes following Warren's acknowledgment Monday that she had apologized to Cherokee leaders for causing "confusion" by her use of a DNA test to prove Native American ancestry.
Southwest Airlines completes test flight to Hawaii
DALLAS (AP) — Southwest Airlines has completed a test flight from Oakland, California, to Honolulu to demonstrate to federal aviation officials that it should be authorized to begin scheduled flights from the U.S. mainland to Hawaii.
In a statement, the Dallas-based airline said the Tuesday flight was intended to demonstrate to the Federal Aviation Administration its long-range navigation and communications procedures and capabilities.
Southwest has applied for FAA certification to fly to Honolulu and three other Hawaiian destinations from Oakland, San Jose, San Diego and Sacramento in California. No dates have been announced but the recent partial federal government shutdown delayed the federal regulatory approval process.
Lawyer with bed bugs falling out of clothing causes courthouse in Nebraska to close early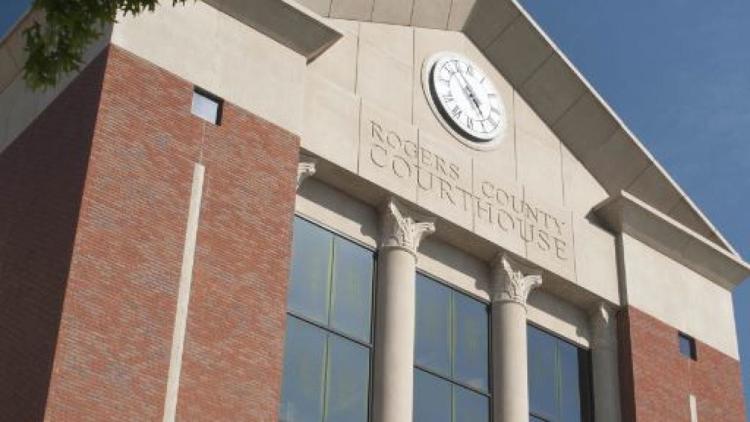 Rogers County, NE (KMTV) -- The Rogers County Courthouse in Nebraska closed early Monday due to bed bugs.
Rogers County Sheriff Scott Walton said a lawyer came up to a third-floor courtroom with bugs falling out of his clothing.
"Hard to imagine someone doesn't know, you know that some bed bugs are crawling all over them certainly in abundance," Sheriff Walton said.
Courthouse officials had a meeting and decided to close the courthouse at noon until the bed bugs were gone.
"I was told the individual that had them also shook his jacket over the prosecutors files," Sheriff Walton said.
Mike Clarke, head of security for the Rogers County Courthouse, said the attorney was non-responsive to the situation.
"I don't even think he cared," Clarke said.
Exterminators were called to the 90,000 square foot building and were prepared to work through the night to get rid of the pests.
Employees and others treated themselves as a precaution.
Officials said the courthouse will reopen Tuesday at 8 a.m.
A letter posted on the door of the courthouse advises anyone who believes they may have been exposed to treat themselves.
No word on who will pay the bill for the exterminators or what is being done for cases that had to be rescheduled.