Your daily 6: 'Plus size' mannequins from Nike, scolded by Jon Stewart and US women's team plays defense
People also are talking about the mother of five slain children asking for mercy for their father and confusion over how DC will mark July 4th. 
US women's team defends itself after humiliating Thailand
The USWNT defended itself against criticism that it humiliated Thailand in its record 13-0 Women's World Cup victory in France on Tuesday.
Thailand's players were in tears at the full-time whistle after suffering the heaviest defeat in World Cup history at the hands of the US.
There were those on social media who criticized the defending champions for celebrating each goal, but Alex Morgan -- who became only the second American to score five in a World Cup match -- told reporters that "every goal counts."
Morgan, who comforted Thailand player Miranda Nild after the match, said it was important for the team to "continue to go" and score as many as they could in case goal difference would ever prove to be a factor in the group stages.
"We knew that every goal could matter in this group stage game and when it comes to celebrations this was a really good team performance and I think it was important for us to celebrate together," said the striker.
The 29-year-old, who played a limited role in the US' World Cup triumph four years ago because of injury, said she felt she was at the "peak of her powers."
"In the preparation days before this, the team in general was just feeling great," she added.
Jill Ellis, who could become the first coach to win the Women's World Cup twice, said her team had showed Thailand respect.
"I think to be respectful to opponents is to play hard against opponents," she told reporters.
"As a coach, I don't find it my job to harness my players and rein them in because this is what they've dreamed about. This is it for them, this is a world championship.
"I respect Thailand. I celebrate that they're here. For us, the players are excited and I said afterward when you go into a World Cup you can talk tactics, but it's about mentality, it is also about confidence, and so getting off on the right foot is important."
With the US 3-0 up by halftime, the match was effectively over. With the title holders then proceeding to score four goals in the space of six minutes early after the break, it was a rout by the 56th minute.
But Ellis proceeded to make attacking substitutions, bringing on forwards Mallory Pugh, Carli Lloyd and Christen Press, decisions she defended after the match.
"If this is 10-0 in a men's World Cup are we getting the same questions?" she added.
Thailand's manager Nuengrutai Srathongvian did not believe the team's opponents were morally wrong to continue to press for goals until the end.
Indeed, Srathongvian vowed that the team would improve from such an experience.
Mother of 5 slain children asks for mercy for ex-husband
The ex-wife of a man who was found guilty of killing their five children in South Carolina took the stand this week to ask jurors not to sentence him to death.
Amber Kyzer was married to Timothy Jones Jr. for eight years and lived in Lexington County until 2012 -- when they got a divorce and shared joint custody of their children.
After their marriage ended, she was left without a job, a car or a license, and believed it'd be best to give her former husband primary custody of the children, CNN affiliate WIS reported.
"I had nothing to offer my children, I could not provide for them," she said. "As a mother, I made the best decision I could. I trusted my husband at the time. He promised to take care of our children."
Then on August 28, 2014, she called her children like she always did at 7 p.m. -- but something was different. Her children were screaming in the background and her son sounded like he was gasping for air, she said. Then her husband disconnected the phone, and did not answer numerous calls from her afterward, she said.
She later found out he'd killed their children Mera, 8; Elias, 7; Nahtahn, 6; Gabriel, 2; and Abigail 1.
Jones pleaded not guilty by reason of insanity, WIS reported. After three weeks of testimony, a jury found him guilty of five counts of murder on June 4. Prosecutors are seeking the death penalty and a jury will determine the punishment.
Kyzer said while she was outraged at Jones for killing the children, she was pleading for his life on their behalf.
"He did not show my children mercy by any means. But my kids loved him and if I'm speaking on behalf of my kids and not myself, that's what I would have to say," she testified Tuesday. "I'm not here for me. The mom in me wants him to feel everything that I feel, that my kids felt. Nothing justifies, nothing justifies what you've done."
During the hearing, she turned to the man she was once married to and told him how she loved him at one point, and so did their children. Jones wiped away tears with a handkerchief.
Her husband dumped the children's bodies in trash bags off a dirt road in Alabama. He was arrested while driving on September 6, 2014.
South Carolina Department of Corrections officers -- Lt. Travis Pressley and Ben Boyd -- testified how after he was processed and put in a room, Jones came clean and described how he strangled and choked his children.
Nike stirs debate with 'plus size' mannequins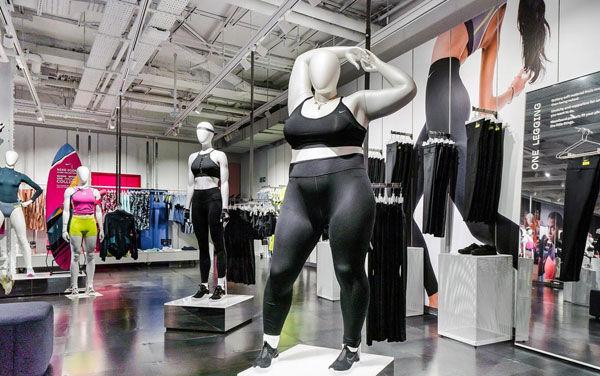 When Nike rolled out its plus size mannequins in NikeTown London last week, the company got a mixed reaction. 
Fans said the athletic company was promoting a more realistic version of women with the launch of the "Women by Nike." Critics said the company was promoting an unhealthy lifestyle.
A Nike spokeswoman told ABC's "Good Morning America" the mission is to "serve all athletes" regardless of size.
"We launched the Nike Plus Size collection in 2017 – a collection crafted to ensure the perfect fit at every size. To showcase inclusivity and inspire the female consumer, we launched Nike Plus Size mannequins in select stores in North America in 2018 and as part of the recent launch of the new 'Women by Nike' floor in NikeTown London," the spokeswoman said in a statement. "We continue to listen to the voice of the athlete and know that the female consumer wants to see a diverse and inclusive range of product to serve her sporting needs."
The website Racked reported last year that the average American woman is 5 feet 3 inches tall and weighs 168.5 pounds and wears a size 16 or 18. 
A writer for the Guardian newspaper reported that some people believe the more typical mannequin actually promotes obesity.
"The fat-acceptance movement, which says that any weight is healthy if it is yours, is no friend to women, even if it does seem to have found a friend in Nike. It may, instead, kill them, and that is rather worse than feeling sad," the article read.
The sportswear brand follows retailers including Old Navy and Nordstrom, as well as UK department store Debenhams, in displaying size-inclusive mannequins.
Nike released a women's plus-size range in 2017, offering sizes from 1X to 3X, with a campaign featuring model Paloma Elsesser, influencers Grace Victory and Danielle Vanier, and hammer thrower Amanda Bingson.
Jon Stewart lashes out at Congress over 9/11 victims fund
Comedian Jon Stewart scolded Congress Tuesday for failing to ensure that a victims' compensation fund set up after the 9/11 attacks never runs out of money.
Stewart, a longtime advocate for 9/11 responders, angrily called out lawmakers for failing to attend a hearing on a bill to ensure the fund can pay benefits for the next 70 years. Pointing to rows of empty seats at a House Judiciary Committee hearing room, Stewart said "sick and dying" first responders and their families came to Washington for the hearing, only to face a nearly deserted dais.
The sparse attendance by lawmakers was "an embarrassment to the country and a stain on this institution," Stewart said, adding that the "disrespect" shown to first responders now suffering from respiratory ailments and other illnesses "is utterly unacceptable."
Lawmakers from both parties said they support the bill and were monitoring the hearing amid other congressional business.
Rep. Mike Johnson, R-La., predicted the bill will pass with overwhelming support and said lawmakers meant no disrespect as they moved in and out of the subcommittee hearing, a common occurrence on Capitol Hill.
Stewart was unconvinced.
Pointing to rows of uniformed firefighters and police officers behind him, he said the hearing "should be flipped," so that first responders were on the dais, with members of Congress "down here" in witness chairs answering their questions.
First and foremost, Stewart said, families want to know, "Why this is so damn hard and takes so damn long?"
The collapse of the World Trade Center in September 2001 sent a cloud of thick dust billowing over Lower Manhattan. Fires burned for weeks. Thousands of construction workers, police officers, firefighters and others spent time working in the soot, often without proper respiratory protection.
In the years since, many have seen their health decline, some with respiratory or digestive-system ailments that appeared almost immediately, others with illnesses that developed as they aged, including cancer.
More than 40,000 people have applied to the September 11th Victim Compensation Fund, which covers illnesses potentially related to being at the World Trade Center site, the Pentagon or Shanksville, Pennsylvania, after the attacks. More than $5 billion in benefits have been awarded out of the $7.4 billion fund, with about 21,000 claims pending.
Confusion abounds over what Washington's 4th of July will be
With just over three weeks to go, exactly what's going to happen in Washington on the Fourth of July remains a subject of intense confusion.
Will the nation's premier Independence Day celebration be centered around the Washington Monument or shift to the Lincoln Memorial, as the White House has reportedly requested? Will President Donald Trump follow through on his plans to give a speech? And, if he does, will the speech be open to anyone, including protesters, or will the White House restrict his audience to supporters at the traditionally nonpolitical event?
The White House hasn't revealed its plans. The National Park Service, which is primarily responsible for the event, has also gone silent. That leaves the city government, which helps with security, in the dark.
Del. Eleanor Holmes Norton, the District of Columbia's representative in Congress, said interdepartmental planning meetings for July 4 usually begin up to three months in advance. But to her knowledge, none of those meetings has happened.
"The city is scrambling to figure out what to do, because all they have is the outline of what (the White House) wants," Norton said. She said she approached the Park Service for details but: "They wouldn't tell us a thing. You know why? Because they don't know a thing."
Mayor Muriel Bowser declined repeated requests for comment.
Independence Day normally draws tens of thousands of people to the National Mall for a celebration capped by fireworks. A major security overhaul was implemented following the Sept. 11 attacks, but the occasion has run smoothly for years.
The first sign that 2019's celebration may be a little different came in a February tweet from Trump announcing a special "Salute to America" on July 4 that would feature "an address by your favorite President, me!"
Last week, a National Park Service official was quoted in The Washington Post saying the White House was planning a Trump speech on the steps of the Lincoln Memorial during the event.
But since that report, the White House and the National Park Service have refused to comment. Park Service spokesman Mike Litterst released a terse statement saying only that "We continue to work with the White House on creating a Salute to America program that will bring Americans from all over the country together in celebration of our great nation."
Norton is predicting a security nightmare, with a new location and format being instituted on short notice and the president's movements and security requirements causing chaos.
"This will be all sorts of headaches for security," she said.
Hong Kong police fire tear gas at people protesting extradition bill
Hong Kong police fired tear gas and rubber bullets at protesters who had massed outside government headquarters Wednesday in opposition to a proposed extradition bill that has become a lightning rod for concerns over greater Chinese control and erosion of civil liberties in the territory.
The afternoon violence marked a major escalation in the semi-autonomous Chinese city's biggest political crisis in years. It came after protesters earlier in the day forced the delay of a legislative debate over the bill, which would allow criminal suspects in Hong Kong to be sent for trial in mainland China.
The overwhelmingly young crowd had overflowed onto a major downtown road as they overturned barriers and tussled with police outside the government building. But when some appeared to have breached the police cordon around the building, the police launched their response, which also included firing pepper spray and water hoses.
Earlier, a curt government statement said the legislative session scheduled to begin at 11 a.m. would be "changed to a later time." Officials gave no indication of when that would be and Hong Kong leader Carrie Lam canceled a scheduled news briefing.
The delay appeared to have been at least a temporary victory for the bill's opponents, whose protests are the largest since pro-democracy demonstrations closed down parts of the Asian financial center for more than three months in 2014. Some businesses closed for the day, and labor strikes and class boycotts were called.
The protests are a challenge to China's ruling Communist Party and President Xi Jinping, who has in the past said he would not tolerate Hong Kong being used as a base to challenge the party's authority. But they are also giving vent to young Hong Kongers alienated by a political process dominated by the territory's economic elite.
At a brief news conference held as the chaos swirled just outside, Police Commissioner Stephen Lo Wai-chung called the demonstration a riot. That could mean long jail terms for anyone arrested, adding to concerns that Hong Kong's government is using public disturbance laws to intimidate political protesters.
"We condemn such irresponsible behavior," Lo said. "There's no need to hurt innocent people to express your opinions," he said, adding that people should not "do anything they will regret for the rest of their lives."
Protesters were seen throwing rocks, bottles, metal barricades and other projectiles at police.
Police spokesman Gong Weng Chun defended the decision to use tear gas and other non-lethal weapons, saying officers wouldn't have had to do so if they weren't facing a serious threat that could seriously injure or even kill them.
The state of the legislative process remained unclear following the violence, which had largely ended by about 5 p.m. after police herded demonstrators across a pedestrian bridge. Traffic in one of the busiest parts of the city remained blocked, however, and several hundred protesters seemed in no hurry to leave.
Earlier in the day, protesters said they hoped the blockade would persuade Lam's administration to shelve the proposed amendments.
"We want the government to just set the legislation aside and not bring it back," said a protester who gave only his first name, Marco, to avoid possible repercussions from authorities.
Another protester, who gave her name only as King, also out of fear of repercussions, said the protest was a watershed moment for Hong Kong's young generation.
"We have to stand up for our rights or they will be taken away," she said.
Dressed in black T-shirts and jeans, many protesters appeared undaunted by demands to disperse from police. The demonstrators also appeared mindful of Beijing's growing use of electronic surveillance such as facial recognition technology to build dossiers on those it considers politically unreliable, with many donning surgical masks to hide their features, as well as to safeguard against tear gas.
Such protests are never tolerated in mainland China, and Hong Kong residents can face travel bans and other repercussions if they cross the border.
"Most of these protesters don't expect the government to compromise. They just want to express their own opinions," said Joseph Cheng, a long-time observer of Chinese and Hong Kong politics now retired from the City University of Hong Kong.
"The anger is still there and the anger will burst again at the next opportunity," Cheng said.
Under its "one country, two systems" framework, Hong Kong was supposed to be guaranteed the right to retain its own social, legal and political systems for 50 years following its handover from British rule in 1997. However, China's ruling Communist Party has been seen as increasingly reneging on that agreement by forcing through unpopular legal changes.
Videos: Hong Kong police use tear gas on protesters, and other top news for Wednesday
Your daily look at the top videos covering the biggest news and the stories that will be talked about Wednesday.