Your daily 6: President Trump crashes wedding, GOP group removes 'Jihad Squad' post, Equifax to pay up to $650M
Also trending on your Monday: Father of six killed by wave in freak accident on beach in North Carolina, Costa Rica officials say tainted alcohol kills at least 19 and see a great white shark leap out of water in front of boat near Cape Cod.
Father of six killed by wave in freak accident on beach in N Carolina
OAK ISLAND, N.C. (AP) — A woman says her husband was killed on the North Carolina coast when a wave crashed into him, slamming his head into the sand and breaking his neck.
Shannon Dingle tweeted about Lee Dingle's death, saying "my partner, my love, and my home died today after a freak accident."
My partner, my love, and my home died today after a freak accident. Lee was playing on the beach with three of our kids yesterday, and an intense wave hit him just right to slam his head into the sand and break his neck. 1/

— Shannon Dingle (@ShannonDingle) July 20, 2019
She said her husband was playing in the water Thursday with several of their six children when he was hit by the intense wave.
Oak Island Fire Chief Chris Anselmo said rescuers took him to the New Hanover Regional Medical Center, where he died.
Dingle is a writer whose work focuses on surviving sexual assault and parenting. A GoFundMe for the Raleigh family raised nearly $140,000 as of Monday.
President Trump crashes wedding
(CNN) -- President Trump popped into a wedding reception at his golf club in Bedminster, New Jersey, on Saturday night, prompting the bride, groom and guests to chant, "USA! USA!"
Groom P.J. Mongelli told CNN that Trump first dropped into the cocktail hour to meet bride Nicole Marie and other family members. Mongelli said they'd sent Trump multiple invitations but didn't know if he'd actually show up.
"It was a complete and utter surprise," Mongelli said.
Mongelli said he asked the President for a favor -- to greet the guests at the reception.
Video posted on social media showed Trump, wearing a dark suit but no tie, standing in a doorway and waving to the cheering crowd. The President motioned for the newly married couple from Staten Island to approach and they stood on either side of him, pumped their fists and led the chant, "USA! USA!" the video showed.
"He was such a gentleman," Mongelli said. "He was aces."
Mongelli said he and his wife are both strong Trump supporters, as were most of the wedding guests. The couple got engaged at the golf club in November 2017, he said.
The President was staying at Trump National Golf Club in Bedminster over the weekend and returned to Washington on Sunday.
Trump has unexpectedly appeared at wedding receptions before.
In June 2017, he and Japanese Prime Minister Shinzo Abe stopped in at a reception in the grand ballroom at Trump's Mar-a-Lago club in Palm Beach, Florida.
"I said to the Prime Minister of Japan, I said, 'C'mon Shinzo, let's go over and say hello,' " Trump told the crowd at that wedding.
Costa Rica officials say tainted alcohol kills at least 19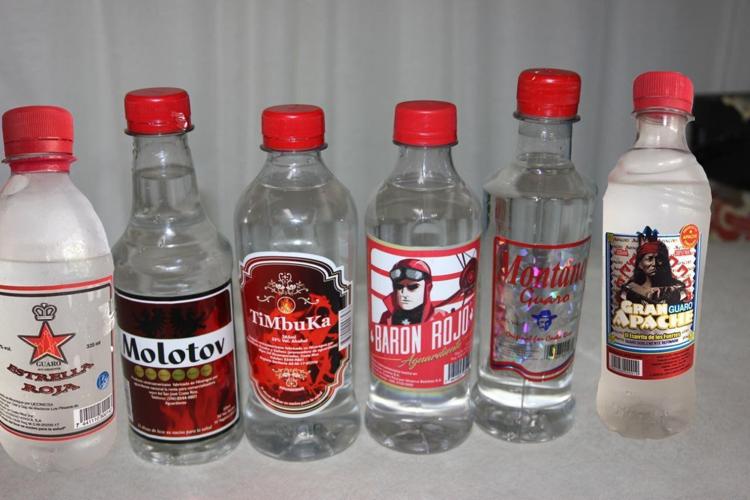 (CNN) -- Nineteen people have died from consuming alcohol tainted with toxic levels of methanol in Costa Rica, where the Ministry of Health issued a national alert.
Fourteen men and five women ranging from 32 to 72 years old have died in several cities across the country since the beginning of June, the ministry said.
The government has confiscated about 30,000 bottles of alcohol suspected to be tainted, affecting several brands.
The Ministry of Health advised against consuming alcohol from a number of brands because samples had tested positive for methanol adulteration.
Adulterated liquor often contains methanol, which can make people feel inebriated. Adding methanol to distilled spirits enables sellers to increase the amount of liquid and its potential potency, according to SafeProof, a group that lobbies against counterfeit alcohol.
Methanol poisoning can cause confusion, dizziness, drowsiness, headaches and the inability to coordinate muscle movements. Even small amounts can be toxic.
According to the World Health Organization, outbreaks of methanol poisoning are usually linked to "adulterated counterfeit or informally-produced spirit drinks."
Outbreaks have hit countries around the world in recent years, each ranging in size from 20 to over 800 victims, WHO reports.
This year, at least 154 people died and more than 200 others were hospitalized after drinking tainted alcohol in India. The victims consumed unregulated moonshine, known as "country-made liquor" in the northeast state of Assam.
Health authorities in Costa Rica have called on the public to exercise caution when consuming alcohol.
See great white shark leap out of water in front of boat near Cape Cod
(CNN) -- At least no one can complain that this fishing trip was boring.
A group of fathers and sons out fishing got more action than they anticipated when a great white shark leapt out of the water next to the charter boat and stole a fish off one boy's line.
Doug Nelson and his son joined a Saturday outing on Cape Cod Bay, off the coast of Massachusetts, he told CNN.
One of the boys on board hooked what appeared to be a "good-sized fish," Nelson said, so he grabbed his phone to capture a shot.
Instead, he filmed a close encounter with the ocean's apex predator, as a great white shark came up behind the fish the boy caught, jumped up in the air and snatched it.
The Atlantic White Shark Conservancy confirmed to CNN that the shark was a great white.
Equifax's $700 million data breach settlement spurs criticism, calls for new rules
Updated at 4:11 p.m.
WASHINGTON — Credit-reporting company Equifax Inc. will pay up to $700 million to settle claims it broke the law during a massive 2017 data breach and to repay harmed consumers, in a landmark settlement that was nonetheless criticized by consumer advocates and some lawmakers who called for stricter regulation.
While it was the largest-ever settlement for a data breach, they said the amount was still too small for the millions of Americans affected, and worried it could prove difficult for consumers to be repaid. The agreement also spurred multiple lawmakers to renew calls for legislation giving consumers more control over their personal information.
"This settlement is just a drop in the bucket of what Equifax's disregard for privacy could cost American families," Democratic U.S. Senator Sherrod Brown said in a statement.
The settlement concludes multiple probes into Equifax by the Federal Trade Commission, the Consumer Financial Protection Bureau and nearly all state attorneys general. It also resolves pending class-action lawsuits against the company.
Shares in Equifax, which is one of three major credit reporting companies, closed up 0.4 percent at $137.84 a share in trading on the New York Stock Exchange on Monday.
Roughly 147 million people had information, including Social Security numbers and driver's license data, compromised by the breach. The hackers have never been identified.
While Equifax said on Monday it saw no evidence the stolen information had been used in identity thefts, regulators said the company failed to protect the data and misled consumers as to how secure it was. They ordered Equifax to set aside funds to repay consumers who spent time or money protecting themselves after the breach.
The company will establish a $300 million restitution fund which could climb to $425 million depending on how many people file claims. Only consumers who can show they suffered direct costs following the breach, either from identity theft or by purchasing credit-monitoring services, will be eligible for restitution, capped at $20,000 per person.
Equifax Chief Executive Mark Begor told reporters Monday he expected that the initial amount, which will also cover the costs of a decade of free credit monitoring for affected consumers, would be sufficient. In an interview on Monday afternoon with CNBC, Begor said the fund could be operational by year's end.
In addition, the company will pay a $175 million fine to the states and $100 million to the CFPB.
Consumer advocates said the settlement was modest given the huge number of people affected.
"It's a parking ticket, not a penalty," Ed Mierzwinski of the Washington-based U.S. Public Interest Research Group said in an email. He added that consumers should not have to jump through hoops to receive compensation.
Others questioned whether the fund would be sufficient given the long-term risks of having a Social Security number exposed.
"The settlement provides some compensation right now, but the risk of identity theft is forever," said Chi Chi Wu, attorney for the National Consumer Law Center.
Speaking to reporters, Federal Trade Commission Chairman Joe Simons said the agency also wanted to impose a monetary penalty, but the law does not allow it to fine companies for their first offense, an issue he has called on Congress to fix.
A spokeswoman for the Massachusetts attorney general, who along with Indiana, is not participating in the settlement, said its litigation against the company was ongoing. "Equifax must pay a penalty commensurate with the worst data breach in American history," she added.
Potential legislation
Equifax disclosed in 2017 that a data breach had compromised the personal information, including Social Security numbers, of 147 million people.
The scandal sent the company into turmoil, leading to the exit of its then-CEO, Richard Smith, and multiple congressional hearings as the company's slowness to disclose the breach and security practices were challenged by lawmakers.
Policymakers and consumer groups have questioned how private companies could amass so much personal data, sparking efforts to bolster consumers' ability to control their information. Both the Senate Banking and House of Representatives Financial Services Committees are considering legislation that would require companies to better protect consumer data.
"We need structural reforms and increased oversight of credit reporting agencies in order to make sure that this never happens again," Democratic Senator Mark Warner said in a statement.
Begor told reporters on Monday the company was overhauling its processes to put consumers first, and was committing $1.25 billion to bolster its data security.
Equifax has also agreed as part of the settlement to several new measures, including reviews of its security policies by a government-appointed third party. Equifax's board also must certify annually that the company has complied with the settlement terms, and could be fined if not.
Additional reporting by Katanga Johnson and Nate Raymond.