People also are talking about a backyard shed renting for $1,050, charges against a teenage protester shot in Hong Kong and making money from housing migrant children. 
Ex-cop's murder trial ends with embrace, protests
A white Dallas police officer who said she mistook a neighbor's apartment for her own and fatally shot him in his living room was sentenced to a decade in prison in a stunning courtroom scene that included the dead man's brother and the black judge embracing the sobbing officer.
People outside of the courtroom reacted angrily to the sentence given to Amber Guyger in the death of Botham Jean, believing it was too lenient. But Jean's brother addressed her directly from the witness stand.
Brandt Jean told Guyger that his brother would have wanted her to turn her life over to Christ, and that if she asks God for forgiveness, she will get it.
"I love you as a person. I don't wish anything bad on you," he said to the 31-year-old Guyger, before asking the judge, "I don't know if this is possible, but can I give her a hug?"
The judge said he could, and Brandt and Guyger stood up, met in front of the bench and embraced while Guyger cried. Judge Tammy Kemp also hugged Guyger before she was led from the courtroom Wednesday.
The shooting in September 2018 drew widespread attention because of the strange circumstances and because it was one in a string of shootings of unarmed black men by white police officers.
Guyger, arrested three days after the shooting and later fired, was convicted of murder Tuesday. The jury, which was largely made up of women and people of color, could have sentenced her to up to life in prison or as little as two years. But prosecutors asked them to send her to prison for 28 years, which is how old Botham Jean would have been if he were still alive.
She will be eligible for parole in five years, after serving half of her sentence.
As video of the dramatic hearing circulated online, critics blasted the judge, saying her hug was inappropriate for the jurist overseeing the case. Meanwhile at a Dallas church where the Jean family gathered to worship and Botham Jean used to lead congregation singing, video of Brandt Jean embracing Guyger in court drew applause and "amens" when showed Wednesday night.
Dallas County District Attorney John Creuzot, a former trial judge, called Brandt's embrace of Guyger "an amazing act of healing and forgiveness that is rare in today's society ... especially for many of our leaders."
If Jean's 18-year-old brother "can heal and express healing in that fashion, in his words and in his deeds, I would hope that the greater community, not just Dallas but all of Texas and all of the United States, could gain a message from that," he told reporters.
Dallas Mayor Eric Johnson issued a statement saying he would "never, ever forget the incredible examples of love, faith and strength personified by Botham, Brandt and the entire Jean family."
Dozens of demonstrators marched through parts of downtown Dallas on Wednesday night to protest the sentence. One woman was taken into custody after she appeared to disregard police orders not to obstruct traffic.
Guyger's attorney had asked jurors to show mercy, pointing to the good she did for people, including some who spoke at the sentencing hearing.
Angry, name-calling Trump met with subpoenas from Democrats
Agitated and angry, President Donald Trump squared off against House Democrats, packing his increasingly aggressive impeachment defense with name-calling and expletives. Quietly but just as resolutely, lawmakers expanded their inquiry, promising a broad new subpoena for documents and witnesses.
Democratic leaders put the White House on notice that the wide-ranging subpoena would be coming for information about Trump's actions in the Ukraine controversy, the latest move in an impeachment probe that's testing the Constitution's system of checks and balances. They said they'd be going to court if necessary.
Amid the legal skirmishing, Wednesday was a day of verbal fireworks.
The president complained that House Speaker Nancy Pelosi was handing out subpoenas "like cookies," railed against a government whistleblower as "vicious" and assailed the news media as corrupt and the "enemy." All that alongside a presidential tweetstorm punctuated with an accusation that congressional Democrats waste time and money on "BULL----."
Pelosi said Democrats had no choice but to take on the most "solemn" of constitutional responsibilities to put a check on executive power after the national security whistleblower's complaint that recently came to light. The administration and Congress are on a collision course unseen in a generation after the whistleblower exposed a July phone call the Republican president had with Ukrainian President Volodymyr Zelenskiy in which Trump pressed for an investigation of Democratic political rival Joe Biden and his family.
"We take this to be a very sad time" for the American people and the country, Pelosi said. "Impeaching the president isn't anything to be joyful about."
Standing beside her, intelligence committee Chairman Adam Schiff accused Trump of "an incitement to violence" with his attacks on the unnamed whistleblower, who is provided anonymity and other protections under federal law. He said the investigation is proceeding "deliberately" but with a sense of "urgency."
Unlike Trump, Schiff never raised his voice but said firmly: "We're not fooling around here."
Pelosi, in an ABC interview that aired Thursday on "Good Morning America," said Trump is "scared" of the impeachment inquiry and the arguments that can be made against him.
"We feel that we are on very firm ground as we go forward," she said.
Democrats are now talking of basing an impeachment charge of obstruction on the White House's slow-walking of documents and testimony _ administration actions that echo the months of resisting Congress in its other investigations into special counsel Robert Mueller's report and Trump's business dealings.
Ahead of the new subpoena, the chairmen of three House committees accused the administration of "flagrant disregard" of previous requests for documents and witnesses and said that refusal could be considered an impeachable offense.
The standoff took on a defiant tone this week when Secretary of State Mike Pompeo said he would not stand for Democrats "bullying" his employees into appearing before the congressional committees, even as he acknowledged that he, too, had been among those U.S. officials listening on the line during the Trump's phone call with the Ukraine leader.
Pompeo's admission is complicating his situation, and House leaders now consider him a "witness" to Trump's interaction with Ukraine.
One former State Department official, Kurt Volker, a former special envoy to Ukraine, will appear Thursday for a closed-door interview with House investigators. He is said to be eager to tell his side of the story. That's ahead of next week's deposition of ousted U.S. Ambassador to Ukraine Maria "Masha" Yovanovitch.
Scooter sabotage leads to man's arrest for cutting brake lines
A man in Florida has been sneaking around his neighborhood tampering with electric scooters parked on the streets, police say.
Fort Lauderdale police posted a surveillance video Tuesday showing a man walking up to an electrical scooter on the street, slapping a white sticker on its QR code, and cutting its brake lines, essentially rendering it impossible to use.
Police say that more than 140 scooters have been disabled and vandalized in a similar way in the southeast part of Fort Lauderdale since April 5.
Officers had already homed in on 59-year-old Randall Williams as a possible suspect, and the majority of the acts of vandalism happened within two blocks of his apartment.
Hoping to nab the saboteur, cops staked out the area over the weekend.
In the early hours of Saturday and Sunday, police say they saw Williams leave his apartment on his nightly rounds of scooter sabotage.
He "walked the neighborhood in a stealthy fashion, utilizing the shadows and the alleyways to conceal his movements," according to their report.
Police say they saw him vandalize seven scooters on Saturday, and an additional nine on Sunday.
When they arrested Williams, he had with him two sets of wire cutters, a pair of hand-held lock pliers, and he was wearing a glove, the police report says.
Police estimated the cost to fix each scooter at $70. For the total of 20 scooters to which they've linked him so far, the bill comes out to about $1,400.
A spokeswoman for police told CNN that multiple brands of scooters were affected.
The cost estimate for the vandalism doesn't take into account lost revenues from rentals while the scooters are inactive.
Williams did not return CNN calls for comment Tuesday.
According to the police report, Williams wanted to limit what he told authorities because he "didn't want to dig himself into a grave."
He was booked on charges of criminal mischief, resisting officers, and loitering or prowling. He was released Monday after posting $500 in bond, according to the Broward County Sheriff's Office.
To help protect riders from jumping on a faulty scooter, a company operating the scooters, which authorities didn't name, deactivated all its scooters in the neighborhood, the police report says.
Spokespeople for Lime, Bird and Bolttold CNN that they're grateful to authorities for taking action.
Lime said that they'll seek "appropriate legal action against those that damage or vandalize our property."
"We have zero tolerance for vandalism and aggressively address it when it occurs," a Bird spokeswoman said.
Shot teen charged as Hong Kong considers ban on masks
The teenager who was the first victim of police gunfire in Hong Kong's monthslong pro-democracy protests was charged Thursday with rioting and attacking police, as calls grew for the government to ban the wearing of masks to subdue rising violence in the semi-autonomous Chinese territory.
The shooting of the 18-year-old Tuesday during widespread clashes marred China's National Day celebration and marked an alarming escalation in violence in the unrest that has rocked one of the world's top financial hubs since June.
Local media reported that Chief Executive Carrie Lam will hold a special Executive Council meeting on Friday to discuss a ban on masks, which have helped protesters conceal their identities, and other tough measures under a colonial-era emergency law.
Lam's office said it had no comment. Pro-Beijing legislator Michael Tien confirmed the meeting. Activists and some lawmakers warned that such harsh measures would only further alienate the people and could prompt a more ferocious backlash.
Anger against the government has built up since Tsang Chi-kin was shot at close range after he struck a police officer with a rod.
Tsang was among seven people charged Thursday with rioting, which carries a penalty of up to 10 years in prison. He also faces two additional counts of attacking two police officers, punishable by up to six months in prison.
Tsang and two others who were hospitalized did not appear in court. The government said Tsang's condition is stable. Dozens of supporters, many in black, sat outside the courthouse.
Thousands of people rallied Wednesday to demand police accountability for the shooting, which has deepened anger against police, who have been accused of being heavy-handed against protesters. Pockets of black-clad youths vented their anger at night, lobbing gasoline bombs at police quarters, vandalizing subway stations and blocking traffic in several districts. Police responded with tear gas in some areas.
More than 1,000 students marched Thursday at the Chinese University in a continuing show of support for Tsang and vowed to keep up their fight for more democratic freedoms. Many students felt that firing at Tsang's chest, close to his heart, was an attempt to kill him.
Police defended the shooting as "reasonable and lawful" because the officer had feared for his life and those of his colleagues.
Videos on social media of the shooting showed a group of black-clad protesters with bars and umbrellas clashing with police. They closed in on a lone officer, who opened fire as Tsang came at him with a rod. Just as another protester rushed in to try to drag Tsang away but was tackled by an officer, a gasoline bomb landed in the middle of the group of officers in an explosion of flames.
The protests that started in June over a now-shelved extradition bill have since snowballed into an anti-China campaign amid anger over what many view as Beijing's interference in Hong Kong's autonomy that was granted when the former British colony returned to Chinese rule in 1997. More than 1,750 people have been detained so far.
Migrant child detention centers shifting from nonprofit to private sector
On a recent day in a remodeled brick church in the Rio Grande Valley, a caregiver tried to soothe a toddler, offering him a sippy cup. The adult knew next to nothing about the little 3-year-old whose few baby words appeared to be Portuguese. Shelter staff had tried desperately to find his family, calling the Brazilian consulate and searching Facebook.
Nearby, infants in strollers were rolled through the building, pushed by workers in bright blue shirts lettered "CHS," short for Comprehensive Health Services, Inc., the private, for-profit company paid by the U.S. government to hold some of the smallest migrant children.
Sheltering migrant children has become a growing business for the Florida-based government contractor, as the number of minors in government custody has swollen to record levels over the past two years. More than 50 babies, toddlers and teens were closely watched on this day inside the clean, well-lit shelter surrounded by chain link fences.
The children, many in matching black pants and gray sweatshirts, are officially under the custody of the federal government. But a joint investigation by The Associated Press and FRONTLINE has found that the Trump administration has started shifting some of the caretaking of migrant children toward the private sector and contractors instead of the largely religious-based nonprofit grantees that have long cared for the kids.
_
EDITOR'S Note: This story is part of an ongoing joint investigation between The Associated Press and the PBS series FRONTLINE on the treatment of migrant children, which includes an upcoming film.
—
So far, the only private company caring for migrant children is CHS, owned by beltway contractor Caliburn International Corp. In June, CHS held more than 20% of all migrant children in government custody. And even as the number of children has declined, the company's government funding for their care has continued to flow. That's partly because CHS is still staffing a large Florida facility with 2,000 workers even though the last children left in August.
Trump administration officials say CHS is keeping the Florida shelter on standby in case they need to quickly provide beds for more migrant teens, and that they're focused on the quality of care contractors can provide, not about who profits from the work.
"It's not something that sits with me morally as a problem," said Jonathan Hayes, director of the Department of Health and Human Service's Office of Refugee Resettlement. "They're not getting any additional money other than the normal grant or contract that would be received. We're not paying them more just because they're for profit."
Former White House Chief of Staff John Kelly joined Caliburn's board this spring after stepping down from decades of government service; he joined the Trump administration as Secretary of Homeland Security, where he backed the idea of taking children from their parents at the border, saying it would discourage people from trying to immigrate or seek asylum.
Critics say this means Kelly now stands to financially benefit from a policy he helped create.
Houston Police Chief Art Acevedo, who served on a federal advisory panel with Kelly, said the retired general told him first-hand that he believed enforcing a "zero tolerance" policy would serve as a deterrent.
"What's really the motivator, the deterrence or the dollar?" said Acevedo, who signed an Aug. 14, 2019, letter with dozens of law enforcement leaders asking Trump to minimize the detention of children. "I would question that if he's getting one dollar for that association."
Kelly did not respond to requests for comment. But in a statement, Caliburn's President Jim Van Dusen said: "With four decades of military and humanitarian leadership, in-depth understanding of international affairs and knowledge of current economic drivers around the world, General Kelly is a strong strategic addition to our team."
Backyard shed up for rent: $1,050 a month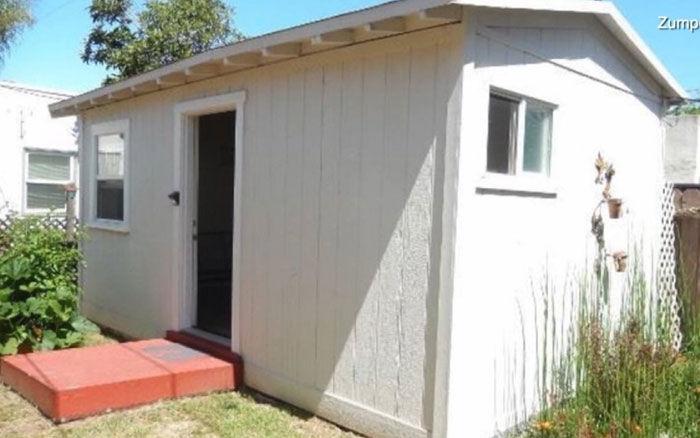 If you're in the market to rent a home in San Diego, this backyard shed could be yours for $1,050 a month.
The shed, listed as a studio, is located in the backyard of a home in the North Park neighborhood, which is one of the city's most walkable neighborhoods.
Neighbors are not convinced it's really a "studio."
"I was amazed it was going for that much money," Joe Moreno, who lives nearby, told CNN affiliate KGTV. "Does it have plumbing? I mean, does it have facilities?"
The 200-square-foot studio apartment does have plumbing, an air conditioner, stove and small refrigerator. It doesn't, however, have a washer and dryer or parking, the listing said.
While the rent seems outrageous to some, the asking price is $300 per month less than a typical studio in the area. The company renting out the property, J.D. Property Management, doesn't expect to have an issue with the price, considering the former tenant paid $1,100 a month for two years.
"Maybe it is high for what it is offered at, but the reality is that the square footage and the location is exactly what this market needs," housing industry analyst Alan Nevin told KGTV.
Applicants interested in renting the shed must have a credit score of 650, an income of 2 1/2 times the rental amount, no history of evictions and rental references, according to the listing.