St. Louis County Police 2013 Medal of Valor Awards
Officer David Steinmeyer: On Jan. 29, 2013, a man fired several shots at Steinmeyer after being pulled over for speeding, then fled. Steinmeyer gave pursuit and arrested the man, who had crashed his car.
Officer Gary Robertson: On April 3, 2012, Robertson heard three gunshots and was approached by three men, one carrying a rifle. The man refused to drop the weapon and pointed it at Robertson, who shot him.
---
2014 Distinguished Service Citation
Officer Jonathan Armbrister: While driving home after his shift on Nov. 17, 2013, Armbrister attempted to save two crash victims from an overturned burning vehicle. Although he broke the rear window and climbed inside, the fire drove him back before he could pull them out.
Lt. Karl Bulla and Officers Lauren Carter and Marty Ingram: On Feb. 27, 2014, Bulla, Carter and Ingram helped save a St. John police officer who had been wounded by a shot fired by someone in a wrecked vehicle. The three were able to pull one of the occupants from the car, saving her life.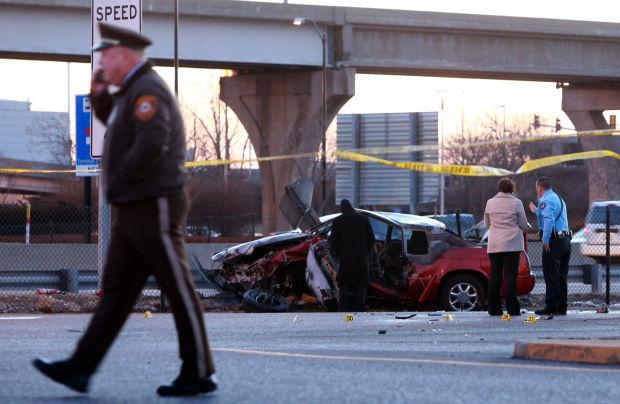 Sgt. Anthony Cavaletti: On Feb. 27, 2014, Cavaletti used his patrol car to shield a wounded St. John officer and drove him to safety where paramedics could take over.
Officer Ryan Hanson: On Feb. 27, 2014, Hanson returned fire at someone who shot a St. John officer from inside a wrecked vehicle, providing cover as the wounded officer was rescued by comrades.
---
2014 Meritorious Service Citation
Officer Michael Schira: On Dec. 9, 2013, Schira entered two burning apartments to save two disabled residents who were calling for help. He then evacuated residents from surrounding apartments.
Officer Vincent Wood: On Oct. 26, 2013, Wood searched three burning apartments and saved two residents.
Officer Shad Menard: On Sept. 7, 2013, Menard entered a burning house from a rear balcony and carried an elderly man to safety.
---
2014 Citizen Service Citation
Jubril Ogundipe: On Dec. 21, 2013, Ogundipe saw a vehicle fatally hit a pedestrian on Chambers Road and keep going. He followed the driver, providing a 911 operator with a detailed description and license plate number that helped led to an arrest and charges.