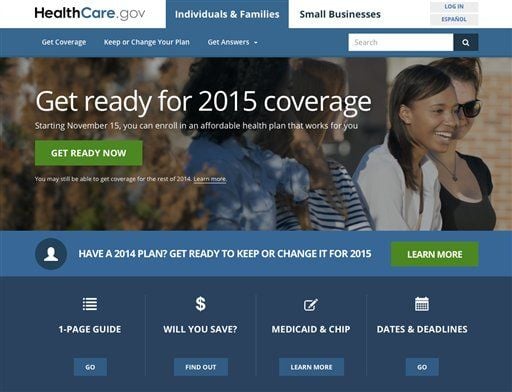 If you bought health insurance on HealthCare.gov for this year, you could be in for a few surprises when open enrollment begins next month.
It's possible, for example, that you could end up being billed for two different plans. The reason, insurers say, is because the federal government hasn't addressed a key communications issue with the website.
And if you haven't updated your financial information on the online insurance marketplace, you could face higher premiums and get less of a subsidy than you deserve.
The upcoming enrollment period will be the first time new and returning customers will both use HealthCare.gov as an access point to health insurance coverage. But it's the returning customers and how they interact with the online marketplace that are worrying insurers.
"It's a challenge in that it is a different process, it's a new process that is being rolled out for a the first time," said Clare Krusing, a spokeswoman with America's Health Insurance Plans, an industry group.
Starting Nov. 15, the roughly 7.3 million people currently enrolled in the marketplace will have one month to renew their existing coverage or pick a new plan. They can sign up for their same plan, pick different coverage with the same carrier or select a new insurer altogether.
Customers who return to the site can shop around for different options, but if they don't find anything better than their current plan, they can just use HealthCare.gov to re-enroll.
Those consumers who don't return to the site won't be able to compare prices and look for better plans. Instead, they will automatically be re-enrolled in their existing plan (or a similar plan if their current one is canceled by an insurer).
Insurers are concerned they won't know the difference between their customers who just didn't return to HealthCare.gov from those who shopped around but opted to select coverage through another carrier. And as a result, they say, it could lead to people being billed for both their old and new plan.
"We will not know if our members switch to a different carrier during open enrollment on exchanges," said Rohan Hutchings, a spokesman with Maryland-based Coventry Healthcare, one of the two insurers that provided coverage to Missourians through the marketplace in 2014. "This is a known concern that carriers have raised."
Deb Wiethop, a spokeswoman for Anthem Blue Cross Blue Shield of Missouri, the other marketplace carrier in Missouri, said it will have to "assume" a current customer chose to renew their Anthem coverage.
"We will not receive a cancellation for any of our members who enroll with another carrier," she said.
The federal Centers for Medicare and Medicaid Services, which runs the online marketplace, downplayed those concerns and said insurers would get a list of 2015 customers after the re-enrollment window closes on Dec. 15.
"If an issuer does not receive either an active or an auto-renewal transaction for an existing enrollee, the issuer should default to ending coverage for that enrollee," said Aaron Albright, a spokesman.
With twice the number of carriers poised to sell marketplace plans in Missouri next year, 2014 customers who switch plans for next year are potentially at risk of being caught in a communication glitch between the marketplace and their insurer.
Being billed for two plans may not be the only surprise in store for the nearly 150,000 Missourians who selected marketplace plans last year. Those users who don't review and update their accounts on HealthCare.gov may end up paying higher premiums and getting less of a subsidy.
Although returning users will be automatically re-enrolled in their existing coverage if they don't log back in and update their income information, they won't necessarily receive the correct subsidy amount.
That's because higher premiums and changes to the federal poverty threshold, which the subsidies are based on, could raise subsidy amounts even if a customer's income remains stagnant.
And those customers who currently make between 350 or 400 percent of the federal poverty line — $83,475 and $95,400 for a family of four — could lose their subsidy entirely unless they log back into HealthCare.gov and update their income information.
Returning customers also face the risk their existing plan's premium will increase dramatically next year. If they don't log on to HealthCare.gov to review that information, their 2015 premium bill could carry quite the sticker shock.
That's why federal officials and health care advocates are urging customers to log back onto the marketplace even if they are happy with their current health plan. It could be the difference in whether coverage is affordable or not.