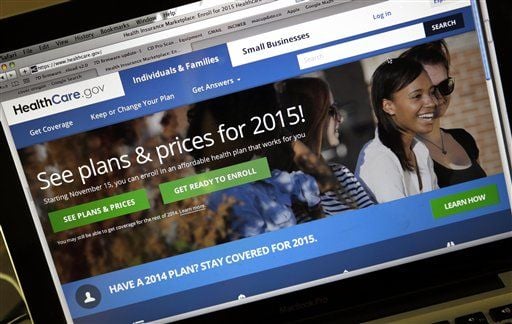 It's another year and another round of turmoil for President Barack Obama's signature health law.
When open enrollment ended this past week, 11.4 million Americans had selected private health insurance plans under the law. And while the White House celebrated the news, the familiar themes of delays, glitches and errors quickly emerged.
On Friday, administration officials announced that nearly a million customers had received an incorrect form in the mail and would need to delay filing their federal tax returns. They also called for a six-week "special enrollment period" for potentially millions of uninsured customers who still don't have coverage.
Still, by many measures, this year's enrollment season went much smoother than the first.
More people signed up for coverage. A more user-friendly HealthCare.gov rebounded from its much-maligned debut and functioned with only minor glitches throughout the three-month sign-up season. Premiums rose on average, but at a more modest rate than before. And more insurers jumped in to sell plans on the online government-run health insurance marketplaces.
But the issues that plagued the president's signature domestic achievement since its passage in 2010 show few signs of abating.
Errors in the federal bureaucracy are creating a headache for many consumers. Many residents still find health insurance too costly. And a legal challenge pending in the U.S. Supreme Court could cause all of it to unravel.
"No one is waving a flag of victory," Kevin Counihan, the CEO of HealthCare.gov, said on a conference call with reporters last week.
Despite the problems, local advocates said they considered this enrollment period a success.
Missouri had 254,000 HealthCare.gov sign-ups, roughly 100,000 more than before. And about 347,000 Illinoisans enrolled in 2015 health plans through the website, compared to 217,000 last year.
"Enrollment went really well, we all think," said Laura Burbank, a certified application counselor with Planned Parenthood and regional manager for the Cover Missouri Coalition. "We were really excited to see these numbers."
The Obama administration had less than 48 hours to celebrate the growth in marketplace plan enrollment. They announced Wednesday that 11.4 million Americans had signed up, beating the White House's projections of about 9.1 million enrollees.
But by early Friday morning, officials were already in damage control mode. The administration announced that 800,000 customers had received an incorrect tax form and that new ones would need to be mailed.
The health law provides income-based subsidies to purchase health insurance for Americans that don't get coverage on the job. Subsidy recipients will be required to submit a tax form every year to make sure they received the correct amount.
But some of those forms had a miscalculation and now those consumers that had already filed taxes will likely need to resubmit to account for the mistake. Others will need to wait until they get the new form.
For some, this mishap underscores the continued problems implementing the various provisions of the health law.
Bill Hill, the CEO of health insurance brokerage Visor Benefits, said the tax problems are just the most recent "publicly acknowledged repercussions health insurance purchasers are facing."
Even the much lauded enrollment numbers fell short of some projections. The nonpartisan Congressional Budget Office had projected that 12 million people would be enrolled at the end of the sign-up season.
And the administration's current numbers only account for people who selected an insurance plan, not those who have taken the final step and paid their first month's premium.
And many more people still qualify for coverage but haven't yet signed up.
The Kaiser Family Foundation estimates Missouri has 632,000 potential marketplace enrollees, far more than the 254,000 that have signed up. The foundation estimates that Illinois has nearly 1 million potential enrollees, a much higher bar than the 347,000 currently enrolled.
Counihan said those estimates may be off because many more Americans are getting covered through their job now that the economy is improving.
Still, more people could sign up during a special enrollment session from March 15 to April 30. The session is designed to give those dinged with tax penalties for not having insurance this year one more chance to sign up. The IRS estimates that about 6 million Americans will face the penalty for being uninsured in 2014.
Despite the millions that have been spent on advertising and outreach, many Americans are still unfamiliar with how the health law works.
Perhaps the biggest challenge for the law yet to come is a pending case before the U.S. Supreme Court expected to be decided in June. If the court rules against the administration, subsidies would cease to exist for consumers in more than 30 states, including Missouri and Illinois.
The Obama administration and advocates are quick to point out how far they've come in the almost five years since the Affordable Care Act become law.
The uninsured rate is going down. More people have access to insurance than ever before. And the insurance they have covers more basic health services and caps out-of-pocket costs.
"The Affordable Care Act is now an important part of the everyday lives of millions of Americans," Department of Health and Human Services Secretary Sylvia Burwell said last week. "[It] is working, and families, businesses and taxpayers are all better off as a result."
Officials and enrollment counselors have also been quick to emphasize how much better the technology worked this year when it came to helping residents enroll.
On average, consumers had to click through only 16 screens to select a plan this cycle, down from 76 during HealthCare.gov's launch. And with the exception of a few minor glitches, the site worked.
"It was a nice bonus," Burbank, the Cover Missouri Coalition manager, said.
Government officials acknowledged more work needs to be done to improve the user interface on the site. Enrollment advocates would like to see more accessible information of providers and prescription drug benefits for each available plan.
"We keep bringing this up with HHS," said Ryan Barker, vice president for health policy at the Missouri Foundation for Health. "There are definitely some things they can work on."
If there's one thing stakeholders can all agree on it's that the Affordable Care Act still has a ways to go.
This report was prepared in collaboration with Kaiser Health News, an editorially independent program of the Kaiser Family Foundation.