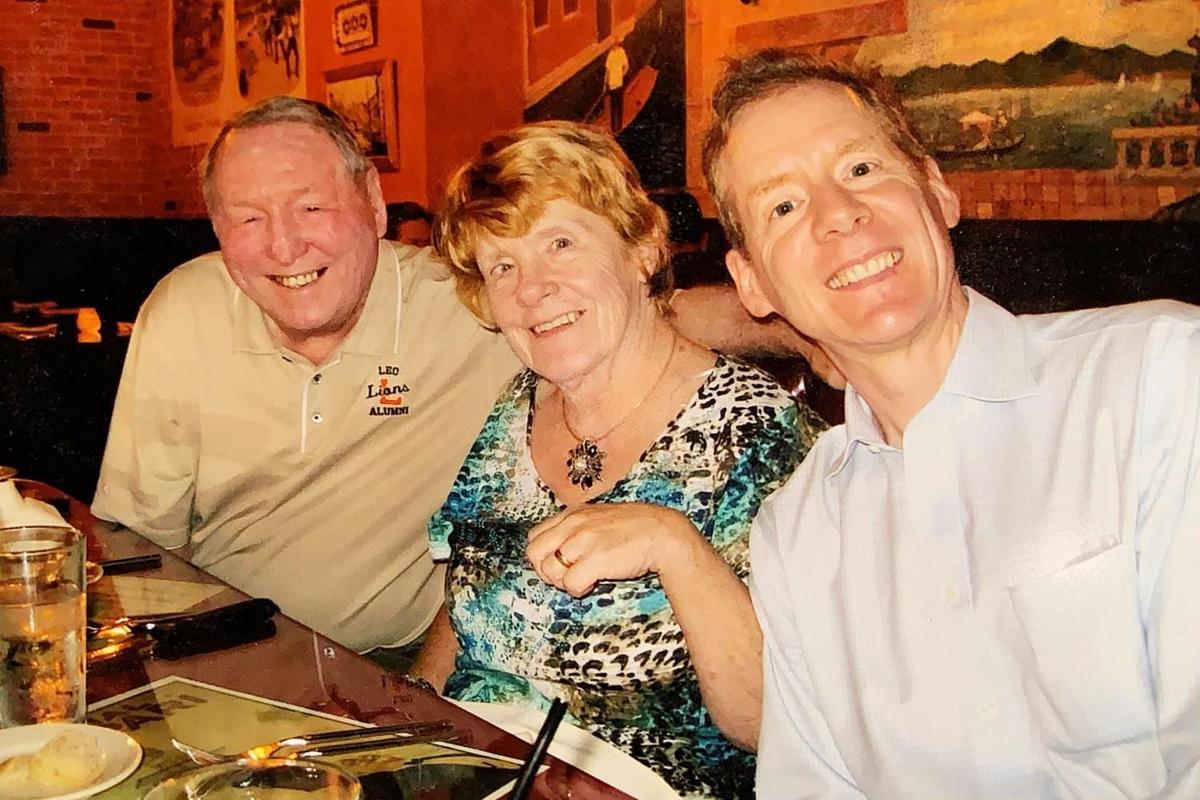 Most often, but not always, a teacher becomes a teacher because he or she was inspired by a teacher.
That was not the case with Tom Keating, who died in June at the age of 86. He grew up on the far south side of Chicago and attended parochial schools in the days when nuns rapped knuckles and considered intimidation to be a more effective tool than inspiration.
Any inspiration Tom needed, he got from his mother. Catherine Dowd Keating was the oldest of seven girls. In her youth, the south side of Chicago was home to hundreds of neighborhood taverns and it was her job on payday nights to find the one in which her father had settled and bring him home before his entire paycheck was gone. In addition to monitoring her father, Catherine was expected to help raise her six younger sisters. This did not leave much time for school, and when Catherine had her own family — five sons — she was determined that they would get the education she had been unable to get herself.
Tom was the fourth of those five sons. He was not a good student.
Still, he graduated from Leo High School and enrolled at Chicago Teachers College. Why become a teacher? Perhaps it was self-awareness. Tom never completely shed the magic of childhood. He did not quite grow up in the manner of other men. Teaching was a perfect fit for him.
Unfortunately, he flunked out of college. It is not surprising that college was difficult. Tom was not a reader. Maybe he had some undiagnosed problem, but he always had difficulty reading. Even as an adult, an educator, he found reading to be a task. When he'd finally finish a book, he would celebrate by throwing it across the room.
He went back to Chicago Teachers College and was successful on his second go-around.
He married Joanne Shaughnessy, and they had four sons. Joanne always insisted that she had four sons, but was really raising five boys. Tom was very much into sports. He loved games. Playing them, organizing them, and if there were no games to play or organize, watching them. He was a Cubs fan on the south side of Chicago. A rare bird.
He organized a lot of games during his 42 years in the Chicago Public Schools system. Mostly, he taught sixth, seventh or eighth grade — this was before "middle schools" — and he eventually became an elementary school principal. There were no school teams at the elementary school level, so Tom would organize leagues, make schedules, have "draft" days. He would be the umpire or referee for the games. He bought trophies.
When he died, tributes came in from many former students. Some mentioned the games he organized. Others were about academics and the ability he had to make things fun. One former student recalled that he would make up songs to teach others difficult subjects.
"He was a very funny guy and I'll never forget how he taught us about amoebas. He sang it to the beat of 'Rudolph the Red-Nosed Reindeer.' As I'm writing about this, I can hear him singing the song."
Amoebas. I cannot imagine.
The secretary at the school in which Tom had served as principal was at the wake. One of Tom's sons teased her. "You really ran that school, didn't you?" She smiled and said, "Yes, but Tom made it fun."
How many people did someone like that inspire to go into teaching?
I cannot give you a number, but the first person he inspired was his wife. As soon as Joanne's four sons were old enough to be in school themselves, she went back to college. She became a teacher.
So did three of the four sons. One is a math professor in Florida. Another is a math tutor in a community college system in Illinois. The third is in St. Louis.
Dan Keating is a professor at the Washington University School of Law. He has been on the faculty since 1988. He received his law degree from the University of Chicago.
He teaches bankruptcy and commercial law.
Those subjects seem a long way from the the classes Tom Keating taught long ago in Chicago, but Dan said there are similarities between what he does and what his dad did. Dan said he tries to bring enthusiasm to the classroom. He tries to connect with the students. He tries to be approachable. Teaching is teaching.
He has never used "Rudolph the Red-Nosed Reindeer" in any of his lectures, but last year, trying to make his Zoom lectures more interesting, he channelled his father and wrote limericks.
There is, apparently, a mathematically complex "means test" for a debtor to qualify for a certain kind of bankruptcy. To empathize with his students, he wrote this limerick:
Law school seemed perfect for me / With my English and history degree / But the 'means test' has shown, what I've always known, / I should not have dropped calculus three.
He wrote about the complex rules and exceptions surrounding "avoidable preferences" in bankruptcy.
What is a preference? It's now time to learn it. / This won't be easy and you'll have to earn it. / While exceptions abound, here's one rule I've found / If debtor does you a favor, then you must return it.
By the way, enrollment in the bankruptcy class has soared in the last two years.
Could that have something to do with Professor Keating's style?
Dan shook his head. The pandemic has increased the need for bankruptcy lawyers, he explained.
With luck, that will turn around. Nothing against bankruptcy lawyers, but when society needs a lot of them, there's trouble.
Inspirational teachers, on the other hand, are always a blessing.