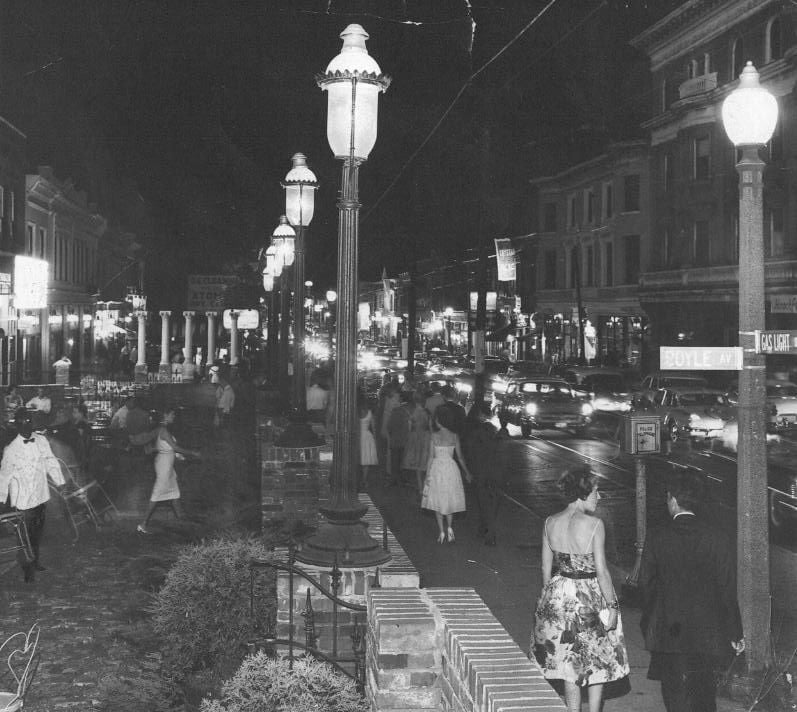 Oh, it was good to be part of the happy crowd Monday night at the Muny escaping, if only for a couple of hours, the realities of our desperate times. I envy the people of 100 years ago who lived without television or social media. They didn't know how bad things were.
Henry Kiel was the mayor 100 years ago. He helped create the Municipal Theater in Forest Park. He believed that plays could entertain and educate the citizenry.
Mike Isaacson, artistic director and executive producer of the Muny, mentioned Kiel in his welcoming remarks. That made me wonder: Is Tishaura Jones here?
Set against the backdrop of St. Louis' historic Gaslight Square, Muny season opener conjures a mood of nostalgic enchantment.
She was. Isaacson introduced her. She rose briefly from her front-row seat, which is where mayors ought to sit, and gave a wave to the crowd. We cheered heartily. I listened for even a smattering of negativity but heard none. I was not surprised. The Muny is one of the few things St. Louis does better than anybody else — frozen custard is another — and when we are at the Muny, it is hard not to feel good about us. We are special.
The positive vibes were accentuated Monday because the Muny had been shut down since August of 2019. The entire 2020 season was canceled. We were celebrating a return.
To further sustain this joyous mood was the show itself, "Smokey Joe's Café." There was no plot to worry about. Just music and dancing. The show was a revue of songs written by Jerry Leiber and Mike Stoller. They wrote a series of hits in the '50s and early '60s
Just sit back and enjoy, right?
The very first thing I noticed was the play — or revue — was set in Gaslight Square. The street signs were at the center of the stage — Olive and Boyle. One of the buildings on the set was the Crystal Palace.
It is, of course, a St. Louis thing to spend a lot of time looking in the rearview mirror. Gaslight Square is a particularly bittersweet memory.
I would say I miss it very much, except it was already gone by the time I arrived.
It was a three-block strip of nightclubs and saloons and restaurants that flourished in the late '50s and early '60s. It was crazy hip. It was as if somebody had taken a chunk of Greenwich Village and set it in the middle of St. Louis. Woody Allen, Lenny Bruce, Miles Davis, Barbra Streisand, Dick Gregory and the Smothers Brothers all performed. Allen Ginsberg came to Gaslight Square to read "Howl." Jack Kerouac was a visitor.
Time magazine sent a correspondent here to write about this cultural phenomenon in 1962. He called it a "three-block oasis of nostalgic frivolity."
Frivolity and St. Louis in the same sentence. Wow.
Much of the credit belongs to Jay Landesman. Actually, his original name was Irving Ned Landesman. He changed it to Jay after reading "The Great Gatsby."
Landesman was a midnight man born and reared in a 9 o'clock town, who by sheer force of will tried to keep everybody else up late. He owned the Crystal Palace, which was a cabaret and attracted many big-name performers. As Gaslight Square began to fade in 1964, Landesman moved to London. He lived there until his death in 2011.
The New York Times published an obituary. It noted his book, "Rebel Without Applause," and said he was, oddly enough, famous for not being famous. "Throughout a long eccentrically creative life, he bubbled over with ideas, although they tended to run along the lines of 'Dearest Dracula,' the musical he wrote and staged at the Dublin Theatre Festival in 1965, or his dream project, the Jay Landesman Museum, a celebration of his life and career that, alas, remained on the drawing board."
One of his sons, Cosmo Landesman, said his father had taken tea with Bette Davis, cocktails with Bessie Smith and LSD with Timothy Leary.
At any rate, Landesman was a central figure in the glory that was Gaslight Square.
One of the people who frequented the Crystal Palace was a poet named Walter Wharton. He died in 1985, and one of his daughters put his car up for sale. A friend of mine went to look at it. I tagged along. It was the day of the wake. While my friend talked with Wharton's daughter, I chatted with the mourners, one of whom was a professor who told me he had studied Wharton's poetry.
I looked into Wharton's background a bit, and somebody told me that Wharton used to go to the Crystal Palace in his underwear. That's because Landesman believed men should wear shorts in the summer and offered a free drink to any man so attired. Because he was a poet, Wharton felt obligated to take things to their illogical extremes, and he started showing up in his underwear.
It worked. Underwear counted as shorts.
I liked the idea that men should wear shorts in the summer. I formed the Wally Wharton Society and proposed that we celebrate the summer solstice as the beginning of shorts season. I suggested that downtown restaurants and saloons offer a free drink to any man wearing shorts.
I got a letter from Landesman in London.
"Thanks for keeping the dream alive," he wrote.
The Muny's 103rd season in Forest Park begins July 26 with "Smokey Joe's Café."
Sadly, it never did catch on.
And, of course, we never replaced Gaslight Square. After a few years of this serious hipster thing going on in midtown, we took off the high heels and put back on our sensible shoes. In 1970, in an effort to protect ourselves from the musical "Hair," the Board of Aldermen passed an anti-obscenity bill. Mayor Alfonso Cervantes signed it and declared it was "a symbol of public rejection of growing permissiveness."
You probably remember Tom Eagleton's response when we were trying to lure the Los Angeles Rams to St. Louis and the team's president asked about our nightlife. "We are a raucous Des Moines," Eagleton said.
I looked at the set on the stage at the Muny, thought about Gaslight Square and wondered: How did we get from there to here?
There are many theories about the demise of Gaslight Square. Some say it was crime, or fear of crime. Some say the population just kept moving west. Things are always more complicated than they seem. I think a big part of it is our character. We don't do edgy well.
One of the clubs in Gaslight Square was "Roaring Twenties." It was a speakeasy. It featured mock raids and mock shootouts among mock gangsters. All of a sudden: Bam! Bam! Bam!
How would that work today?
Perhaps Mayor Jones pondered along with me as she watched the show. Or maybe she just enjoyed it. The music was great.