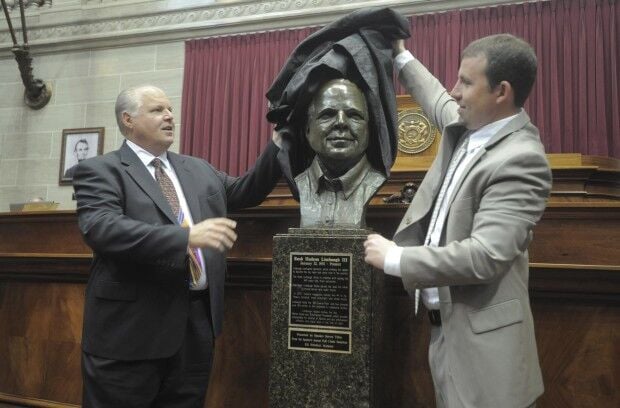 Steve Tilley has a cash flow problem.
Or an accounting problem.
Tilley is one of the state's most influential lobbyists. He's a longtime ally and adviser to Gov. Mike Parson. He is also unique among Missouri lobbyists in that he controls two political action committees, or PACs, started with campaign donations. That's because after he was speaker of the House, he converted his campaign committee — Friends of Tilley — into two PACs that he or his allies run.
Early in his tenure it worked like this: Tilley's PAC — Friends of Tilley — would donate to a politician, say Parson, back when he was a state senator. Then the politician, such as Parson, would hire Tilley as his political consultant. Campaign cash in; business profits out.
Eventually Tilley stopped being a campaign consultant, and that is when he converted Friends of Tilley to MO Majority LLC PAC, which he created and funded with his campaign dollars. Later, he would use money from MO Majority to fund a PAC called Missouri Growth that was putatively created by his brother and father. For years now, Tilley has used the two PACs to donate to politicians who are voting on some of the very issues he is representing before the Missouri Legislature. After Tilley turned this practice into an art form, lawmakers passed a law that said politicians who become lobbyists must close their campaign accounts. The law did not apply retroactively to Tilley.
But the Missouri Ethics Commission rules on disclosure do, and that's where some questions arise. That's because between the two PACs most closely associated with him, about $169,000 appears to be unaccounted for. In the last filing of 2020, in October, MO Majority ended the reporting period with $126,843.16, and Missouri Growth reported $103,949.90.
Those numbers should then appear on the top line of the next ethics report, due in January of 2021. That report would document any money spent between October and January. Neither committee filed a January report, so, again, that number should carry over to the April report. That line item is important to the ethics commission because it tells regulators that one report properly connects to the other one, so all the money can be tracked.
For example, Parson's last ethics report in 2020 shows $358,522 on hand, and his first report of 2021 starts with that same number. That is how the system is supposed to work. As former Lt. Gov. Peter Kinder used to say: Every dollar counts.
But the first filings in 2021 of both of Tilley's committees show significantly less money on hand than the last reports of 2020. In April 2021, the first filing in which either PAC reports a money-on-hand line item for the year, MO Majority listed $33,368.52 on hand, and Missouri Growth reported $28,020.95. Between them, that's a discrepancy of $169,403.59, compared with the end of 2020.
As far as ethics reports are concerned, that money is unaccounted for.
"I'm late to class," said Cody Morrison, the listed treasurer of the MO Majority PAC, told me. "I have no comment."
Tilley didn't return phone calls for comment. Neither did his father, the listed treasurer of the Missouri Growth PAC.
The discrepancy comes at a precarious time for Tilley. The Kansas City Star has reported that the FBI has been investigating a land deal in the city of Independence that involves multiple entities that have paid Tilley as a lobbyist. Part of that investigation, the Star has reported, involves political donations that went to the city's mayor before the deal was approved. Both MO Majority and Missouri Growth made such donations during the time period in question.
This is why ethics regulators require campaign finance disclosure, so investigators — and citizens — can track how money is spent to influence government decisions.
As of April 2021, for the first time since either committee was seeded with campaign money Tilley raised while he was an elected official, both accounts dropped below six figures. Missouri Growth was down to $18,270.25.
But not for long. Another of Tilley's clients — Torch Electronics — infused $38,000 into the PAC in two checks in June. Warrenton Oil Co., which does business with Torch, added $13,000. Three more Tilley clients donated an additional $11,250 in July and September.
MO Majority also improved its financial position, receiving $33,333 from Torch Electronics in June, and $13,000 from Warrenton Oil Co., which owns convenience stores that host Torch's video devices.
Torch has its own legal issues at the moment, as Greene County Prosecutor Dan Patterson is investigating the Wildwood-based company over allegations that its video devices placed in Warrenton Oil's convenience stores are illegal gambling machines. Torch has denied any wrongdoing.
After the Torch donations to MO Majority, the PAC turned around and gave money to several politicians. The largest amount, $10,000, went to a PAC that supports state Sen. Lincoln Hough, who represents Greene County.
It's possible, of course, that Tilley's treasurers are just bad at math. Maybe they'll file amendments to their reports before somebody files an ethics complaint. Either way, they will some day soon have to answer for the Missouri Ethics Commission a simple question: