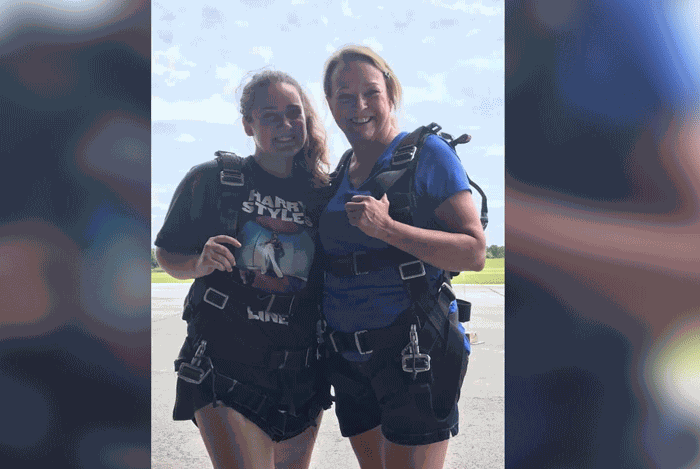 (CNN) -- Jeanna Triplicata wasn't a thrill-seeker, but she decided to try something daring after graduating high school: going skydiving for the first time.
The 18-year-old and an experienced instructor died when something went wrong on the tandem jump in Thomaston, Georgia, on Sunday.
As her siblings and parents watched from the ground, they saw a parachute spinning and a pair of people somersaulting in the sky. They later learned it was Jeanna.
"We were all so looking forward to after she landed and to talk to her and hear her story," her father, Joey Triplicata, told CNN. "I feel like we were robbed of that and now we're robbed of the rest of her life. It's so painful."
The teenager from Newnan and instructor Nick Esposito, 35, of Warner Robins, died at the scene, Upson County Sheriff Dan Kilgore said in a statement provided to CNN. The sheriff's office is investigating the accident.
"Upon exiting the aircraft, the primary parachute failed to open properly and went into a spin," Kilgore said in the statement. The emergency parachute deployed at a very low altitude but it never fully opened, he added.
The sheriff said Esposito was an experienced skydiver and an employee of Skydive Atlanta, based at the Thomaston-Upson County Airport, about 60 miles south of Atlanta.
Adding to the tragedy is that skydiving deaths are rare. In 2019, there were 15 fatal skydiving accidents in the United States out of about 3.3 million jumps, according to the United States Parachute Association. Tandem skydiving -- what Triplicata was doing -- is even safer, with one student death per 500,000 tandem jumps in the past decade, according to USPA.
Jeanna's high school graduation was rescheduled for the end of July because of the pandemic. She had planned to attend the University of North Georgia and become an English teacher. Her grandmother, Renee Sands, also went skydiving that day and jumped before Jeanna without incident. 
Triplicata, 43, described Jeanna as an atypical teenager. He said his daughter was "special" and she never gave her mother and father trouble.
"She was very family-oriented, and she wanted to do the right things in life," he said. "She wasn't a rule breaker. When we bought her first car, she didn't want anything flashy or that would stand out."
The teen had just graduated from Northgate High School, where she was on the color guard team. She was the captain her senior year and she enjoyed performing alongside her brother, 15-year-old Giovanni, who was in the band.
Jeanna was obsessed with singer-songwriter Harry Styles. She had seen one of his concerts and was set to attend another one next year, which was postponed because of the coronavirus. She was wearing a Harry Styles shirt the day she went skydiving, her father said.
Her other passions included Disney's "The Little Mermaid," even though it wasn't the coolest thing for an "elder teen" to like, her dad said.
The teen's family was waiting for Jeanna to come and describe the jump but became nervous because it seemed to be taking too long.  Someone said she must have landed in the field by the airport, which happens sometimes, her father said. Some members of the family started getting panicky because they didn't know anything.
"We get in the van and we just race across the airfield. We had to cross over the runway, and we didn't really care," Triplicata said. "We had heard somebody say that they saw cop lights."
As the family approached the field, a couple of sheriff's deputies were there. "He tells us that it doesn't look good and that's when we lost it," her father said.
Jeanna and the instructor, Esposito, died after the parachute malfunction. Eyewitnesses saw the main parachute deploy, according to Skydive Atlanta.
"Our community is devastated for both our team member and the student and their respective families," Skydive Atlanta owner Trey Holladay said in a statement. "We are all stunned and truly at a loss for words as we are a close-knit family. We have spoken with the next of kin and all are asking for privacy while we process and grieve."
Skydive Atlanta said it is working with authorities and the FAA to investigate what happened.
The news you need to know as you start your day. Includes the top story of the morning and Your Daily 6.