When the long-delayed Loop Trolley finally begins running, it will do so on a reduced-hours basis because of a continued delay in completing the renovation of one of its three operating cars.
Meanwhile, the starting date remains uncertain, depending on the timing of final approval from federal and state regulators.
Loop Trolley officials continue to predict a spring opening, although now they say late spring. (Spring ends on June 21.)
As for the hours, plans had called for the line to run from 11 a.m. to midnight on Fridays and Saturdays and from 11 a.m. to 6 p.m. the rest of the week.
But because of the delay in finishing the third car, Loop Trolley Co. executive director Kevin Barbeau said trolley officials have decided to operate at first for only about two-thirds of those hours. Barbeau said the regulators made that recommendation.
The company president, Les Sterman, said the reduced-hours approach would amount to a soft opening. "Hopefully, we'll get the third car in service in August," he said.
He said trolley officials decided against another alternative — holding off the start of operations until the third car is ready. "We don't want to delay the opening any more," he said.
Sterman said the specific initial hours of operation won't be announced until after discussions with merchants and other affected parties.
Under normal operations, two trolley cars are to be in use simultaneously, with the third a backup while the other vehicles are in maintenance. The reduced hours will allow enough time for maintenance.
In addition, Sterman said, "at times of peak usage, when there's an event in Forest Park or something else, it would be nice to put three cars into service."
The third car, used previously on a trolley line in Seattle, is being renovated by Iowa-based Gomaco Trolley Co.
Sterman said it's 14 months overdue because of a series of issues, including delays in getting some parts from Germany.
Once the work in Iowa is done and the car is delivered to St. Louis, it will have to undergo detailed testing. Testing is continuing with the two other cars.
The line will run from the western end of the Delmar Loop in University City to the Missouri History Museum in Forest Park.
Meanwhile, the state Supreme Court refused April 3 to take up an appeal of lower-court rulings against an attempt to derail the trolley project. That ends court challenges to the trolley line, Sterman said.
$1 million St. Charles sign?
A proposed 40-foot high St. Charles welcome sign costing up to $1 million will be scaled back by city engineers after running into criticism on the City Council.
That was a rough estimate of the cost of erecting the stone and brick facade monument along westbound Interstate 70, along with related landscaping and utility relocations.
It and other alternatives were outlined in a briefing paper submitted to the council before its April 10 work session. The document also noted that staffers were trying to reduce the cost to $500,000.
But that also was too high for some council members, although no vote was taken.
"I'm fine with doing some things like that around town, but clearly not at that price," Councilman Dave Beckering said in an interview.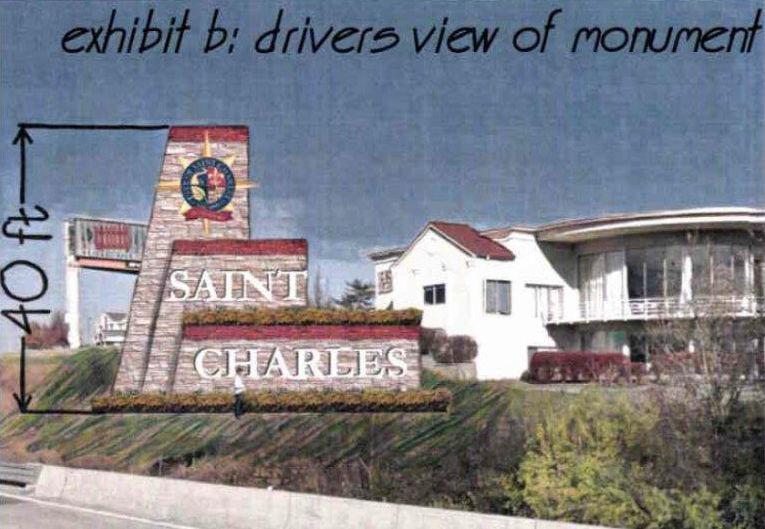 Councilman Tom Besselman said there are other more important city needs, such as providing better access from the east to a Schnucks-anchored shopping plaza on First Capitol Drive in his ward.
And besides, he said, "everybody knows where St. Charles is, don't they?"
The city's director of engineering, Jerry Hurlbert, said his staff will try to further trim the cost by reducing landscaping and possibly the height of the sign. He hopes to have a new version by the end of the year.
"We're trying to go below ($500,000) but that's our upper limit," he said.
Mayor Sally Faith said she and her administration want a distinctive entrance to the city and St. Charles County for motorists crossing the Missouri River from St. Louis County.
"We're trying to work with the council to get something people can see as they're driving by at 60 mph," she said.
Whatever plan the council agrees to also would need approval from state and federal transportation officials.
St. Charles' monument would be the latest in a series of municipal welcome signs of various types across the area.
O'Fallon, Mo., over the past five years has erected eastbound and westbound welcome signs along Highway 40 (Interstate 64).
City spokesman Tom Drabelle said each installation cost more than $230,000, including land grading and dealing with drainage issues.
Brentwood a few years ago put up a welcome area featuring fountains, landscaping and irrigation at 40/64 and Brentwood Boulevard. That cost about $1.5 million, said city spokeswoman Janet Levy.
"These types of beautification projects just add to the value of the community," said former Brentwood Mayor Pat Kelly, who now heads St. Louis County's municipal league.