UPDATED at 11:15 a.m. Monday with new schedule for some closures due to rain.
Call it St. Louis' big slide.
On Saturday,  construction crews are scheduled to carry out the relatively unusual maneuver of picking up and moving the four eastbound lanes on the Poplar Street Bridge 9 feet to the south.
That will allow space to build a new fifth eastbound lane between now and December, when the bridge project is expected to be completed. The westbound lane total will remain at four.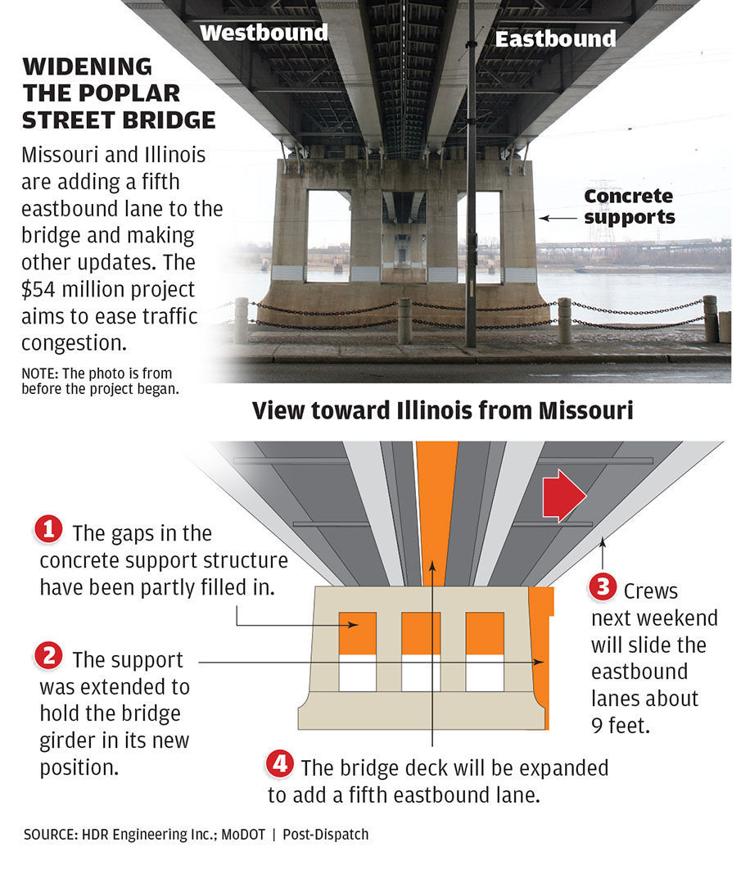 The slide and new eastbound lane are just part of a $54 million overhaul aimed at reducing traffic congestion, improving safety and extending the life of the Mississippi River bridge, which opened in 1967, another 25 to 30 years.
The Missouri Department of Transportation, which is in charge of the project, says the shift of the 2,165-foot-long section of roadway will be the second longest bridge slide in U.S. history.
Michelle Forneris, MoDOT's area engineer for St. Louis, adds that this one is unique because other slide projects typically involve construction of all-new bridges on temporary piers, then moving them to older permanent piers.
That includes the record-holder for length, a 2,427-foot replacement bridge built in 2014 across the Ohio River between Milton, Ky., and Madison, Ind.
MoDOT officials say the method was chosen here partly because it's less expensive than adding a new eastbound lane on the right. They also say it will make the bridge, which now is two separate spans separated by a narrow gap, stronger by tying them together.
In preparation for the slide (and construction of the new lane during the coming months), the spaces between the columns supporting the bridge have been partly filled in by extending the reinforced concrete, creating wall-like piers.
Forneris said 26 hydraulic jacks on the piers will raise the 20.4-million-pound stretch of roadway about an inch; the moving process involves special pads and a slide track.
She said the shift will take as long as 12 hours, beginning about 7 a.m.
MoDOT officials say the process won't be all that interesting for people to watch.
And most activity will be, below the bridge deck, out of sight of the westbound traffic which will continue to flow throughout the weekend.
There also won't be much to see from either side of the river, say MoDOT officials, who are urging the public to stay out of the way.
"Even though it sounds cool, it's not going to look terribly cool," MoDOT spokesman Andrew Gates said. Moreover, he said, "it's just going to be so slow.''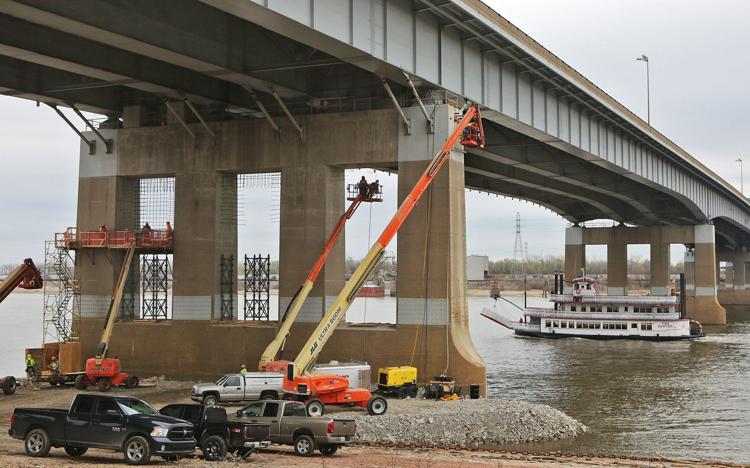 To accommodate the slide and related work before and after, all eastbound lanes will be shut down between Jefferson Avenue in St. Louis and Illinois Route 3 beginning about 8 p.m. Friday.
Gates said eastbound Highway 40 (Interstate 64) traffic will be stopped at Jefferson because that's the easiest street through which to begin a detour route for Illinois-bound drivers to the Stan Musial Veterans Memorial Bridge.
Downtown on-ramps feeding into eastbound 40/64 and the bridge itself will close around 7 p.m.
Gates said at least one eastbound lane will be open by 5 a.m. Monday.
Vehicles in recent months have generally been limited to using three open lanes in each direction amid the related project work.
However, to allow removal of an overhead highway sign and its support structure in preparation for the slide, there will be some additional restrictions this week.
Only one lane of bridge traffic will be allowed in each direction Wednesday and Thursday starting about 10 p.m. each night. Crews expect to have the lanes open by 5 a.m. each morning.
The closures had been set for Monday and Tuesday nights, but were pushed back because of heavy rain expected in the area.