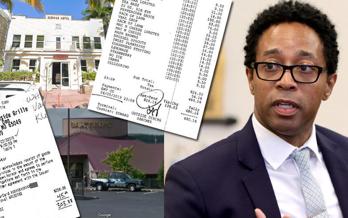 An analysis of Prosecuting Attorney Wesley Bell's expense records during his first nine months in office reveals his appetite for dining out and traveling on the taxpayer dime.
BRAND AVE. STUDIOS (SPONSORED)
| | |
| --- | --- |
| | Gather around, fellow ghouls – Halloween is right around the corner! Halloween falls in the middle of next week; stock up so you're prepared to brew some spooky concoctions. Be safe and have a fun All Hallow's Eve! |
Missouri Historical Society

In the years before the Civil War, Sunflower Island was nothing more than a peaceful bump of land in the Mississippi River, just off the banks of Alton, Illinois. But one day in 1842 the island became host to a very interesting event involving slanderous letters, pen names, swords, and a future president.
| | |
| --- | --- |
| | Arthritis in her knee robbed former middle school principal Laura Finucane of enjoying walks with her husband and many of the other activities she looked forward to in retirement. |