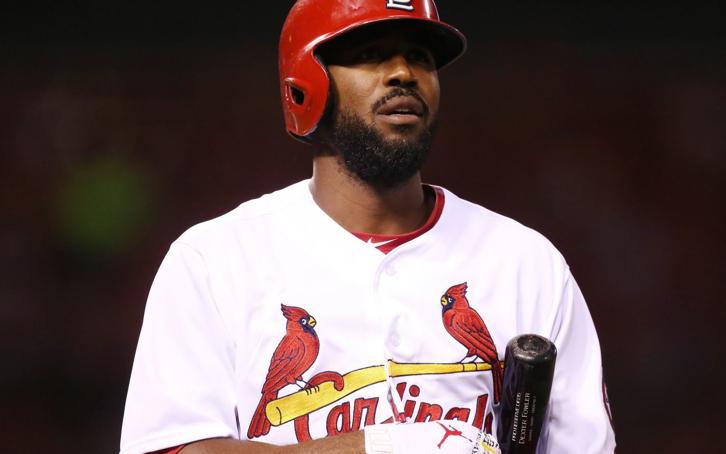 St. Louis Cardinals' Dexter Fowler returns to the dugout after striking out in a pinch-hit appearance to end the sixth inning during a game between the St. Louis Cardinals and the San Diego Padres at Busch Stadium on Tuesday, June 12, 2018, in St. Louis, Mo. Photo by Chris Lee, clee@post-dispatch.com
Chris Lee
As much as some Cardinals fans might hate to hear it, John Mozeliak is correct when he says it's too early for the men with the two-birds-on-the-bat logo to panic.
It might be time for the Cardinals' president of baseball operations to cut some losses, though. It's time for Mozeliak to see if Dexter Fowler and Brett Cecil provide more for the team elsewhere.
Although no opponents send get-well cards, one cannot judge the Cardinals without considering the major injuries they have suffered. If you had been in the clubhouse late after Saturday's defeat, you would have noticed the teaching that was going on in front of catcher Yadier Molina's locker stall.
That's where Molina, suddenly hot Marcell Ozuna and third base coach Jose Oquendo chatted with rookie shortstop Yairo Munoz. They dissected the game and gave tips as Munoz sat inside a locker stall and listened attentively.
Every day is a learning experience for youngsters such as Munoz, Jordan Hicks, Jack Flaherty, who beat the Cubs on Sunday, and Harrison Bader. Those kids will make mistakes from time to time, but they are learning and growing and providing reasons to believe that these Cardinals will turn it around.
In Bader, the Cardinals have found their answer to Fowler's prolonged struggles. Of all the mistakes on Saturday, Fowler's baserunning gaffe was the worst. He should know better, but something is clearly wrong.
Bader gives the Cardinals the freedom to sit Fowler, who might have already been designated for assignment if he played in a big market like Boston or New York.
Folks who cover the team and actually show up to the games can tell you that the mood in the Cardinals clubhouse is good. The leadership is strong with Molina, who arrives early and leaves late, setting the tone and the example for the entire organization.
It was good to see Ozuna listen intently to Molina and staying late with the veteran leader. Those two men must be the horses who carry this team, and Ozuna is doing just that these days with his bat.
The bullpen has been a mess, no doubt. The Cecil signing has not worked out. He still has two more years on his contract, but the Cardinals must place him in the Fowler category and wonder if they can find another team to take those two off their hands.
Or perhaps, Mozeliak might have to cut Bill DeWitt Jr.'s losses and designate those two for assignment.
The Cardinals' offense should get a boost when DeJong returns from the disabled list within the next two weeks. He has missed 28 games already. Veteran reliever Luke Gregerson has missed 30.
Reliever Dominic Leone, who was considered the Cardinals' top option to close coming out of spring training, has missed 39 games. Greg Holland has missed 21 games on the disabled list. That might qualify as a good thing because he struggled mightily and never proved worthy of the closer's role when he was healthy.
Some fans have called for manager Mike Matheny's job. Blaming Matheny for this team's struggles isn't fair if you consider the major issues.
Moreover, one cannot blame Matheny for Fowler's play this season or the boneheaded running mistake the veteran made Saturday. As a veteran, Fowler should know better.
Fowler's supporters might argue that he would have played better if Matheny had given him the same slack he gave Matt Carpenter when the veteran infielder struggled early. When your numbers are as poor as Fowler's, you cannot blame the manager.
Let's judge the Cardinals once DeJong settles back into the lineup. Perhaps DeJong's return gives Matheny the option to move Munoz to second or Jedd Gyorko to second in place of Kolten Wong.
Can you really blame Matheny if you consider the injuries that cost Molina and ace Carlos Martinez most of May, the season-ending blow to Alex Reyes, the injuries that ravaged the bullpen, Fowler and Holland's season-long slumps and Wong's struggles at the plate?
There's no need to panic with the staff. It's just time to cut some losses and move on.