From 2005: Explosions at Praxair Inc. rattled Lafayette Square
The explosions at Praxair Inc., southwest of downtown in Lafayette Square, shook the surrounding neighborhoods and sent residents and workers fleeing for cover.
Explosions touch off roaring fires
Originally published Saturday, June 25, 2005
BY DAVID HUNN & TRISHA L. HOWARD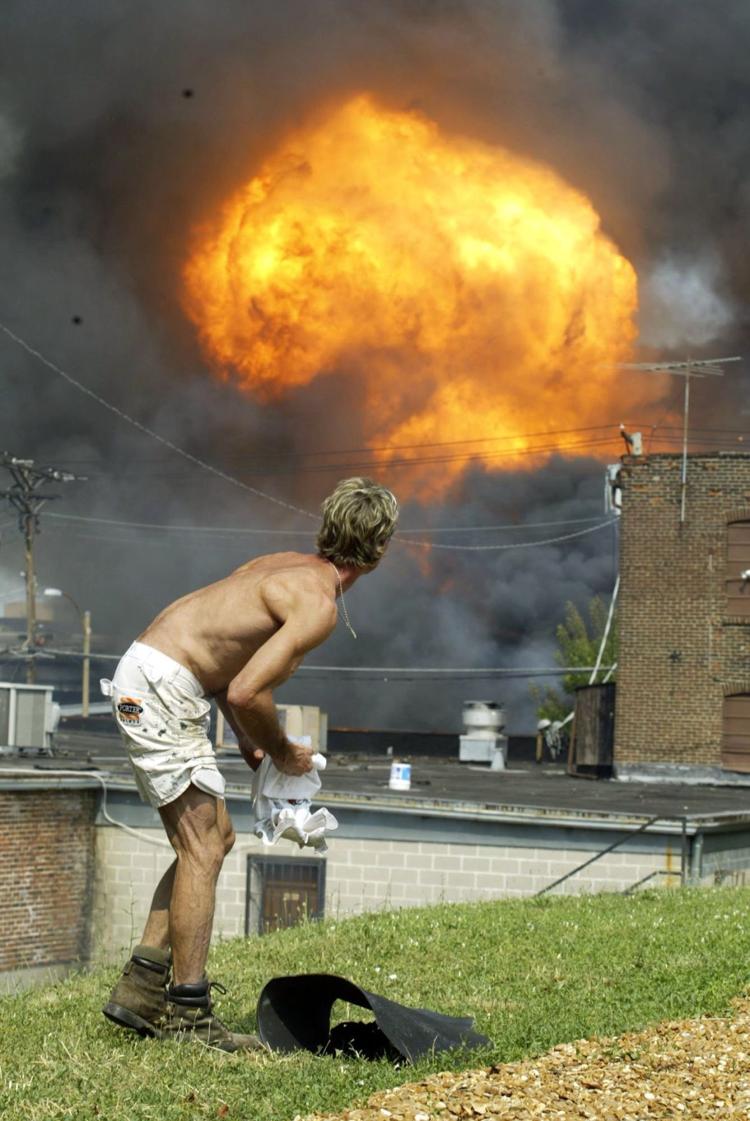 Officials think 9,000 pounds of propane burned or exploded at the industrial gas company. No injuries were reported.
Like a battery of roaring cannons, a storage yard jammed with tanks of industrial gases erupted Friday in a rapid-fire chain of spectacular explosions and fireballs.
The explosions at Praxair Inc., just southwest of downtown, shook the surrounding neighborhoods and sent residents and workers fleeing for cover.
"It was like a war, an atom bomb, " said Lavonia Edwards, who was leaving Praxair with a load of oxygen tanks when he heard alarms going off. "Gas, smoke, flying metal debris, tanks were blowing up."
Despite fireballs flashing high into the air, throwing exploding tanks and hurling debris into yards and streets, officials reported no injuries. Heat from fireballs could be felt two blocks away.
St. Louis Fire Chief Sherman George said officials assumed that about 9,000 pounds of propane went off during the blaze at 2210 Chouteau Avenue. Officials had been concerned that the fire might reach tanks of liquid oxygen and chlorine, but both apparently were spared.
"You'd have known about it, " Police Chief Joe Mokwa said, when asked if they had been ignited.
Praxair employees fled and were all accounted for. Workers also evacuated AmerenUE's office complex to the east and the United Parcel Service station to the north.
Responding firefighters focused on the evacuation then raised unmanned high ladders with snorkels behind the buffer of nearby buildings. More than 70 firefighters manning 12 pumpers and two hook-and-ladder trucks responded, along with crews of four Fire Department ambulances.
City units received assistance, including units from the Webster Groves Fire Department and ambulances from Ladue, a hazardous materials unit from St. Louis County and the Monarch Fire Protection District.
By 8:30 p.m. the Praxair blaze was extinguished, and most residents had returned to their homes.
Shortly after the explosions, debris was found several blocks away from the storage yard. The fire burned up vehicles parked nearby, and flaming debris damaged a home in the 2300 block of Rutger Street, just to the south.
A thick black column of smoke filled the air, as did the sharp smell of burning rubber.
Police officers and firefighters evacuated the area from Highway 40 (Interstate 64) on the north, 18th Street on the east, Park Avenue on the south and a block or two west of Jefferson Avenue on the west. Police shut down Highway 40 from the Poplar Street Bridge to Kingshighway for two hours out of concern for deadly gases or other eruptions. The explosions caused a half-hour delay of the Cardinals' game with the Pittsburgh Pirates.
Witnesses said they heard the pops of a few explosions, saw flames billow into the air -- and then heard the staccato of many more explosions.
Kelli Hamilton was awakened from a deep nap in her home just west of Praxair on Missouri Avenue. She looked out of her second-floor window and saw fireballs.
"Get the baby and get out of the house, " her husband, Kregg, shouted to her, she said.
Hamilton said she took Jess, 5 months old, headed outside and saw an elderly neighbor. Hamilton said they all drove to Lafayette Park.
"I knew exactly what had happened, " she said. "All I could think of were those piles of tanks."
Rob Woodie, who had been watching TV at his home on Rutger, said: "The explosions kept coming and they didn't stop. I got out of there because I thought the windows were going to break."
He, too, fled to Lafayette Park with his infant son, Ryan.
Alderman Lewis Reed, D-6th Ward, was in his office one-third of a mile from the yard when he heard the first explosions and saw tanks flying, and "debris just zooming across the sky."
Susan Szita Gore, a spokeswoman at Praxair's headquarters in Danbury, Conn., said the yard on Chouteau transfers industrial gases from large storage tanks into smaller canisters for sale. Gore said the products include propane, acetylene, liquid oxygen, nitrogen and argon. The company sells them for welding, general industrial operations and some medical use.
Gore said the company did not know what set off the explosions and quickly sent experts from its headquarters to investigate. She said the company employs 70 people at the site, but she didn't know how many were there Friday afternoon.
George, the fire chief, said early indications were a tank exploded and landed on the roof of Praxair's main building, starting a fire that quickly spread to the storage areas.
The first call was at 3:20 p.m. Explosions and fires began to slow down after 4 p.m., and firefighters didn't enter the grounds until after 5 p.m. George said shortly after 6 p.m. that they would let many of the small fires burn out, lest poisonous gas or other explosions imperil firefighters and others.
Gov. Matt Blunt plans to visit the site of the explosions this afternoon and speak with local officials about the cause.
City records show the company applied for an operating license in 1989, and during the past seven years, it had spent $114,000 on fire-sprinkler systems.
Greg Jonsson, Heather Ratcliffe, Tim O'Neil, Jake Wagman, Jo Mannies and Daphne Duret, all of the Post-Dispatch, contributed to this report.
---
In February 2006, the St. Louis City medical examiner ruled that Minnie Cooper, 32, died during an asthma attack "triggered by inhalation of noxious smoke/fumes from industrial explosion/fire." Cooper died 11 days after the explosion at Praxair; she lived in the 1100 block of South Ninth Street and could have been exposed to fumes while taking public transportation and walking home.
After the fire, Praxair permanently closed the plant site in the Lafayette Square neighborhood.
In June 2006, the U.S. Chemical Safety and Hazard Investigation Board concluded the relief valves on propylene gas cylinder tanks could have opened in high temperatures, and the explosions could have been sparked by static electricity. The company disputed the conclusion.
Debris from explosion fell like missiles in plant's neighborhood
Originally published June 25, 2005
BY TODD C. FRANKEL, JEREMY KOHLER, & GREG JONNSON
Metal chunks were launched skyward and landed as far as four blocks from the facility.
It was a neighborhood under siege Friday as fire shot angrily into the hazy sky and metal gas cylinders rained down like missiles on the houses and cars.
The fire at the Praxair Inc. industrial gas plant in St. Louis quickly turned from spectacle into a reason to run.
One gas cylinder shot off and landed four blocks away in Lafayette Park. Another struck a Chevy Cavalier parked a quarter-mile off. Other metal pieces, twisted and chunked, littered the streets in between. The fire popped and popped with seemingly boundless energy.
"There were tanks dropping, and you could feel the heat coming off the fire, " said Robert Redmon, who lives in the Lofts at Lafayette Square.
One gas cylinder ripped through a third-floor brick wall at 2306 Hickory Street. The canister left a gaping wound in the house and tore away half the floor. Three people were home at the time, but no one was hurt.
"It looked like a bomb had gone off, " said April Elliot, 24, who bought the 108-year-old home just nine months ago with her fiancé, Scott Edmundson.
Just a block from the explosive fire, the Redbird Carriers building rattled like it had been hit by an earthquake. Owner Mark Belew said he and other employees watched the fire in awe -- until Belew spotted firefighters running the other way.
Belew said he looked up in time to see a large piece of flaming steel hurtling over a city street and to the ground fewer than 100 feet away.
At that moment, Belew said he decided to evacuate.
Police and firefighters moved to empty the surrounding area and then widened the evacuation boundary again.
"We're being told to evacuate right now, " said Tom Bialczak, who works at Tom Jon's Catering, 2660 Chouteau Avenue, a mile from the fire.
Pat Rieck, 52, chalked it up to "dumb luck" that the fire and cylinders failed to do any major damage to the Park Terrace Condominiums next to the Praxair facility.
Living adjacent to a gas storage facility made some residents nervous, said Rieck, a condo board member, but they never imagined anything like this.
"It's hard to say we're fortunate when we have this happen," he said. "But there's nothing traumatic here."
Shane Graber of the Post-Dispatch contributed to this report.
At truck sales lot next door, sound and fury awe workers
Originally published Saturday, June 25, 2005
BY DAVID HUNN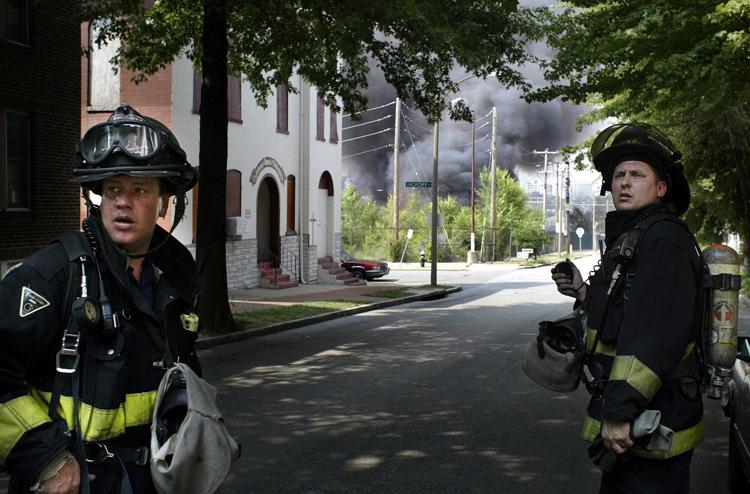 Staff at F&C Truck Sales and services see gas cylinders shot over head like missiles
The first explosion reverberated in his chest. The second shook the office.
Larry Pierce, parts counterman at F&C Truck Sales and Service, ran.
He ran out the east door of the Chouteau Avenue business, turned south, and then saw it: Two spouts of fire pulsed out of the lot next door, the industrial gas distributor Praxair Inc.
Pierce ran south. His brand-new GMC pickup was in the lot behind the building. He jumped in, sped to a lot on Chouteau and parked.
Fire was now rolling horizontally across Praxair, orange bursts amid swirling black smoke.
Pierce, 47, jumped up behind the cab of a Mack truck in the parking lot, catty-corner from Praxair. A gas cylinder exploded. Then another, and another, like cannons in volley. Fire mushroomed over the building. A wall of heat hit his face and arms.
Rick Jurkowski, 44, saw the start, too.
He was lying under a truck in the yard of F&C. He heard the explosion, looked up, and saw a flame over the fence in the Praxair lot; it died then blossomed again.
Two or three hard-hatted Praxair workers started to run. Jurkowski thinks they were loading gas cylinders. He figures they dropped one and it sparked and ignited.
He grabbed his cell phone and called his boss. Then he walked away, fast.
Elmer Schmidt, 58, had driven from Bunker Hill, Ill., to get his company's truck fixed at F&C. He had just stepped into the bathroom inside when the first blast hit, like a large, heavy metal sheet dropped into a garbage bin. Overhead, the loud speaker crackled. "This is not a drill. Evacuate the building, " he remembers. You could tell from the woman's voice that it wasn't a drill, he said.
Employees hustled out the west doors. Schmidt followed.
Outside, he turned around and saw the flames and smoke. Cylinders shot overhead like missiles screaming hundreds of feet into the sky. He ducked behind a truck, then made a break for the road, crossing Jefferson Avenue and heading west, away from the flying scraps of metal.
If one of those headed his way, Schmidt figured, he wasn't going to be able to get out of the way.
"Jeepers!"
Across the road, Pierce still stood on the metal plate behind the truck. Firefighters and cops had missed him, somehow, as they hurried pedestrians west. He hid behind the cab, hoping he could duck should a cylinder come his way.
Then the Praxair roof caught fire. Suddenly the windows exploded, showering the broad road with glass.
A tank flew up in the air and landed right in the trailer of one of F&C's semis. It hit so hard a dust cloud exploded out from under the truck.
By 4 p.m., about 45 minutes later, the explosions had slowed, maybe stopped. Pierce figured he could walk back into F&C.
Inside everything looked OK.
No fire. No damage.
The sprinklers hadn't even gone off.
Debris from explosion fell like missiles in plant's neighborhood
Metal chunks were launched skyward and landed as far as four blocks from the facility.
Explosion site contained large amounts of chemicals
Originally published June 25, 2005.
BY ERIC HAND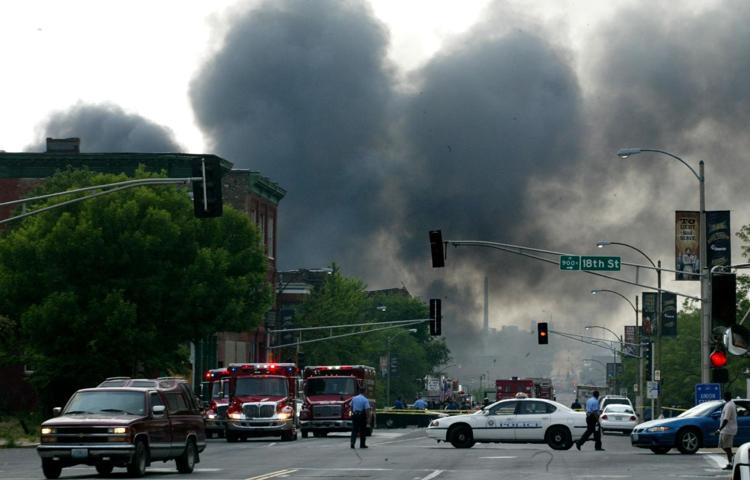 Praxair stored large amounts of flammable chemicals at its St. Louis plant -- chemicals that had to be registered with the Environmental Protection Agency.
The company reported having 30,000 pounds of acetelyne and 12,000 pounds of propane, said Mark Smith, the chemical risk information director at the EPA's Kansas City office.
A risk-management plan filed with the EPA in 2004 said the facility had a fire water deluge system to prevent fire from spreading within or beyond the facility.
Praxair had not registered any toxic chemicals, Smith said. But the EPA requires their registration only if they exceed 10,000 pounds. All flammable chemical stockpiles greater than 10,000 pounds must be registered, Smith said.
Two types of explosions are possible involving chemicals, Smith said.
Vapor clouds can leak out of tanks and ignite later at some distance from the tanks. The second type of explosion occurs when tanks become overheated and explode, Smith said, adding that tanks can shoot up into the air, just as they did in Friday's explosions.
"It would be similar to a munition going off, " he said.
Dan Garvey, the EPA's on-scene coordinator, said the EPA took air samples at ground level from 4 to 6 p.m. and from an airplane that flew over the site about 6 p.m. None of the samples showed dangerous levels of chemicals, he said.
An earlier, more-detailed risk-management plan, filed in 1999, has been maintained by the Right-To-Know Network, an environmentalist group. Much of the publicly available information in the plans has been reduced since 1999 because of terrorist concerns, Smith said.
The earlier plan said Praxair also had 30,000 pounds of propylene and 15,000 pounds of MAPP gas on site, two other flammable gases. Smith said if the company still had them in excess of 10,000 pounds, it should have registered the chemicals with the EPA.
The plan described a "worst-case" accident scenario for the company, which would be an explosion of 7,400 pounds of propylene from its largest tank. That plan estimated such a blast could break windows for nearly two-tenths of a mile.
The St. Louis Praxair facility is an industrial gas plant that stores and handles acetylene, propane, propylene and MAPP gas in large bulk tanks. The plant transfers the gases, all of which are highly flammable, into smaller cylinders that are shipped by truck to customers.
The company's EPA permit allowed it to store 20,000 pounds of propane, 30,000 pounds of propylene and 15,000 pounds of MAPP gas.
Praxair's documents filed with the EPA also said it had not had an accident in the past five years.
Jerri Stroud of the Post-Dispatch contributed to this report.
---
List of chemicals stored on site
Acetylene: A chemical commodity used in steel hardening processes and in welding.
Propane: A common fuel used in camping stoves or rural heating systems. It also can be used to power industrial processes.
Propylene: A chemical used in the manufacture of polypropylene, a plastic resin used in everything from cars to clothes to packaging.
MAPP gas: A chemical property that can be used for underwater welding.
As chaos flared, focus turned to keeping people safe
Originally published June 30, 2005
BY DAVID HUNN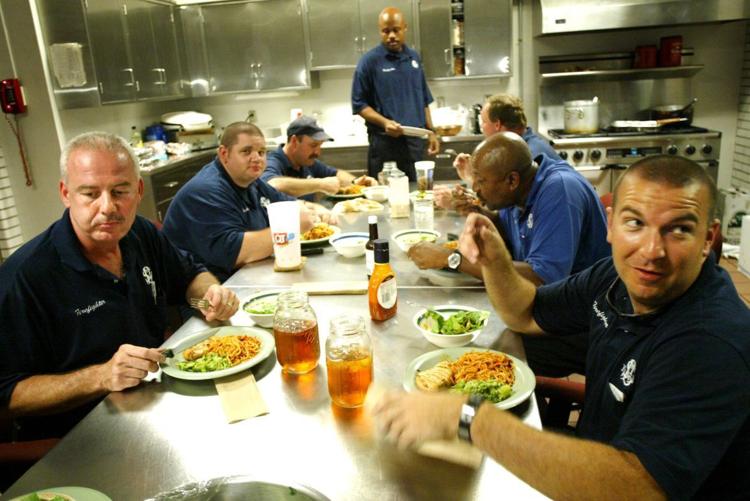 They stood in the kitchen of Engine House 2 Friday afternoon, making fun of each other, as firefighters often do.
Then the alarm rang. And the men ran. They grabbed jackets and pants, slipped into boots, snapped suspenders. "Did I hear them say 'explosion'?" firefighter Vince Marshall yelled as he ran to his truck.
That hot afternoon last week, the nine men of Station 2 downtown didn't know what they were getting into.
First alarm fire at Jefferson and Chouteau, they were told.
Their pumper truck and hook and ladder sped down Tucker Boulevard. They turned the corner on Chouteau. At Mississippi Avenue, they saw it.
A giant fireball rose over the Praxair plant.
They expected a warehouse, maybe even a house on fire.
But they all knew this building. They knew what lay in the yard — welding gases, medical gases, propane, liquid oxygen, chlorine and others. Three of them had recently walked through on routine inspection.
Firefighter Adam Owens had just told his buddies, boy, I sure hope we're not working the day that place goes up. You're not kidding, man, they agreed.
But they were working that day. And they've been talking about it since Friday, since the fire ignited 9,000 pounds of flammable gases, pinned down a south St. Louis neighborhood and sent 100-pound shrapnel streaking through the air.
The crew at Engine House 2 was the first of many on the scene Friday at the Praxair gas repackaging plant.
They pulled up almost right in front. The men stepped out of their trucks and felt the blasts shake the ground. They all looked up, saw the gas cylinders overhead, falling back to earth. They swore.
After 34 years in the department, Capt. Gary Ruffin knew there was nothing they could do to fight this fire.
Ruffin prayed. Lord stay with me, protect me and help me do my job.
Then he yelled. Pull back. Move the trucks. Check the gas station for employees. Evacuate the neighborhood.
Just keep people safe, he thought.
Firefighter Owens ran next door to check the gas station. No one. He jumped onto his pumper, headed south on Mississippi.
He looked out a side window. A canister sailed through the air, hit the gas station, bounced off the roof, skidded across the pavement and smashed into another crew's pumper.
Radio traffic was chaos. Calls kept coming from neighbors, reporting fires on roofs, fences, local restaurants. The street scene was chaos, too. Residents stood outside gawking, as if they didn't see the missiles soaring through the sky.
Firefighter Mike Niemann hustled door to door, knocking, yelling, telling residents to leave. But he kept looking up.
A tree caught fire at Eleven Eleven Mississippi. Two men in white coats ran out of the popular restaurant with fire extinguishers, Owens remembers. "Shut your stoves off and get out, " he told them. In the parking lot, 50 others stood. Owens flushed them back.
A block from Mississippi and LaSalle, firefighter Marshall was clearing a different lot and watching the cylinders arc through the sky. It was almost like watching a quarterback's perfect spiraling pass, the firefighters said. You could figure where the hot metal was going.
Marshall saw one headed toward his hook and ladder truck parked on the side of the street. Neighbors stood around it on front lawns. They looked up, shouted, parted, scattered.
But one boy didn't. His back was turned. The canister arced toward him. Marshall watched, too far away to do anything. The hot metal hit the ground, skipped and landed in a neighbor's yard. A firefighter grabbed the child and moved everyone back.
Hours later, the fire had dipped. Reinforcements arrived. Station 2 packed up.
Back in the engine house this week, the men reflected that this wasn't the kind of fire that gives firefighters nightmares and day shakes. This wasn't a burning warehouse with victims inside and smoke so thick you can't see in front of your nose. This wasn't the kind of fire that Ruffin has seen take his men.
The crew laughed over dinner, remembering lighter times in this recent blaze.
Like the boy who somehow sneaked between houses and biked down the middle of Chouteau as missiles fired overhead.
And the woman who, moments before the evacuation ended Friday night, broke through police lines and sprinted for her apartment, to come out minutes later, two dogs under arm.
No, this fire — thank God — wasn't deadly.
---
The men of Engine House 2, Tucker Boulevard at Clark Avenue
Capt. Samuel Lowe
Capt. Gary Ruffin
Firefighter Stacy Elliott
Firefighter Danny Alderton
Firefighter Adam Owens
Firefighter Mike Niemann
Firefighter Shawn Coleman
Firefighter Vince Marshall
Deputy Chief Ralph Break, incident command