On Christmas weekend, while most people were thinking about family and the holidays, Tishaura Jones was thinking about me.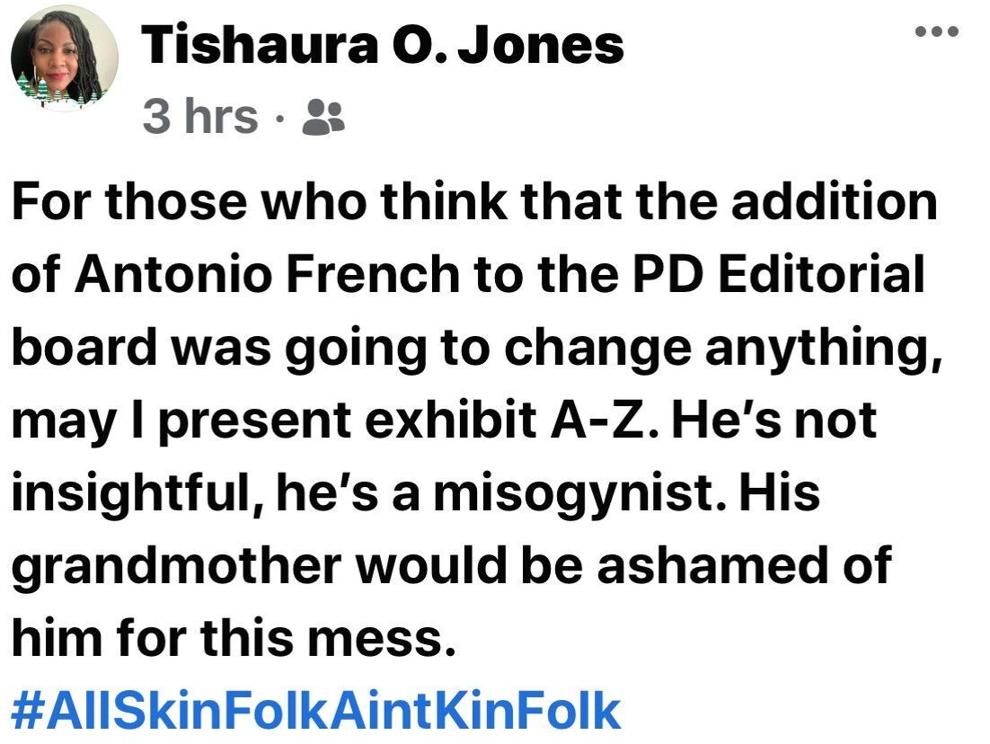 On Sunday morning without provocation, Jones posted on Facebook and Twitter, calling me "a misogynist." Did she take issue with a column I wrote? No, I've never mentioned her in my column before. Was it something I said about her online or in the media? No, I haven't said a word about her. So what was Jones' issue and why was she making such a claim publicly?
Apparently Jones didn't like the Year In Review editorial that was published by the Post-Dispatch on Sunday. And since I am a member of the editorial board — its only Black member — the St. Louis city treasurer and mayoral candidate took to social media, Donald Trump style, to blast a member of the media and claim bias because she didn't like the facts that were reported.
Par for the course. Missouri Republicans frequently call us liberally biased when they don't like the facts that we report. Far left activists call us too moderate. But Jones' attack didn't stop at claiming I personally hate women. She then brought my grandmother into it.
"He's not insightful. He's a misogynist," she wrote. "His grandmother would be ashamed of him for this mess."
And that's when she crossed the line.
After my mother died when I was 12 years old, my grandmother, Myrtle French, took me in and raised me, practically alone. She served for years as Democratic committeewoman for the 21st Ward. Every success I have in life is hers. Her pride is mine always.
As an elected official — especially one in any kind of a fiscal role — every public action by Jones is open to public scrutiny. People should ask questions about how elected officials spend public money. As an elected official she should expect them — or even as I did when I was a public servant, welcome them.
I have ignored Jones' petty insults over the years. What she thinks means less than nothing to me, and I had enjoyed my returned privacy since leaving public office too much to engage in a public argument with her or any other elected official — especially another Black one, because I think that harms more than just the two parties arguing.
And so things would have stayed. But then Jones talked about my grandmother.
Jones does a disservice to the movements whose coattails she is trying to ride into Room 200 of City Hall. Every criticism of Jones by St. Louis journalists has been valid and fair. I have seen no low blows or fabricated outrage like some other Black St. Louis politicians have historically suffered in the past. Former Mayor Freeman Bosley, Jr. and the manufactured kerfuffle of midnight basketball comes to mind.
Jones flew around the world on the public dime. Journalists should ask her about that. That doesn't make them racist or misogynistic.
Jones gave public money to her campaign donors for doing nothing. Yes, she should be asked about that. Any elected official should expect to be asked about things like that. And Jones should not hide behind race or sex to avoid answering those questions.
Politicians making their supporters think journalists are the enemy to distract from their own misdeeds has become all too familiar behavior that we are all tired of. Especially journalists. At least most of them. If Tishaura Jones is St. Louis' Donald Trump, the St. Louis American is her Fox News.
In the years that newspaper has been Jones' primary public relations machine, it also became her chief enforcer, attacking anyone Jones identified as her enemy. During those attacks, rarely if ever did the American identify the paper's publisher as also being one of Jones' largest campaign donors.
The strategy nearly worked four years ago as it helped Jones come within a few hundred votes of Lyda Krewson during the mayoral primary. The American published Jones' letter slamming the Post-Dispatch and its editorial board, labeling its members racist for calling her out for apparently misappropriating public funds as city treasurer. The letter went viral and attracted campaign donations from celebrities and activists all over the country, happy to come to the aid of a victimized Black politician, helping her surge in the final days of the campaign.
But as the saying goes: all politics is local. And Jones' national victimhood couldn't quite get her over the hump in 2017. But she's at it again. She was forced to drop the cry of racism against me not only because I'm Black but because my record of accomplishments in St. Louis' Black community and national recognition for my civil rights activism dwarfs her paper-thin resume. So instead, she calls me a misogynist, without any evidence.
A lot of people have hitched their political wagons to Jones becoming the next mayor. And maybe they'll get done in 2021 what they couldn't in 2017. But win or lose, she needs to stop the Trump tactics and answer the legitimate questions journalists ask about her use of public funds. That's part of the job she has now and the one she wants.
I don't personally endorse candidates anymore. But needless to say, Jones has lost my vote.