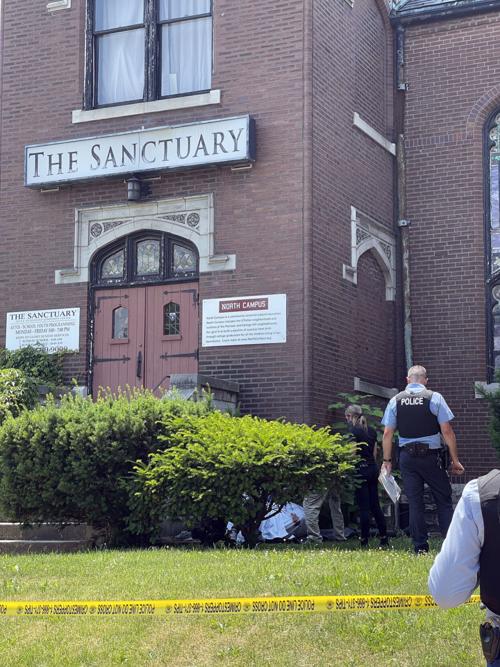 Another day, another dead body. This one just happened to be in our hedges.
I received a call Saturday shortly after noon. It was the guy who usually cuts our grass. "French, I have some bad news," he said. In his slight pause, my mind raced through all the emergencies, minor and major, he could be calling about. Maintenance issues. The death of a neighborhood elder. My house. My family. "They found a dead body outside The Sanctuary."
After a deep exhale, I replied with a four-letter expletive.
He gave me a few more details. The body was discovered behind the bushes. The guy who was cutting our grass that day smelled it before he saw it. Temperatures had been above 90 degrees for several days. It wasn't clear how long the body had been there, but decomposition had already begun, he said. He immediately called the police.
The Sanctuary is a century-old church building that I raised funds to purchase 10 years ago. Through the non-profit I founded, the North Campus Partnership, we turned the vacant church into an after-school center for neighborhood kids. We called it The Sanctuary because it provided a safe place in the middle of what was one of the most violent neighborhoods in the city at the time. Along with the Meghan A. Flannery Learning Center on West Florissant, it became one of two after-school centers we created out of formerly vacant buildings and operated for years.
For many kids in the O'Fallon, Penrose and College Hill neighborhoods, these were special places where they received love, encouragement, tutoring and hot meals every day. And the positive effects extended beyond just the kids and their families. The blocks where these once-vacant buildings stood were improved by the daily activity and investments in these anchor structures. But both have sat empty during the pandemic, and we have struggled with plans to restart the program. As the positive activity stopped, the old negative activity has returned.
When I arrived at The Sanctuary, two uniformed cops were there and had already outlined the area with familiar yellow police tape. They were waiting for detectives and the medical examiner to arrive. I told them who I was and they took my information in case the detectives needed to contact me. I informed them of a surveillance camera on the corner street light and how it used to feed into the police department's "real time surveillance center," but like so many public safety efforts in this city, it was abandoned. The camera still hangs, fully powered, but no one watches.
This was the second dead body police responded to on the 4400 block of Red Bud Avenue in just two weeks. Two Saturdays before, on May 29, 24-year-old Antonio Mosley was executed on the block, shot in his head and multiple times in his body. Police arrested 40-year-old Robert Williams for the murder two days later. Mosley's murder was the 77th of the year in St. Louis. I got that information from a news report. City police haven't updated monthly crime stats on their website since December 2020.
Mosley's murder, while rare in that it is one of the few this year that have actually been solved, was just one of countless violent acts that have occurred on this block in my 43 years of calling this neighborhood home. I saw my first dead body when I was a kid not far from where Saturday's body now laid. I couldn't even tell you how many I've seen since.
The medical examiners had arrived. They had put a white sheet over the corpse. Stains could already be seen on the sheet. Growing dark circles as the cloth absorbed the fluids. I talked to the man who found the body. He couldn't stop talking about the smell. It was 92 degrees and as the slight breeze moved the air, every now and then we'd get a whiff from where we were standing. The smell of death.
He told me it was a woman's body. He couldn't tell me what had happened to her. He just called the police after he recognized it as a body, he said. One of the officers said he didn't know if it was a murder. He said it could've been an overdose.
A few other neighbors had come out to see the activity. No one seemed panicked or emotional. Just curious. Several engaged in neighborly conversations, even some laughs, as police went about their business. Strange what you can get used to.
I posted about the incident later on social media. Some asked if our landscaper or I were seeking counseling. I laughed. The thought had not even occurred to us. This was just life in St. Louis, at least our corner of St. Louis. Gunshots are heard so frequently that we only call 911 if it's really close. Hearing about someone murdered a few blocks over evokes little more than a shake of the head and an exhale.
"It's getting crazy out here," my landscaper said.
"It's been crazy out here, man," I replied. "This is St. Louis."