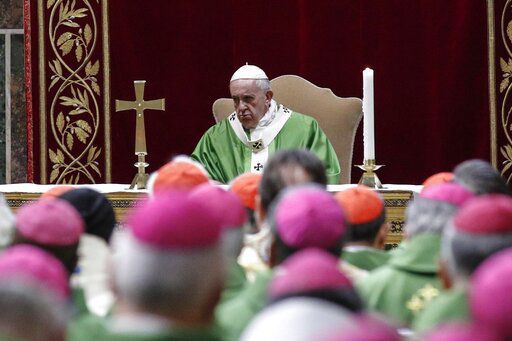 Last week Pope Francis convened a summit to discuss clergy sexual abuse. Silence still shrouds clergy abuse of women.
In early February, the pope acknowledged the Catholic Church had faced a persistent problem of sexual abuse of nuns by clergy members. Reports have surfaced worldwide, and the pope admitted that nuns have spoken out for years. In November, the International Union of Superiors General, representing 500,000 nuns, had urged its members to bypass the church and report to law enforcement directly, citing a "culture of silence and secrecy." Where are the voices of the American sisters?
On Feb. 7, the Maryland-based Leadership Conference of Women Religious thanked Pope Francis for acknowledging clergy sexual abuse of Catholic sisters. They noted that "a study conducted in 1996 by St. Louis University indicated that there were sisters in the United States who had suffered some form of sexual trauma by Catholic priests."
Previously, on July 27, 2018, the leadership conference had expressed "profound sadness over the sexual abuse by clergy endured by Catholic sisters." However, they said, the conference "does not have data on incidents of sexual abuse by clergy of Catholic sisters in the United States."
In 1995-96, we were part of the team at St. Louis University that conducted the research on sexual abuse of nuns, under the auspices of the Program for Psychology and Religion. Following a pilot study of 578 sisters, we conducted a national survey that included 123 religious orders, and nearly 1,200 participants.
Briefly, results of the survey follow: Approximately 19 percent reported being sexually abused as children. Since becoming a nun, one in eight reported being sexually exploited by a professional (e.g., spiritual counselor, retreat master, physician), of whom 75 percent were priests or nuns, and nearly one in 10 reported sexual harassment, with 45 percent of harassers being priests or nuns. Adult experiences of sexual abuse (sexual assault, rape) were reported by one in 10 sisters. The average age of sisters at the time was 62 years, with 42 years in religious life. Today this sister would be 86 years old.
With Paul Duckro, director of the Program for Psychology and Religion, our team published a study summary in Review for Religious, a Jesuit publication of St. Louis University, and the full study results in Review of Religious Research, both in 1998. We also sent a detailed report of our findings to the leadership conference, the Archdiocese of St. Louis and our funders. Five years later, in 2003, the Post-Dispatch published the front-page article "Nuns as sexual victims get little notice," resulting in widespread media attention. Nevertheless, to date, our ground-breaking study — now more than 20 years old — remains the only scientific inquiry on sexual abuse of nuns. The church and its representatives never acknowledged our work.
If the Leadership Conference of Women Religious pledges to advocate and collaborate with the nuns' union in raising awareness about sexual abuse of nuns, they cannot wait for the Vatican to act. They must create the mechanism by which American sisters can voice their pain. The first step is to widely publicize the data from our study that they have had for over 20 years. The second step is to ask questions. The leadership conference has the population and our survey. The study begs to be replicated. It should be simultaneously conducted worldwide by the nuns' union. Then the church will know — once again — the actual state of affairs.
In 2003, we stated that sisters do not come forward about abuse because they feel shame and guilt, which our study confirmed. They have a lot to lose, potentially by speaking out: "These women have to ask themselves what are the benefits and what are the costs. The church is the only corporation in town." That is still true. With the advent of #MeToo, perhaps today's sisters will be emboldened. The people of God can never fully heal until they hear all the voices. The sisters have yet to be heard.
Ann Wolf Hodges is retired and was previously employed as an educator and administrator by the Archdiocese of St. Louis and as adjunct faculty in the Department of Theological Studies at St. Louis University. John T. Chibnall is an adjunct professor of psychiatry at St. Louis University School of Medicine.
Catch the latest in Opinion
Get opinion pieces, letters and editorials sent directly to your inbox weekly!