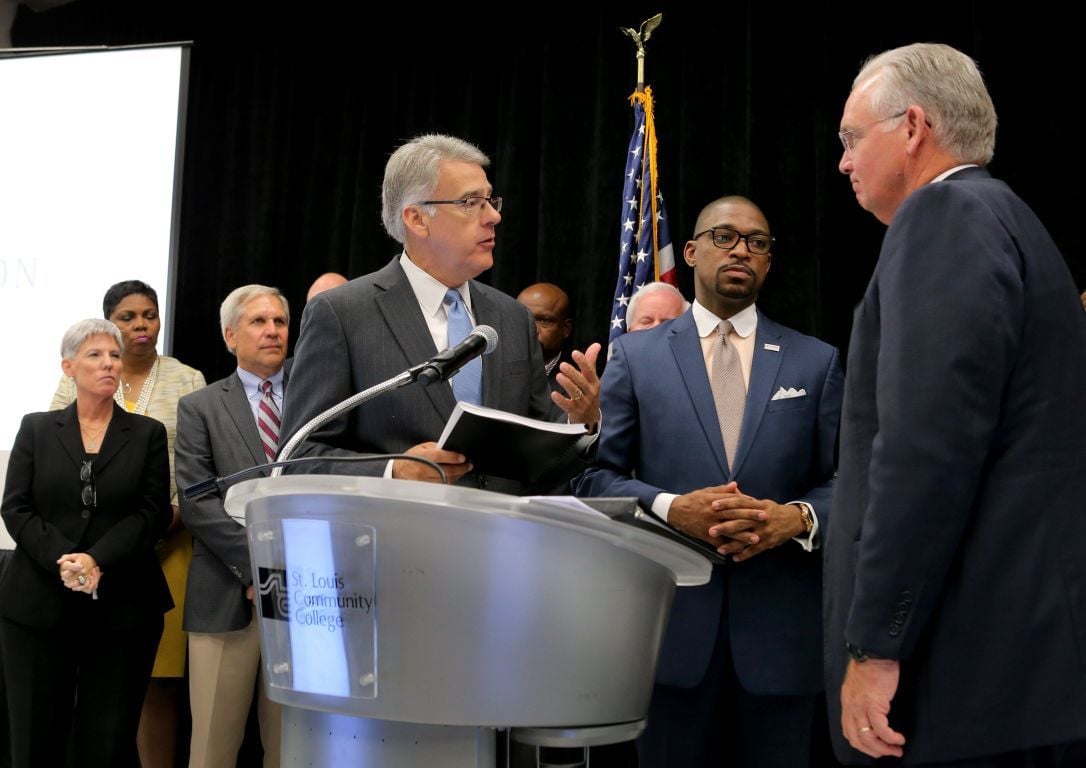 Two of the action steps in the newly released Ferguson Commission report are striking. The first calls for limits on municipal traffic fine revenues. The second demands alternatives to prison for people who miss a municipal court hearing.
In recent years, some municipalities in St. Louis County have come to rely heavily on traffic fines and court fees to fund their budgets. Those governments have an incentive to use highly punitive practices when enforcing local traffic and small-time municipal ordinances. And incentives matter. For example, in 2013 the city of Ferguson issued over 9,000 arrest warrants for incidents that were primarily traffic, parking and housing code violations.
Why do local residents put up with such heavy-handed practices? Because their municipalities are essentially trading revenues for democracy.
Low rates of citizen engagement tend to go hand in hand with substandard and abusive municipal government practices. Voter participation in local municipal elections tends to be low in the United States, especially in St. Louis County. My research on municipal elections in St. Louis County with Terry Jones and Cynthia Palazzolo finds that turnout has averaged 15 percent over the past five years. That's very low.
When people have to pay fines or go to jail, their experiences with police, courts or prisons inform their views about how government works, teaching unfortunate lessons about local democracy. Research by Amy Lerman and Vesla Weaver finds that contact with the criminal justice system significantly reduces Americans' faith in government and makes them less likely to contact public officials about their concerns. And these negative impacts aren't just limited to the people who are fined, arrested or jailed. Research by Traci Burch indicates that, no surprise, communities with higher rates of imprisonment tend to have lower rates of voter turnout.
A vicious cycle ensues. In places with low voter participation, municipal officials may feel they can act with impunity. As an extreme example, in the city of Bell, Calif., less than 400 voters participated in a special election that changed the city's governing structure, and later investigations revealed that certain Bell city officials awarded themselves annual compensation packages worth more than half a million dollars.
The cycle can be turned around. Evidence suggests that reforming municipal court and governance practices can modestly improve voter turnout in municipal elections in St. Louis County.
In recent elections, fewer than one voter in six comes out to vote in St. Louis County municipalities that generate more than 15 percent of their revenues from court fees and municipal fines. By comparison, turnout is slightly better than one in five in municipalities where fees and fines comprise less than 5 percent of general revenues. In a positive first step, the Missouri Legislature recently passed a law that will cap municipal revenues from court fees and traffic fines at 15 percent. As municipalities impose fewer fees and fines, a smaller number of people will have negative experiences, and more people are likely to vote.
But there is a simple idea that could have an even bigger impact on voter participation in municipal elections. By Missouri law, those elections take place in April. Few people vote then. To increase participation in a simple step, lawmakers should move municipal elections to November of even-numbered years, so voters, who come out in large numbers to choose their president, U.S. senators and governor, can elect their local officials on the same day.
David C. Kimball is a professor of political science at the University of Missouri-St. Louis.