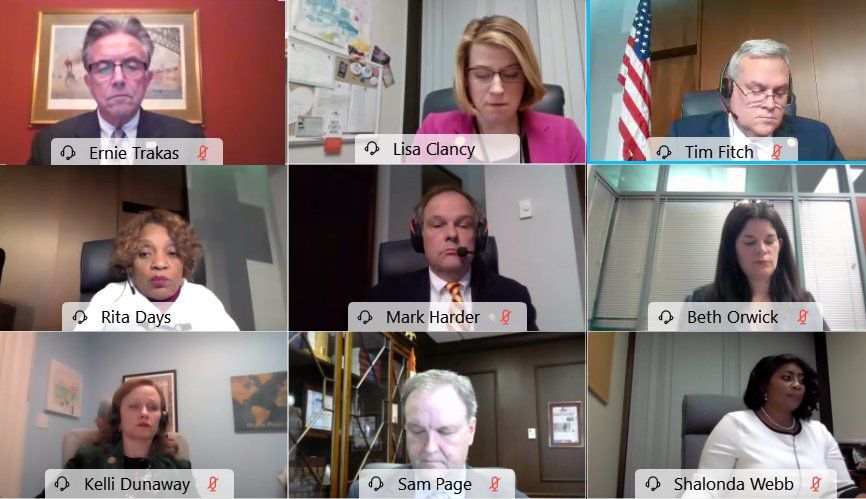 As a former St. Louis County Council member who represented the 3rd District for 12 years and a member of the 2019 Charter Commission, I found watching the latest dysfunction play out regarding council leadership to be mind-numbing. I served on the council during the tumultuous leadership of County Executive Steve Stenger. I thought we had nowhere to go but up. Sadly, in St. Louis County, the political gamesmanship continues.
St. Louis County Charter Sections 2.040 and 2.050 state that council members are elected to four-year terms, and the election for council chair and vice-chair takes place at the council's first regularly scheduled meeting of the year. This has been the case since adoption of the charter in 1979 and has always been voted upon by the elected officials holding office for that calendar year.
In August 2020, voters passed an amendment to the charter that changed the swearing-in date for newly elected council members to the second Tuesday of January as opposed to the former date of Jan. 1. For reasonable people, logic would dictate that the first meeting of the year for the new council would be scheduled to coincide with the new swearing-in date.
This is where the latest episode of council political gamesmanship is occurring. Since Rochelle Walton Gray of the 4th District was elected under the terms of the old charter, her term ended on Jan. 1, and she had no legal right to vote for the new council chair and vice-chair. However, some county officials claim that, because of the 2020 charter amendment, she is legally allowed to hold over beyond her charter-mandated four-year term until her newly elected replacement was sworn in. This holdover theory makes no legal or practical sense.
The first meeting of the new year should have been scheduled to align with the newly elected members being sworn in. In fact, council member Shalonda Webb was elected by 4th District voters to replace Gray. Webb made it very clear her desire is to do what is in the best interests of her constituents, and that includes voting on new council leadership. She very respectfully requested a delay in the vote for council leadership until she was sworn in. She was rebuffed.
For whatever reason, some on the council allowed Gray to vote on Jan. 5 even though her term had expired. Why was that done? The legality of the situation is one matter, but common sense should make everyone wonder: Why in the world was the first meeting of the year not scheduled to occur the day of the swearing in?
County Executive Sam Page said in one of his press briefings that "there will be an effort to change that [charter] to make sure that the swearing-in of the council members is better aligned with the charter requirements for choosing a leader."
The charter is clear on this issue: The chair and vice-chair are to be selected at the first meeting of the year. All that needed to be done was to schedule the first meeting of the year to coincide with the new swearing-in date. This need not be complicated unless some members wanted to manipulate a situation to their advantage and hope nobody would challenge them.
As Page well knows from all the time spent fighting over legal opinions offered by an appointee of Stenger, sometimes legal opinions have to be challenged when things are not right. That is exactly what St. Louis County Council members Rita Heard Days, D-1st District, Tim Fitch, R-3rd District, Mark Harder, R-7th District, and Webb are doing.
To not recognize the subsequent election of Days and Harder as chair and vice-chair is political gamesmanship that denies newly elected officials the right to vote on council leadership under which they will work. This is not the way to welcome new members to this legislative body and is a disservice to St. Louis County residents.
We can and must do better. The time is now to recognize new council leadership put in place by those council members that were elected to serve in 2021. And after that recognition, get back to work.
Colleen M. Wasinger is an attorney, former Republican St. Louis County Council member from 2007 to 2018, and a St. Louis County Charter Commission member in 2019.