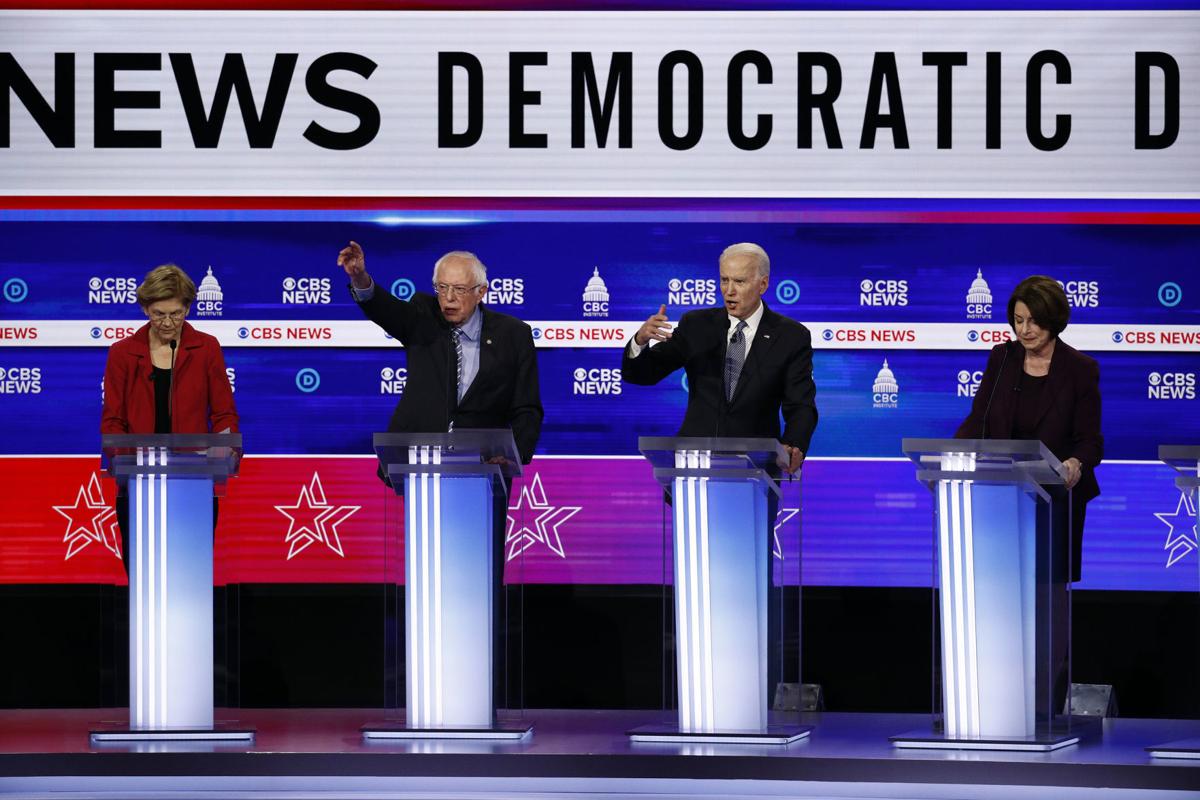 Every sensible Missourian should approach the Democratic primary on March 10 with one goal: defeating President Donald Trump, whose dictatorial tendencies are now unmoored from reality and any real political constraints. Missourians have two choices. We can back a socialist sympathizer with little record of accomplishment despite decades in Washington. Or we can support one of several other candidates, all of whom agree with the need to correct economic and other inequalities, but none of whom believe we should "throw the baby out with the bathwater" and turn our backs on capitalism, the economic system upon which our collective prosperity is built.
But to hear the media tell it, the Democratic primary is all over, but for the shouting. In truth, only 2.5% of nearly 4,000 total delegates have been awarded. Until now, moderate candidates have split the ballot and clearly advantaged Bernie Sanders, the self-described democratic socialist. Many moderates realize we have reached an inflection point and that without unifying around one candidate, Mr. Sanders will run away with the bag despite a majority of Democrats strongly disagreeing with his ideology.
To avoid this catastrophic outcome, Missouri moderates — including registered independents and Republicans who are eligible to vote in the Democratic primary — must unite, immediately, to restore America's standing on the world stage, unify the country, bring back the middle class, and secure our values as a nation of immigrants.
But which of the several dedicated public servants should we rally around? Pete Buttigieg, the former mayor of South Bend, Indiana, is talented but unproven on a statewide much less a national stage, and he has failed to build the diverse coalition the Democratic nominee will need to win in November. Sen. Amy Klobuchar, D-Minnesota, is whip smart and accomplished but has likewise failed to build a broad base of support. Former New York Mayor Mike Bloomberg has had a storied career in business and New York politics, but his extraordinary wealth may put him out of touch with the needs and passions of less fortunate Americans. Former Vice President Joe Biden has given uneven debate performances and at a time when many younger voters are calling for a new generation, feels to some like a member of the "old guard."
But I argue that of these, only Biden can unify the Democratic Party and lead it to victory in November — not just for the White House, but also in close House and Senate races around the country. Biden expected strong showing in Saturday's South Carolina primary will give him the largest and most diverse state so far in the contest, and he may even emerge with an overall lead in delegates. More importantly, he will have shown that none of the other moderate candidates have a viable path to securing the most or second-most votes this primary season.
Biden is not a perfect candidate; there is no such thing in politics. But his record of fighting for working people and the Democratic Party for more than 40 years has something about which everyone can be excited. He led the passage of the Affordable Care Act, providing hope to more than 20 million people, including many African American families. He fought against climate change and helped pass the Paris Agreement to reduce worldwide emissions. He sponsored the Violence Against Women Act. He is the one Democrat who can flip back the House seats the Democrats lost in 2016 for the first time since 1980, essential to beating Trump. And most important, Biden is a dignified human being who will bring empathy and decency back to the Oval Office, and who can begin to repair the damage done since 2016 to our national politic.
The longer the field of Democratic moderates remains cluttered with candidates who lack a path to the nomination, the greater the odds that Sanders will amass an insurmountable lead in delegates, as other candidates divide a shrinking piece of the pie among too many mouths. Now is not a time to dither and fret — it is a time for moderates to come together to preserve and renew this country that we hold dear. If Biden wins South Carolina, moderates must unite around him.
Corey Then served for four years in the Obama administration, including as special assistant to the president in the White House and as deputy general counsel of the U.S. Department of Agriculture.