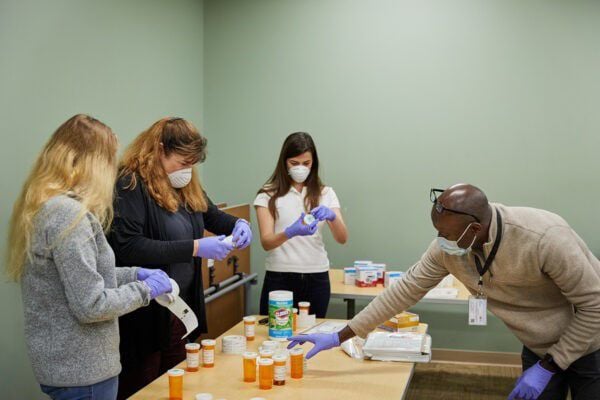 With the exodus of classes to online platforms and the suspension of clinical rotations, medical students are experiencing something previously unknown to them: free time. Less than one week of this downtime was enough for us to become frustrated by the prospect of self-guided studying while a literal pandemic knocked at our doorstep. In an attempt to shift our lives from textbooks to reality, two of my classmates and I reached out to our Washington University administration to inquire if there was anything — anything — we could do to help. The answer was simple: Help relieve the burden on our front-line physicians without having direct contact with sick patients.
Our peers felt much the same: A poll to gauge interest among our fellow students was met with an overwhelmingly positive response. Within 24 hours, we had a team of students summarizing coronavirus research papers so that our physicians could get up-to-date clinical information without having to sift through dozens of articles. At the two-day mark, we had established student-run child care services for health care workers who needed to be at work in the hospital. By day four, trained medical students began managing the university's coronavirus email hotline. For the past several weeks, a team of Washington University students has been working with the St. Louis County Department of Health on epidemiologic efforts to stem infection, an initiative that truly integrates our efforts with those of the community. Then we began delivering food and groceries to high-risk community members so that we can encourage vulnerable populations to stay indoors and flatten the infection curve together.
It's not just us. Medical students across the nation have been similarly organizing coronavirus response initiatives. To help tackle the devastating shortage of personal protective equipment, students at New York University are contacting research labs to collect mask and glove donations that can be rerouted to physicians who are in direct contact with coronavirus patients. At Harvard, students are translating virus health resources into dozens of other languages and disseminating them among local at-risk community members. Some Harvard students have even created an online coronavirus curriculum for medical students to study during their newly discovered free time.
Meanwhile, at the University of Washington, graduate students are being called upon to increase sample-testing capacity by contributing their laboratory skills. This is in addition to their new Care & Share website, a Craigslist-type page where community members from that university can offer services such as virtual tutoring for children no longer able to attend school.
Impressively, all of these initiatives sprang up within a week, and many have already been implemented with meaningful effects on their respective communities.
Several physicians in this country already have become infected. Health care workers are at high risk of contracting the illness, yet they will continue caring for patients every day for the foreseeable future. We medical students may not be able to jump in alongside them, but we will persist in supporting our mentors so that they can provide the best care they are capable of delivering.
As these almost surreal events continue to unfold around us during the most formative period of our medical education, I wonder how they will affect our future career trajectories. Some have posited that perhaps more trainees will pursue infectious disease as a specialty after having been exposed to a once-in-a-century pandemic of this magnitude.
For the past decade, applications to infectious disease fellowships have declined every year, and salaries are notoriously low compared to other specialties. Until now, infectious disease events hosted by Washington University students only drew a few hardcore "bug fanatics." When we hosted a COVID-19 primer early last month, 150 students came. We took pictures for posterity.
Twenty years ago, many would have said that the era of infectious disease is over. Time and time again, those naysayers have been proven wrong. As an aspiring infectious disease physician myself, I hope that at the very least, this pandemic engenders a newfound appreciation for infectious disease clinicians. Like all things in health, appreciation should be anticipatory — not reactionary.
In a timely twist of fate, I just had my infectious disease final exam a few days before our program shut down. There was no time to study, but at least I was ready for any coronavirus questions.
Cyrus Ghaznavi is a second-year medical student and aspiring infectious disease physician at Washington University School of Medicine in St. Louis.