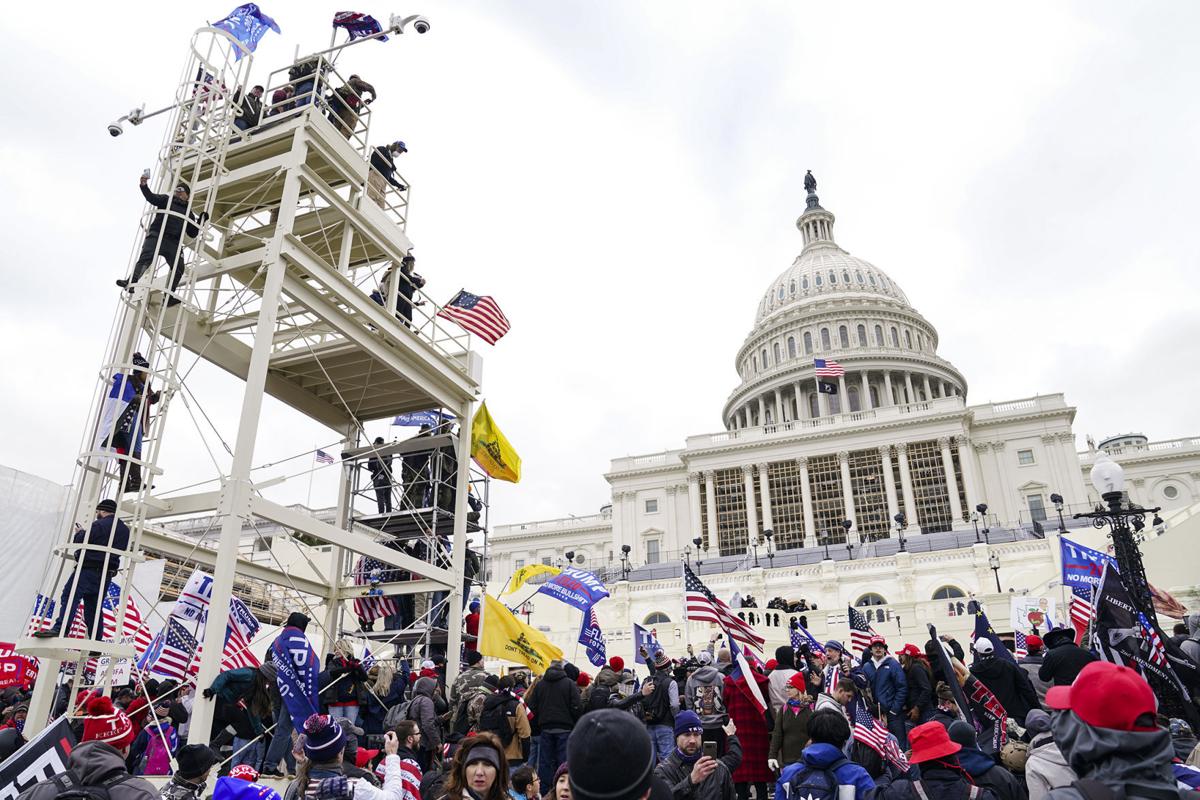 A noose hanging on Capitol Hill. Police with guns raised trying to protect the nation's legislators. A rioter taking over Vice President Mike Pence's seat in the U.S. Senate. A U.S. president goading his followers to a mob attack. We all have different images seared into our consciousness from the insurrection of Jan. 6.
The horrible image of an ordinary American — a bloodied police officer being crushed in a doorway by the mob — will stay with me forever. His cries of anguish should echo in the minds of our leaders as they weigh how to respond to an assault on America. Make no mistake, the violent acts constituted a coup meant to thwart our democracy.
A line was certainly crossed when crazed rioters entered the temple of democracy, and the safety of our elected representatives was put in jeopardy. However, the pain of that police officer and his howling for aid and relief is what haunts me. In some sense, his outcry and his pain and his horrific entrapment are a metaphor for a nation in torment.
Ordinary Americans have felt crushed in the vise of extremism, lies and political insanity — and long before the spectacle of Jan. 6. It's a vise that has been closing for a long time on health workers, public safety officers, school teachers and bewildered young people.
That vise also has been closing in on the women and men whose task has been to inform their fellow citizens about the events that have been unfolding in a continuing national crisis. This is not to say that the job of journalists is in any way commensurate with doctors, nurses, teachers or police officers, but as a reporter and editor, it's what I can communicate about with some authority.
Extremism and political hate have crushed our nation's ability to respond effectively to a deadly pandemic. The economic impact of the raging pandemic has closed community newspapers and left communicators without work across the country. That has certainly been the case with publications in the Webster-Kirkwood Times group of St. Louis newspapers.
Extremism and political hate also have been deliberately aimed to try to crush the spirit of American journalists. Reporters have been killed or seriously injured in this era of supercharged rhetoric. When the top leader of the country continually calls journalists "the enemy of the people" and encourages physical violence, all bets are off.
My final years as editor of the Times publications will be remembered for the continual attacks inspired by the president's vitriol. These include letters sent to city officials and advertisers urging them to quit supporting the Times because the newspapers are run by communists who attack the U.S. military and who are on the payroll of leftist George Soros.
Where does this come from? When will it stop? For the record, newspaper entrepreneurs tend to be capitalists. The Webster-Kirkwood Times has never been anti-military. We have never called members of the military chumps or losers. We financially supported the Traveling Vietnam Veterans Memorial Wall when it came to our circulation area. We have not cashed checks from George Soros.
One of the most disillusioning moments for me came when one of the president's acolytes entered our managing editor's office upset about immigrants and "the need for a wall." He physically and verbally abused our editor and told her that "she better have her papers." She is Italian. He mistook her for a Hispanic immigrant. In any case, what difference does it make about her ethnicity, nationality or religion?
My hat is off to the Webster Groves police. After that assault, they collected information, identified the individual, asked if we wanted to press charges or to seek a restraining order. They also advised us about our entryway photo security system and told us not to hesitate to call if someone coming up the stairs to our offices seemed to pose a danger.
As journalists, we have covered police malfeasance when appropriate, but we have always had a respectful relationship with law enforcement. I started my career as a police beat reporter for the Columbia Missourian and later covered that beat for other publications. I have known and admired many good cops.
That is why the image of that screaming cop being crushed in a doorway in our U.S. Capitol leaves me outraged and saddened. When will it stop? When will we call a halt to the crushing vise of extremism, political hate, belittling and demonizing? Perhaps it will happen when we reject and quiet any political leader who seeks to benefit from such demonizing.