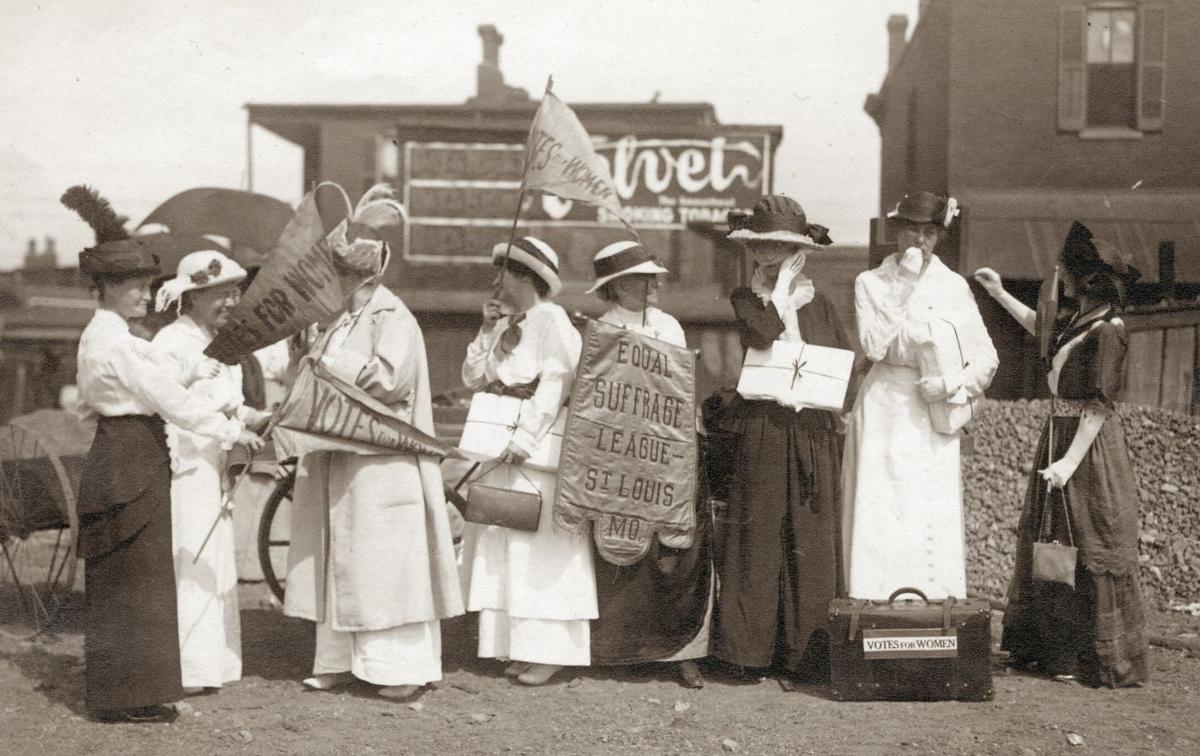 When women first voted in Missouri 100 years ago, they nearly had to cast their votes on special pink ballots — a legacy of the state's reluctance to grant women full political rights. As we vote in the 2020 election and mark the centennial of the 19th Amendment — which promises that the right of citizens to vote "shall not be denied or abridged … on account of sex" — it is worth revisiting Missouri's notable people, milestones and quirks on the path to women's political equality.
St. Louis was home to an early and influential women's suffrage organization, founded in 1867. Two years later, the city hosted a National Woman Suffrage Convention that drew many of the biggest names in suffrage advocacy, including Susan B. Anthony and Julia Ward Howe. That meeting sparked support for the novel theory that women's right to vote was implied by the 14th Amendment, which barred states from abridging the "privileges or immunities" of U.S. citizens upon its ratification in 1868. Missourian Virginia Minor was among the hundreds of women who attempted to register to vote in the following years based on this claim. When she was rebuffed, she sued. Her suit culminated in the momentous 1874 U.S. Supreme Court case Minor v. Happersett, which affirmed that women were citizens but ruled that voting was not one of citizens' "privileges and immunities."
With the 14th Amendment argument defeated, suffragists focused on achieving state-level laws, as well as a federal constitutional amendment. Missouri suffragists were involved in both efforts. For example, St. Louis native and Washington University Law alumna Phoebe Couzins (one of the first women law school graduates in the country) presented women's claims before the state Legislature. Couzins also joined leading suffragists in pressing for women's rights at the federal level.
Missouri's legislators and judges were unusually advanced in a surprising area of women's political rights: officeholding. The state was among the first to permit women to hold public offices, with the governor appointing a woman as a notary public in 1869. Newspapers credited this achievement to the efforts of St. Louis's suffragists. In 1872, a woman was elected as a recorder of deeds — even though she couldn't vote for herself. The following decade, Couzins obtained further fame (though not victory) by running for governor. (Missouri remains one of 20 states that has never elected a woman governor. Democratic candidate Nicole Galloway is seeking to change that on Tuesday.)
The first time a woman's right to hold office was legally challenged in Missouri was 1897, when a man who lost a county clerk election to a woman (92 votes to 1,938) sued to challenge her eligibility. The Supreme Court of Missouri ruled in her favor, reasoning that women could hold any office unless a law explicitly excluded them. Missouri's suffragists recognized the state's progressiveness. For instance, in 1902, the Post-Dispatch quoted Washington University Law alumna Daisy Barbee's declaration that Missouri was the "best state for women" because of their eligibility for positions including judgeships.
Missouri became the 11th state to ratify the 19th Amendment in 1919. Yet even after the amendment came into force in 1920, many commenters expressed uncertainty about its scope. In Missouri, this question manifested in two issues: the permissibility of pink ballots and full access to officeholding.
In 1919, the Missouri Legislature (like many other states in the preceding years) had authorized women to vote for presidential electors only. Missouri's law uniquely required that women's votes be cast on colored paper, soon widely understood to mean pink. Yet after the 19th Amendment became the law of the land, Missouri's attorney general determined that the "Pink Ballot Law" was both unnecessary and unconstitutional.
Women's equality in other matters of citizenship remained contested. Missouri was one of several states where another law was needed to grant women full officeholding rights. In March 1921, the Legislature and governor approved a bill to place an officeholding amendment before voters. The Post-Dispatch supported the move in an editorial, which remarked that officeholding "is a corollary of equal suffrage and is necessary to [women's] exercise of full political rights." In a special election that August, the amendment passed by a narrow margin, although St. Louis voters opposed it.
Jury service was the final frontier in securing women's equal political rights. It was not until 1979 that the U.S. Supreme Court, in a case originating in Missouri, held that it was unconstitutional to automatically exempt women from jury service.
As Missourians cast ballots Tuesday, we should consider the many generations of struggle that were necessary to secure women's political rights, as well as ongoing efforts to ensure equal access to the ballot for all.
Elizabeth D. Katz is an associate professor of law at Washington University and an expert on women's legal history.
Catch the latest in Opinion
Get opinion pieces, letters and editorials sent directly to your inbox weekly!