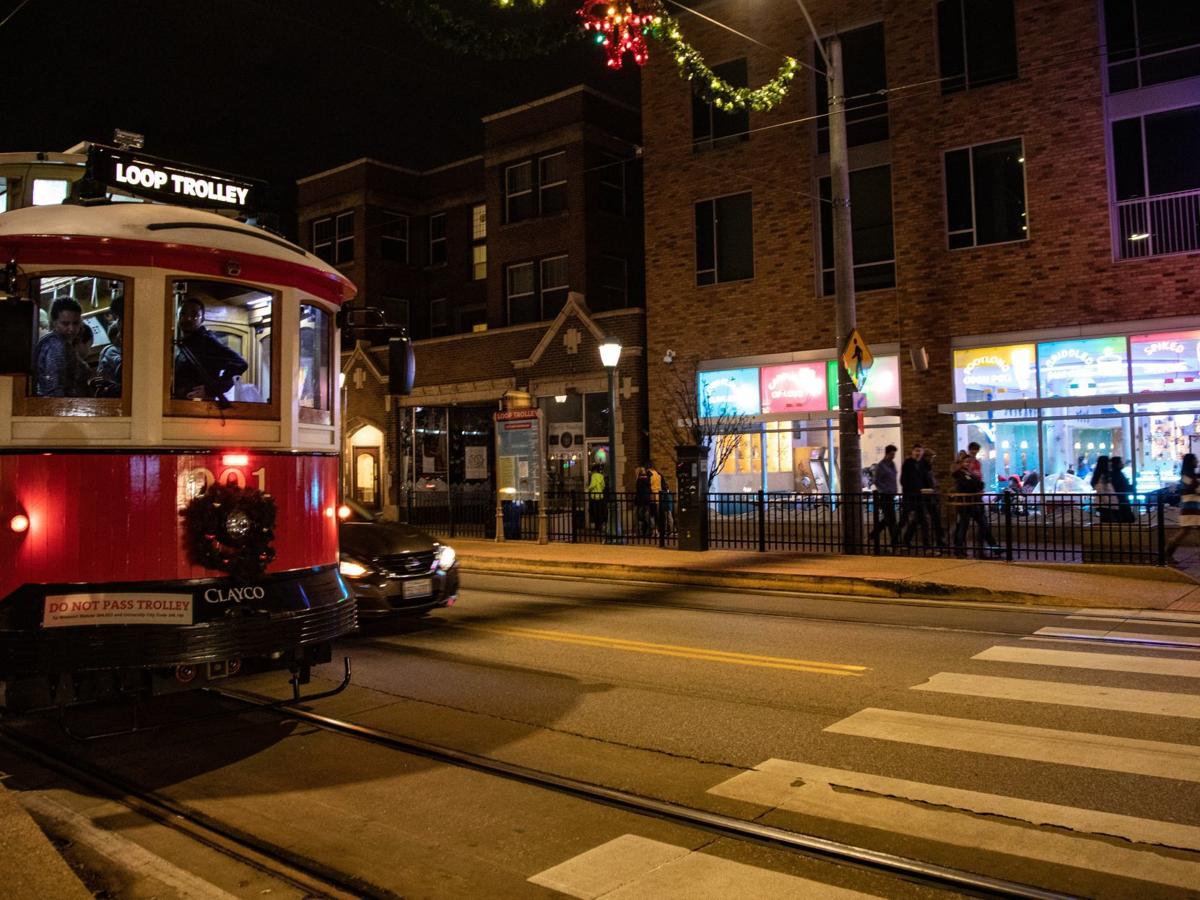 The Loop Trolley should have been built as part of a larger streetcar and transit system. The problem is not with Joe Edwards and the Loop Trolley. It is a failure of leadership and imagination in St. Louis.
Urban design and transportation planning are a disaster in the St. Louis region. It should be no surprise the results are a mess.
As soon as it was clear a major financial commitment was to be made, a study of an expanded streetcar/tram system and whether it is an effective investment for transit over the long term should have been undertaken. Now that the Loop Trolley is built, that question is still unanswered.
Joe Edwards proposed extending the Loop Trolley to downtown Clayton as well as through the northern end to Forest Park to Euclid. In 2013 The Partnership for Downtown St. Louis offered a plan to run a streetcar from downtown, past St. Louis University and Grand Center to Euclid and Washington University Medical Center.
Both proposals have historic roots. St Louis was built using streetcars and was fabulously successful with them. By the 1904 World's Fair, St. Louis had over 120 miles of streetcar lines. In 1950 there were still 65 miles of lines, and the city had a population of 856,796.
Today cities like Berlin, Amsterdam, Moscow, Vienna and Melbourne, Australia, have more than 100 miles of streetcar lines; there is a large list of cities with 20 or more miles of lines. For comparison, the New York City subway system has 665 miles of mainline track.
Streetcars don't have to be some nostalgic throwback but can be part of a vital transportation network. Low-floor tram systems with their easy-on and -off turn the city into a large open mall. Streetcar lines act as a skeleton to bind the city together. St. Louis flourished using the streetcar to support social and economic activity.
Future discussions should start with a return to the 65 miles of streetcar lines of 1950. Much of old St. Louis still offers pedestrian-friendly streetscapes. It is easy to imagine streetcars running adjacent to the new National Geospatial-Intelligence Agency site, then traveling north to form new public spaces for events and markets while reviving commercial streets like Martin Luther King Jr. Drive. It could be a strategy that renews both north and south St Louis.
Cities from around the world look for solutions by holding architectural and idea competitions. The website archdaily.com has an ever-changing list of competitions. Some are for building projects, but cities like Paris, San Francisco, Berlin and many others freely use competitions to discover creative approaches that help them deal with issues they encounter in the urban environment. St. Louis should do the same.
The late architectural historian Lewis Mumford said that "no society is fully awake … if it ignores the fact that there are many alternatives to the path it is actually following, and many conceivable and possible goals besides those which are immediately visible."
The opposite of this, a narrow, business-as-usual approach, is seen in the East-West Gateway Council of Government's recently revised "Connected 2045" future transportation plan for the St. Louis region. The council's only priority transit investments include two rapid bus extensions and the city north-south light rail extension. Approximately 65 miles of streetcar lines could be built for the price tag of that one line of light rail.
An investment priority by the year 2045 should be a joint effort by the city of St Louis and as much of the inner ring of suburbs as possible to become a car-free region by using flexible buses, streetcars or other means. Sponsoring an idea competition should reflect this goal. This means transportation has to be attractive, desirable and easy to use so that St. Louisans can leave their cars at home.
Leaders find solutions. Leaders create opportunity. A well done streetcar system would change the identity and spark the revival of St. Louis and the region. Building a sustainable, transit friendly, carbon neutral city would attract youth and new residents.
The Loop Trolley has exposed many flaws, but they are capable of being corrected. Streetcar systems are proven to be successful with proper management and a cohesive vision. The task now is to look at the Loop Trolley as part of a larger transportation network and see if St. Louis can grab the future. It is the art of city-building that is missing in St. Louis.
Greg Michaud is a Vietnam veteran who lives in south St. Louis.