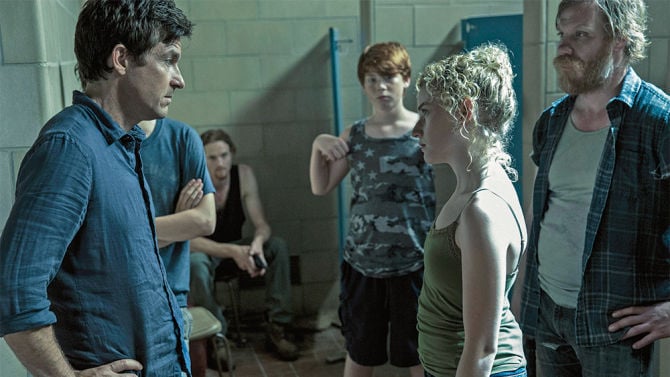 So you won't have to, I have been binge-watching "Ozark," the new Netflix mini-series that is set (supposedly) at the Lake of the Ozarks. Here's what you're missing:
Missourians are an unrelieved bunch of peckerwoods, meth-tweakers, violent criminals, petty criminals, strippers and low-lifes. The cops are bent. The FBI agent is a mope. Lake of the Ozarks is one crummy restaurant, resort, bar and tourist trap after another. It's a wonderful place to study turkey buzzards and launder money for a violent Mexican drug cartel.
The best thing about "Ozark" is that at least Missouri didn't give the producers millions in tax credits so we could be portrayed as a hellhole. In "Ozark," the role of Missouri is played by Georgia and the Lake of the Ozarks is played by Lake Allatoona in the northwest suburbs of Atlanta.
This is because Georgia gives movie producers up to a 30 percent tax credit to offset production costs. Missouri got out of the film tax credit business a few years ago when the Legislature figured out that each full-time equivalent job was costing the state about $122,000. And besides, the film tax credit people weren't nearly as generous with campaign loot as the people supporting low-income housing and historic preservation tax credits.
The last three taxpayer-subsidized films shot in Missouri were pretty good. "Gone Girl" soaked up $2.36 million in tax dollars when it shot in Cape Girardeau in 2013. The widely acclaimed low-budget "Winter's Bone" got $900,000 in tax credits when it shot in and around Forsyth in southwest Missouri in 2009. That same year, the producers of the George Clooney flick "Up in the Air" got $4.1 million for shooting in St. Louis.
But here's the thing: In "Gone Girl," Cape Girardeau stands in for the fictional "North Carthage, Mo.," where Ben Affleck and Rosamund Pike move only under duress. "Winter's Bone" was about a wretchedly poor family left bereft by the meth business. And Jason Reitman, the director of "Up in the Air," later said that he shot in St. Louis because it had lots of empty space in the airport and lots of empty office buildings.
So the state gave up $7.3 million in tax revenue because producers wanted meth cooks and abandoned buildings. At least this time it's Georgia spending tax money to make us look bad, which isn't very friendly and probably not cost-effective, either.
Last summer, when the producers of "Ozark" were poking around Lake of the Ozarks in the pre-production phase, the Springfield News-Leader found a guy who was worried that the series would "glamorize the lake, make it look more like California than it is. Realistically, there is not really any drug cartels or money laundering going on."
Of course, that's just what the money-launderers and drug cartels want you to think. Behind those California-like outlet malls, bumper-car concessions, T-shirt shops, water parks and bait stores is a giant criminal enterprise. Or not.
"Ozark" wants to be "Breaking Bad," only with money-laundering standing in for the meth business. The premise is that a fast-talking but nerdy Chicago financial planner, played by Jason Bateman, talks his way out of being killed by a drug lord his partner has been cheating by telling him he can launder his money at the Lake of the Ozarks — "more miles of coastline than California."
Imagine his surprise to learn that there aren't a lot of businesses on that coastline that already move a lot of cash. Bateman's only assets are his fast mouth and Laura Linney, his unfaithful but loyal and plucky wife. Oh, and he's got a couple of kids that he's fanatically devoted to, just like Bryan Cranston was in "Breaking Bad."
Whether you remember him from his child-actor days on "Silver Spoons" and "Little House on t…
"Ozark" comes with the requisite bare-breasted women and gruesome death scenes that people expect when they pay for cable and streaming video dramas, plus a strong family message: Laundering money for Mexican drug lords can be an excellent way for a father to bond with his 11-year-old son.
Speaking of bare-breasted women, if there's a "Party Cove" subplot in "Ozark," I haven't seen it yet, but it's hard to imagine the producers would overlook Anderson Hollow Cove, celebrated by The New York Times as the place where "boaters, drinkers and exhibitionists gather for weekends of sun-drenched, alcohol-fueled, sometimes X-rated revelry."
Bill Dubuque, who created the drama, worked at Lake of the Ozarks as a teen and still visits regularly.
"Ozark" was just renewed for a second season, so the producers are going to need more real-life scandals for inspiration. They should look up the legendary parties that state Rep. Dewey Crump used to hold aboard his 42-foot yacht back in the day, before he was sentenced to federal prison. Or, for a socially relevant environmental plotline, there was the great E. coli scare of 2009.
Sorry, that's all I've got. I used to go the lake every summer, and the people I met were nice. If it's sleazeballs the producers want, they should check out Georgia.