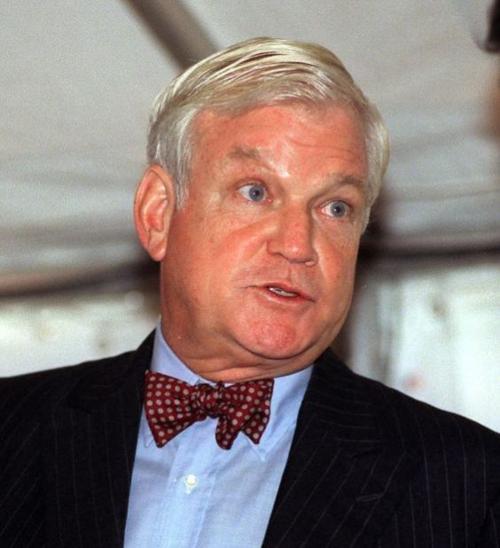 Last Saturday, in the "Deaths Elsewhere" section on Page A12, the Post-Dispatch devoted 12 column inches to an Associated Press obituary for Richard Mellon Scaife of Pittsburgh, who died July 4 at age 82.
The obituary was fine, as far as it went. It noted that Scaife was an heir to the Mellon industrial and banking fortune, the publisher of the Pittsburgh Tribune-Review and a donor to "libertarian and conservative causes and various projects to discredit President Bill Clinton."
Space and the just-the-facts-ma'am conventions of wire service journalism did not allow for the entire story. Mr. Scaife arguably was to modern American conservatism what George Washington was to his country — the first among its founding fathers.
Oh, sure. Some will argue that title belongs to William F. Buckley Jr., who founded the National Review in 1955. Others will make the case for Barry Goldwater, who turned the Republican Party hard right in 1964. Certainly the sainted Ronald Reagan, who brought morning to America in the 1980s, would be the popular favorite.
Should some tycoon someday buy a mountain and have a Mount Rushmore-Right carved into it, Buckley, Goldwater and Reagan will get three of the places. But Dickie Scaife should get Washington's slot up front. Without him, the ascendance of the modern conservative movement, the singular political story of the past four decades, would not have happened. That he did it with tax-free money that he did nothing at all to earn makes it just about perfect.
Fifteen years ago, the Washington Post published a series of articles revealing the breadth of Scaife's influence, calling him the "Funding Father of the Right." The impetus then was Scaife's role in paying for investigations into Bill and Hillary Clinton's background, including allegations that somehow they were implicated in the 1993 suicide of White House Deputy Counsel Vince Foster and drug-running out of the Mena, Ark., airport.
But by 1993, the Post reported, Scaife had been involved for more than two decades in underwriting the creation of an alternate academic, public policy and media universe. To the extent there was, as Mrs. Clinton charged in 1998, a "vast right-wing conspiracy," Scaife was paying for a lot of it.
After Goldwater's crushing defeat by Lyndon B. Johnson in the 1964 presidential campaign, a handful of Goldwater's true believers decided it was time to wage "the war of ideas."
An unidentified Scaife associate from that era told Post reporters, "We saw what the Democrats were doing and decided to do the mirror image, but do it better. In those days, you had the American Civil Liberties Union, the government-sponsored legal corporations, a strong Democratic Party with strong labor support, the Brookings Institution, the New York Times and Washington Post and all these other people on the left — and nobody on the right."
Out in California, Reagan had been tutored by corporate executives Justin Dart, who ran Rexall, and Lemuel Boulware of General Electric. Boulware got Reagan a gig hosting the GE Theater on TV and got his mind right. Reagan's campaign address for Goldwater in 1964 made him the heir apparent, though it would take 16 years to get him into the White House.
Scaife used those 16 years to create a conservative infrastructure that could put an academic patina on Reagan's beliefs. None of these ideas originated with Scaife, who twice flunked out of Yale. He later graduated from the University of Pittsburgh, where his father was chairman of the board of trustees and whose superb medical school is housed in Scaife Hall.
Scaife's role was to bankroll conservative intellectuals and ideologues. In 1999, the Post estimated he had given about $620 million to various conservative causes and institutions; that's nearly $900 million in today's money.
It's hard to remember, but once there was a world where extremist ideas weren't repackaged as mainstream by outfits like the Heritage Foundation, the American Enterprise Institute, Judicial Watch, the American Legislative Exchange Council, the Cato Institute or the Federalist Society. The people who brought us trickle-down economics and the Iraq War worked for outfits that Scaife's money helped to create.
He didn't do it by himself, but he was the easiest touch. Other rich men followed him. Once the money started to flow, academics and public policy experts followed it. It became self-perpetuating, all of it amplifying what Buckley's liberal nemesis, John Kenneth Galbraith, once said: "The modern conservative is engaged in one of man's oldest exercises in moral philosophy; that is, the search for a superior moral justification for selfishness."
Without those early Scaife-paid efforts, there might have been no Fox News, no tea party, no Sarah Palin or Ted Cruz. Without the trail Scaife cut, the Koch brothers might just be making paper towels and Rex Sinquefield might spend all his time on chess. Without the Federalist Society, whose members include four justices of the Supreme Court, there would be no corporate personhood decisions like Citizens United and Hobby Lobby.
Scaife wasn't a religious man. He had a tempestuous family life. He battled drinking problems and woman problems. He was OK with abortion. He loved newspapers, but wasn't much of a reader. He may never have read any of the dense conservative policy papers his foundations generated. He even made nice with Bill and Hillary Clinton.