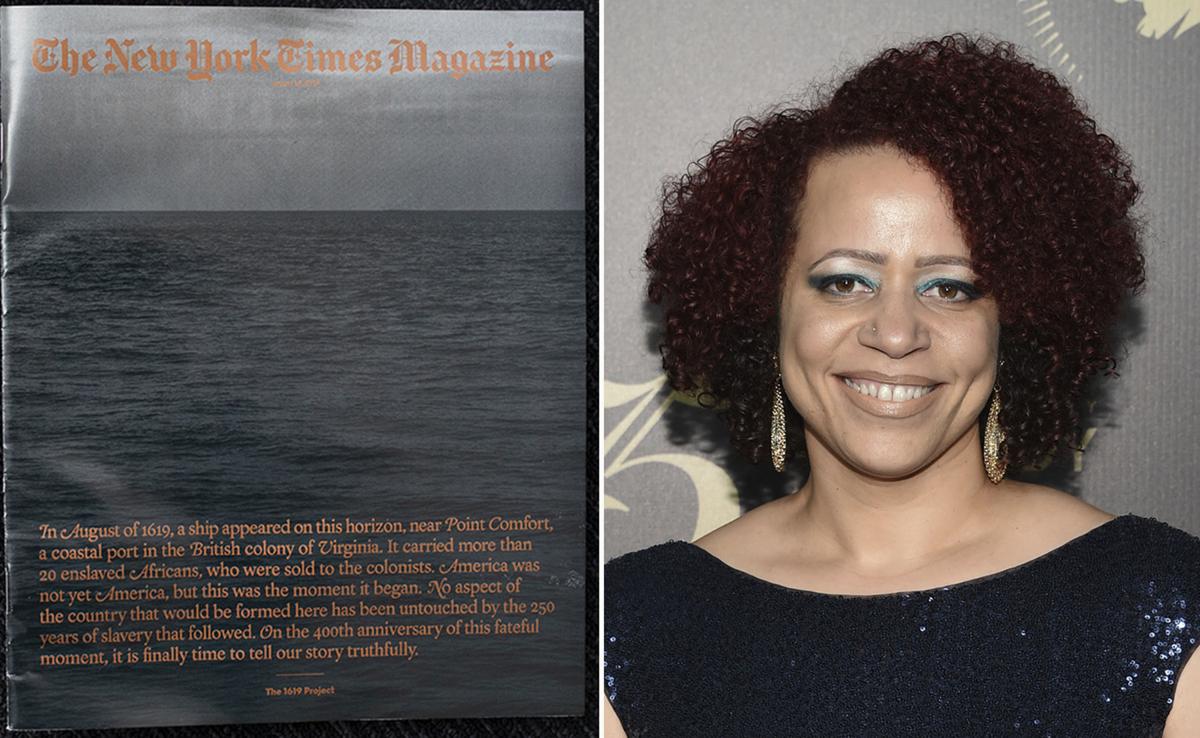 Of course Missouri wants to ban the 1619 Project. It is impossible to expect anything less of a state represented by the likes of conservative Sen. Josh Hawley and a gaggle of Republican state House members, and by the likes of those who consider themselves free-speech activists but who seek to suppress perspectives that are different from their own.
It's pathetic to have to advocate against the banning of curricula. We are witnessing modern-day book burning.
The students at University City High School and their teacher included the 1619 Project in our Advanced Placement language class in 11th grade. The 1619 Project, written by Nikole Hannah-Jones for The New York Times in August 2019, presents a look at the contribution of African Americans throughout U.S. history since they were first shackled and brought to America as enslaved people. It presents an alternative view of American history that is often whitewashed in textbooks. Our teacher included the 1619 Project in our 11th grade AP English language and composition class.
We students were not taught exclusively by it; we were not indoctrinated; but we were captivated. We examined and connected with it, criticized and scrutinized its claims, and we left our junior year of high school with a better understanding of how America feels to people whose generational histories have been left in the margins. In the fall of 12th grade, we urged the school board to include the 1619 Project in our district's curriculum, not because it brainwashed us but because we felt it was valuable.
No one in America is arguing that the 1619 Project should be the indisputable instruction our students receive on this subject, but that does not mean it shouldn't be included in discussions; teaching it does not mean it is 100%, cover-to-cover, factually indisputable. The 1619 Project is no different from any passage from a history textbook, any historic speech, or any historical documentary. It presents a viewpoint of history that can't be universally defended in the same way that traditional teaching levies bias into the minds of students. But that does not mean it is incorrect. It's appalling to many students like me that something so valuable, something so critical of traditional teaching should be banned simply because it paints an unpleasant picture of the past that still exists in today's world. The effects of slavery are not confined to the past, just as tears in the fabric of a quilt are not eliminated by sewing torn pieces back together.
For a party dedicated to preserving the constitutional rights of Americans, promoting a bill that bans a source material in classrooms seems hypocritical, unconstitutional, authoritarian and politically petty. Students aren't sheep, and lawmakers should never assume that students in classrooms absorb the information they are fed without critical analysis, questioning and discussion. This is the purpose of education.
The 1619 Project is not revisionist history. It is history. It is a collection of stories from real people about real events that often get glossed over. It provides perspectives and viewpoints that haven't been adequately heard. It is not just about slavery. It is about what our country is born from. It is about respecting emotions and viewpoints. It is about making us uncomfortable with our past and desiring to build a better future.
Students like me are sickened by the blatant constitutional infringement that Missouri House Bill 1141 presents, and I join more than 25 students at University City High School in urging state officials and lawmakers to consider their position. We demand that each lawmaker examine and critically analyze their own viewpoints as much as we did last year in the classroom. This bill needs to be exiled from the legislative floor. We understand firsthand the impact of the 1619 Project. We have seen and heard and felt the uncomfortable reactions that it evokes. But we also understand better than lawmakers that the manner in which to confront discomfort is not to ignore it or feel threatened by it.
Embrace a different perspective. Do not erase it.
Ian Feld is a senior at University City High School.