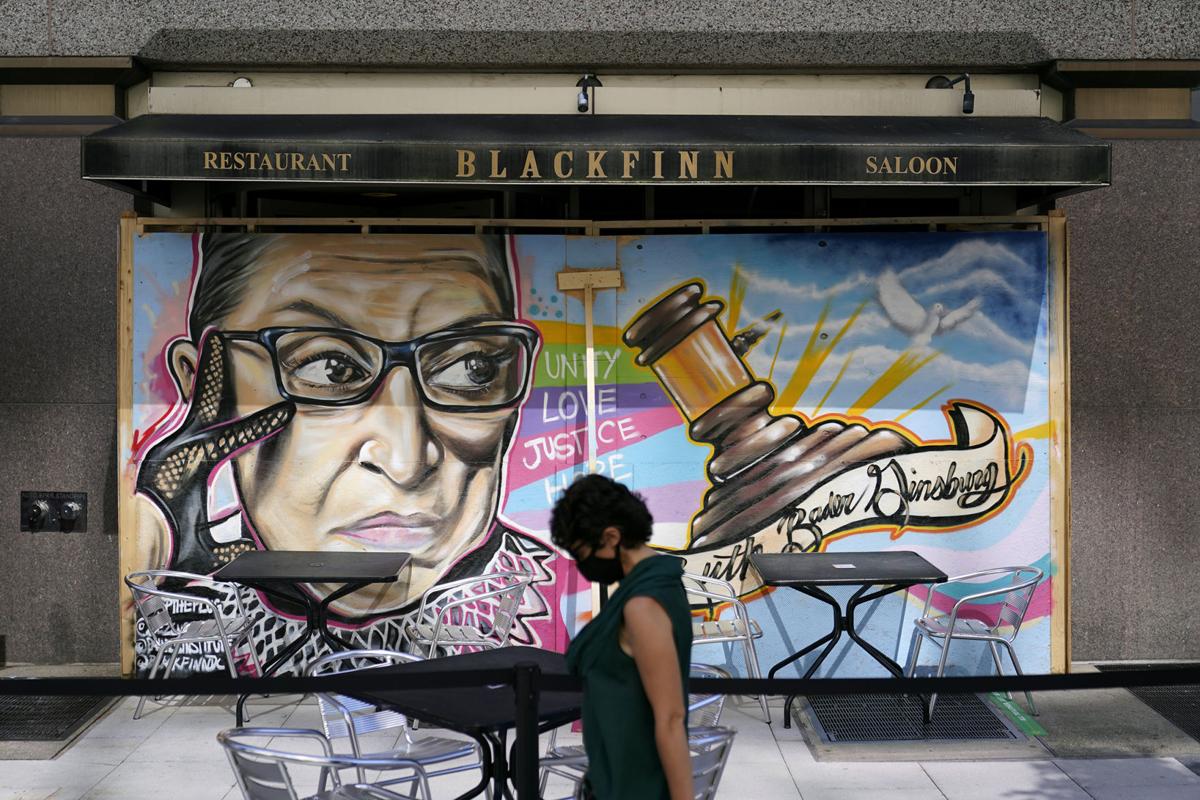 I was formulating a thought about voter suppression as it related to my Southern-born family when the special announcement came across the screen announcing the death of our revered Justice Ruth Bader Ginsburg. My heart sank because I knew this was going to add another layer to the debacle that is Election 2020. It also took me back to a time when blatant discrimination against women existed in all sorts of arenas, and abortion was not legal. Abortion: a big button-pusher for many single-issue voters to be sure. Back alley abortions. Wire hanger abortions. I remember those days.
I'd just turned 13 in 1963 when I entered Sumner High School — the first public school west of the Mississippi for Black students. Vietnam was in full-force, and John F. Kennedy would have two more months as president before he was assassinated. The city schools here were not technically integrated. In fact, the closest white student I saw at Sumner was a Black child with albinism. Black students were North, white students were South. We usually only interacted in sports competitions. Girls were required to take home economics to learn how to cook and sew, while boys got to take shop, and auto mechanics; nary the twain was switched. At Sumner, college-bound students were prohibited from taking typing classes (as if we'd never have papers to type if we got into said college), while those who had no college plans were taught "secretarial-type" skills — typing, shorthand.
All bets were off though if a girl got pregnant.
The minute a girl's baby-bump was noticeable, or some rival snitched, she was removed from her local school and transferred to a "special" school for pregnant girls. It was as if she were disappeared like a political prisoner. One day she was there, the next day she wasn't. Once the baby was born, she was not allowed to return to her former high school, the baby being obvious proof that she'd engaged in premarital sex. We rarely saw her again.
Accordingly, there was a continuous stream of girls being transferred back and forth between city high schools — mindful of racial divisions of course. Guess who wasn't punished: The boys who fathered these babies, that's who. Instead they were allowed to continue their hormonal swaths throughout the female population of the school, proudly producing pictures of their offspring.
It was common knowledge that there was a doctor with an office at the corner of Easton (now Martin Luther King Drive) and Whittier Street who would perform an abortion if a girl could get the money. I knew more than one girl who availed herself of his services without any sort of parental notice. If a girl couldn't get the money for the illegal, safer abortion with a doctor, there were always other, totally unqualified "practitioners" to be found in the back alleys of the city — people with unsterilized tools or maybe even a wire hanger.
Absent that, you could always try the old "throwing yourself down the stairs" attempt ala Gene Tierney, in "Leave Her To Heaven," or try drinking caustic chemicals.
Now, with Ginsburg gone, there is a push to quickly seat another conservative judge who believes in overturning Roe v. Wade. What's most concerning about this threat to abortion rights is the same sort of hypocrisy as what existed between boys and girls in our local high schools in the past. If right to life is voters' No. 1 issue in this election, what about the quality of that life? What about capital punishment employed against people who are already here? Once unwanted children are born, are abortion opponents prepared to feed, clothe and educate them? Or do they think the child's mother would, at the instant of the birth, suddenly regret wanting to abort the child and miraculously attain the financial wherewithal to give the child a great life?
More likely, there will be outrage that the welfare rolls have doubled and homelessness increased. If we discover that these suddenly wanted children are being abused or neglected, who among the pro-lifers will take them in and provide for them?
We've already reduced access to health care for thousands in Missouri. How many of these women have been denied prenatal care, and as a result delivered babies with serious medical or addiction problems that will torture them throughout their lives? A tough little woman named Ruth Bader Ginsberg fought for the rights of other women to own their own bodies. Think of that as you vote.
Janet Y. Jackson, a graduate of Sumner High School and Washington University, is retired from the Social Security Administration. For the past eight years she has been a docent with the St. Louis Zoo.
Catch the latest in Opinion
Get opinion pieces, letters and editorials sent directly to your inbox weekly!