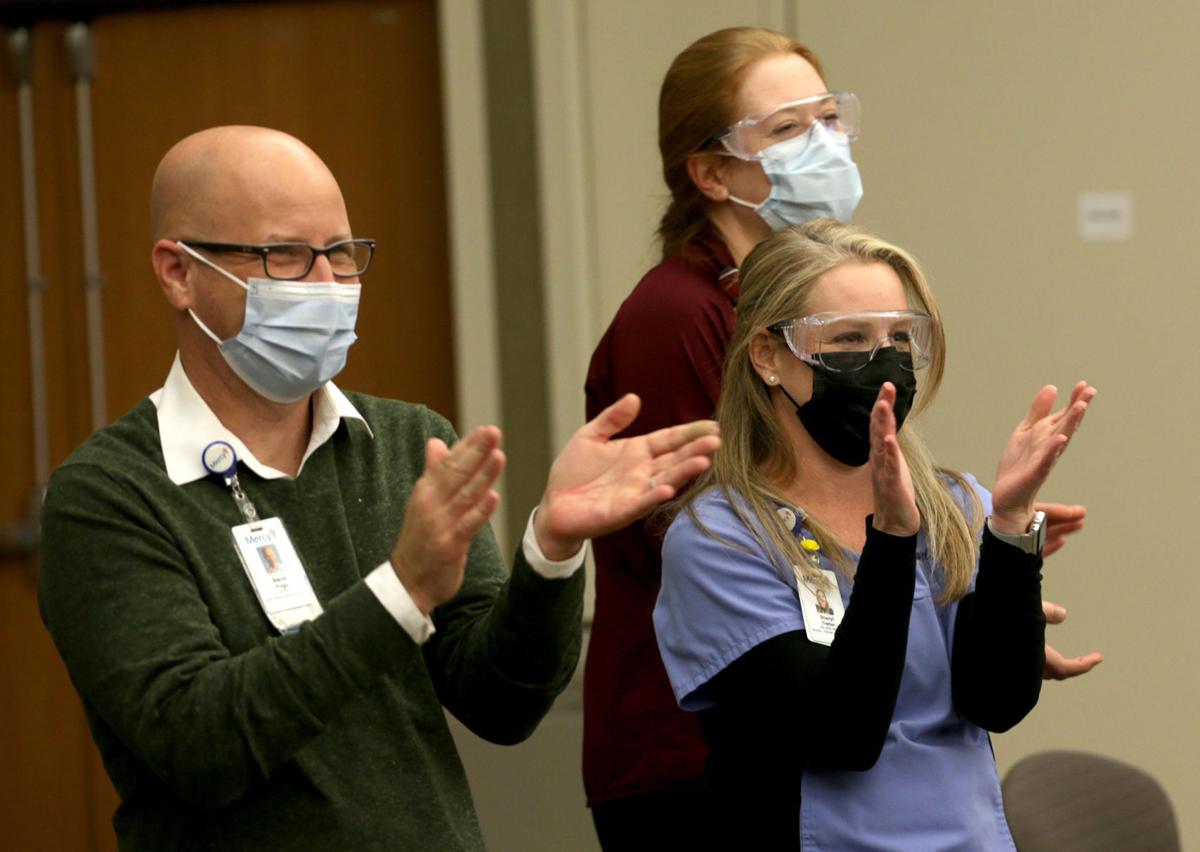 Capacity. Redeployment. Surge. These words can trigger an instant response in health care workers — their heart rate increases, stomach aches and head hurts. All of these are physical signs of what could be anxiety, a completely normal response given the asks of them during the unprecedented circumstances since the coronavirus pandemic began.
But this anxiety is not a new symptom. One study from New York in April, determined 33% of health care workers had anxiety. Here in St. Louis at our own hospital, a study of medical trainees found that 18% had anxiety, and those with direct exposure to the coronavirus had higher overall stress and burnout levels.
These instant symptoms might also be a trauma response. In that same New York study, 57% exhibited symptoms of acute stress disorder. This is particularly important given that avoidance is a trauma symptom and people might choose not to work because of feeling triggered at the site of their traumatic event (i.e. the hospital).
Before the pandemic, health care worker mental health was already suboptimal. In fact, physicians have high rates of depression and among the highest suicide rates of any profession. Studies estimate that 300 to 400 physicians die by suicide each year.
The physical response to the words — capacity, redeployment, surge — helped ready them for what their bodies already were telling them: Run.
However, that is not what health care workers do. They show up for their patients and for each other, even if the patients don't believe the coronavirus exists. They run toward danger, even if it costs them their own physical and mental health. For months now, they have been running a marathon toward flames that just keep spreading. With predicted rises in cases after the holidays and hospitals nearing capacity, many certainly feel more hopeless as rising deaths and more endless work hours seem inevitable.
Because of our jobs, we are both aware of the significant toll mental health strain and burnout can take on clinicians. We have seen the repercussions long before the pandemic and know the effect on individuals, their relationships, their teams and their families. We have also seen how it can affect patient care. With the outlook in St. Louis worsening, so will mental health outcomes. We are worried that our people cannot sustain much more. In truth, adrenaline can only carry someone so long.
In our own leadership roles, we have worked to build systems to support health care workers and make mental health resources known and available, but that still doesn't mean they use them. Medicine is a culture of stoicism, one where caring for others comes before caring for oneself. They also worry about stigma, being perceived as weak, or having to disclose mental health treatment on licensure applications. Plus, where can someone find time for therapy between coronavirus shifts and coding patients? Sometimes they just want to sleep. And who can blame them?
We can only do so much from within the system. Members of the public also play a significant role. The public can remind them that there is hope in humanity and not only in a vaccine. People don't have to call them heroes or even have to clap.
The public could start by listening again, believing the science and understanding that they are inherently good people who are not lying to hurt people or destroy their business. In their stories and not-often-displayed tears, it becomes clear they are human. Their compassion comes from a desire to save a life.
There are steps the public can take to save their lives by wearing a mask, social distancing and not gathering in groups. By decreasing the surge, the public helps health care workers' physical and mental well-being. People might even prevent redeployment and capacity from needing to be spoken at all.
We all need health care workers now and will continue to need them when this pandemic ends. Working together as a community, we might finally let them exhale.
Jessica Gold, M.D., is an assistant professor and director of wellness, engagement and outreach in the department of psychiatry at Washington University. Jenny Duncan, M.D., is an associate professor and director of wellness for graduate medical education at Washington University, Barnes Jewish Hospital and St. Louis Children's Hospital.