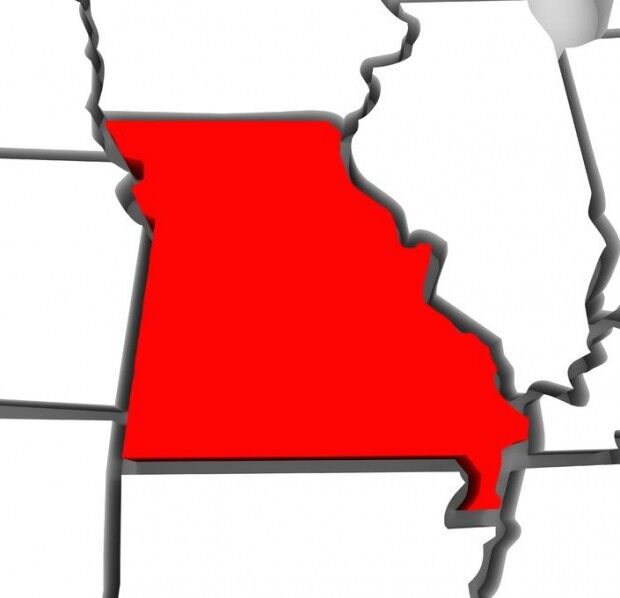 Missouri was the best bellwether state in the 20th century because, as Missouri went, so did the nation. Beginning in 1904, Missourians voted for the winner in every presidential election except in 1956, when it voted for Adlai Stevenson instead of Dwight Eisenhower.
Not only did Missourians vote for the presidential winner but often Missouri reflected the winning margin nationally. This was especially true from 1960 to 1996, when Missouri's winning percentage deviated on average from the national winning percentage by only 2.4%. In 1960, 1968, 1972, 1976, 1984 and 1996, the Missouri vote differed by only .5%, .5%, 1.4%, 1.5%, 1.8%, and 2.1% respectively.
However, since 1996 Missouri has quickly turned colors from purple to light red to dark red, conspicuously so starting in 2008 when Barack Obama easily won the presidency nationally but lost Missouri with the state deviating from the national winning percentage by 7.4%.
Since 2008, Missouri has turned a much darker red. In 2012 Missourians voted for the loser, Mitt Romney, by 9.4%, for a difference of 13.2% between Obama's national winning percentage and Romney's winning percentage in Missouri. In 2016, Donald Trump won Missouri by 18.5%, but Hillary Clinton won the popular vote nationwide by 2.1% for a whopping percentage difference of 20.6%. Unofficially, in 2020 Trump won Missouri by 15.6%, while President-elect Joe Biden won the national popular vote by 2.9% for a percentage difference of 18.5%.
When watching the election returns, what struck me was that the Missouri vote looked more like votes coming from deep red Southern states than the Midwest states. Incredibly, Missourians cast more votes for Trump (56.9%) than South Carolinians (55.1%) — yes, South Carolina! Even Mississippians only cast 2.8% more votes for Trump than Missourians, while Biden won two old Confederate states, Virginia and Georgia.
But why has Missouri turned so red? One reason is that Missouri has remained a very white state, and whites vote disproportionately Republican. While many other states have seen increases in minorities, especially Hispanics, Missouri has not. Missouri's white population in 2000 was 84.9%, while 2019 census estimates put Missouri at 82.9% white. In recent presidential elections Democrats have tailored appeals to minority voters, but there are relatively few minorities to appeal to in Missouri.
Also, an analysis of voting patterns since 1996 shows that Republicans have done a much better job than Democrats in turning out the vote, especially in rural Missouri. Republican strategist Karl Rove is largely responsible for this. He recognized in the early 2000s that Republicans could win more elections if they concentrated on turning out their base rather than trying to win "the middle" or "persuadable" Democrats. To Rove, increasing the base guaranteed a significant increase in Republican votes.
Rove's strategy worked, especially in states with large, rural Evangelical populations like Missouri. Rove's Republican strategists in Missouri recognized the potential of turning out large numbers of Evangelical voters, a natural base within the Republican Party. While Evangelicals constitute 26% of the total vote nationally, they account for 37% of the total vote in Missouri. In 2016, 83% of Missouri's Evangelicals voted for Trump, so clearly getting them to vote has been key to Republican wins in Missouri.
The increase in votes for Republican presidential candidates since Bill Clinton's 1996 win in Missouri reflects the trend toward Republican dominance. The most notable increases in votes for Republican presidential candidates occurred between 1996 and 2012. In 1996, Republican Bob Dole received 890,016 votes from Missouri voters, while in 2012 Romney received 1.48 million for an increase of 66.6%. Meanwhile, Clinton received 1.03 million votes in 1996, while Obama won 1.22 million for an increase of only 19.3%.
Recent voting statistics convey that the Democratic Party has fallen apart in Missouri. In 2016 Trump received 1.59 million votes, while Clinton received 1.07 million or astonishingly only 45,153 more votes than her husband in 1996 or only 4% more. Meanwhile, Trump's vote was 79% greater than Dole's in 1996.
Yet, in 2020 election results even worsened for Democrats. In unofficial returns, Trump received 1.59 million for a 92% vote increase over the 1996 numbers. For Biden, even though he won nationwide by about 5 million votes, only 1.24 million Missourians cast votes for him for an increase of 21% or over four times less, percentagewise, than votes cast for Trump compared to the 1996 presidential votes cast for Clinton and Dole.
Electoral behavior scholars have stressed for decades that the greatest determinant of vote choice is partisanship. That is, roughly 90% of Republicans and Democrats vote for their party's presidential candidate. The most compelling reason for explaining why Missouri has turned so red is because, since 1996, a lot more Missouri Republicans have been casting ballots than Missouri Democrats.
Kenneth F. Warren, Ph.D., is a professor of political science at St. Louis University and president of The Warren Poll.