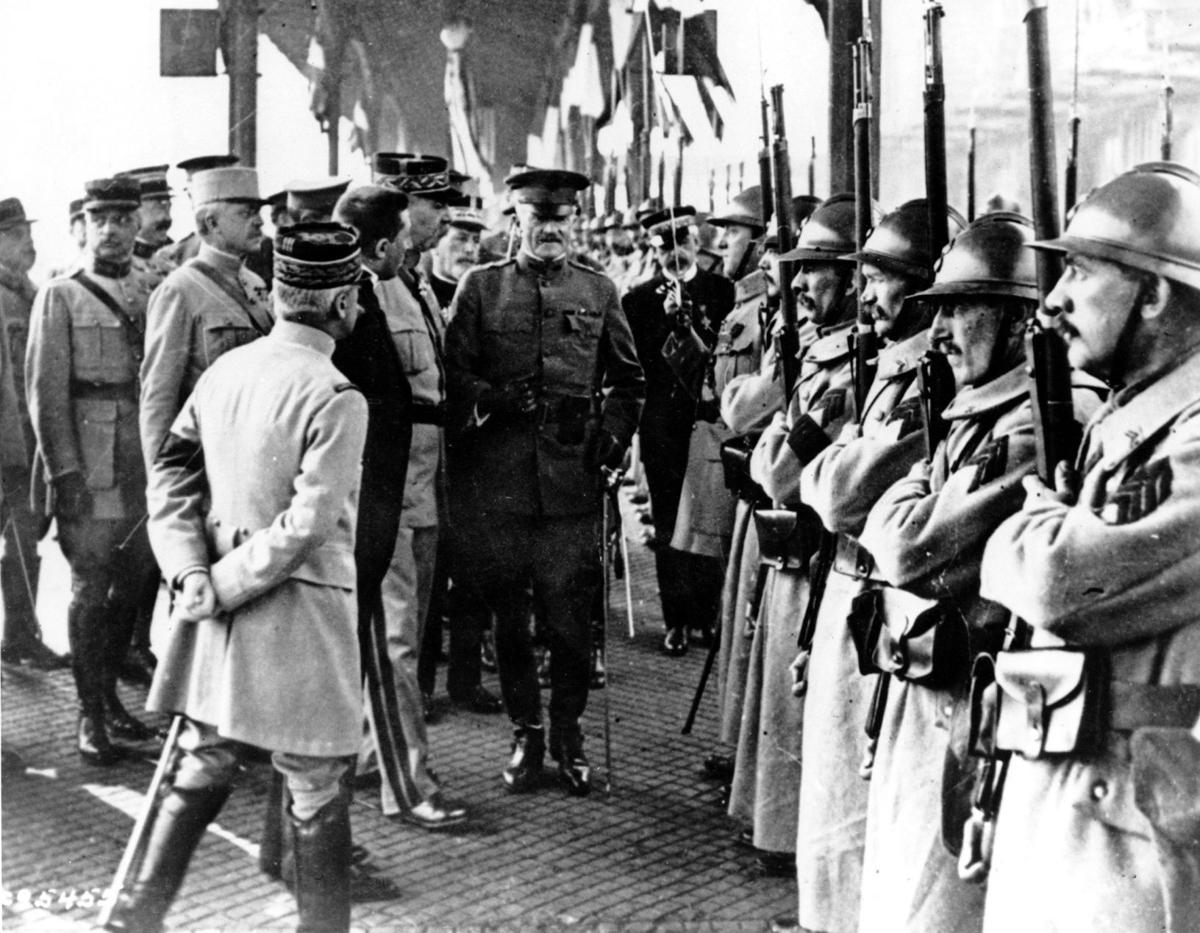 For years, President Donald Trump has told a story that is as psychologically revealing as it is historically bogus.
He approvingly recounts how U.S. Gen. John J. "Black Jack" Pershing (a Missouri native) supposedly put down a Muslim terrorist campaign in the Philippines in 1911: Pershing "took 50 men and dipped 50 bullets in pig's blood," which Islam considers impure. "And he has his men load up their rifles and he lined up the 50 people and they shot 49 of those people. And the 50th person, he said, 'You go back to your people and you tell them what happened.'"
Nothing like this occurred. Fact-checkers say it appears to be an adaptation of an anti-Muslim revenge fantasy that went around after the attacks of 9/11. But let's try to get past the shock of that — wait, Trump lied?! — and consider what this story says about the man telling it.
Trump is enthusiastically describing what today would be a war crime (albeit a fictional one) and suggesting it should be a template for fighting terrorism today. In familiar Trumpian fashion, he laces it with minute, almost cinematic details: exactly 50 bullets, exactly one Muslim spared, with the precise instructions for him to spread the word. It not only sounds made-up, but it sounds made up by a 13-year-old boy.
I thought of the pig-blood bullets last weekend, when Trump tweeted out a warning about what would happen if Iran retaliated for the U.S. killing of Iranian Gen. Qassem Soleimani: "We have targeted 52 Iranian sites (representing the 52 American hostages taken by Iran many years ago), some at a very high level & important to Iran & the Iranian culture …"
Like his imagined version of Gen. Pershing, Trump was suggesting a war crime — targeting cultural sites — with the targets chosen based on a purely symbolic, militarily irrelevant number from the unrelated Iran Hostage Crisis of 40 years ago. Since it's unlikely the number of "very high level & important" targets would just happen to come in at that magical 52, Trump presumably had to either leave some important targets off the list, or add a few grocery stores.
It's not just that military strategists don't think like this. Normal adults don't think like this.
And that's what makes any military operation under this president, including last week's showdown with Iran, more dangerous than it would otherwise be.
Presidents often get undeserved credit or blame for economic trends over which they actually have little control. But military conflicts are different. How they start and how they turn out truly can hinge on a president's decisions. Those fateful presidential decisions, in turn, can hinge largely on that president's personality.
George W. Bush had an abundance of bravado but little patience for details, which is how he bumbled us into a war that wasn't justified by the data. Conversely, Bill Clinton's disinterest in foreign policy, and Barack Obama's innate cautiousness, led to tragic failures of inaction in, respectively, Rwanda and Syria.
With Trump, though, what's at play isn't just a personality but, arguably, a personality disorder. Whether Trump technically qualifies as a clinical narcissist or even a sociopath is a question for the mental health professionals. But some of his most dangerous personality traits are beyond debate.
Trump's impulsiveness has already affected U.S. global standing — as when he suddenly announced in late 2018 he was withdrawing from Syria, shocking military leaders here and abroad and prompting Defense Secretary Jim Mattis to resign. Trump prefers chaos over cooperation, which has damaged our standing among our NATO allies, with whom he can't seem to quit squabbling. His susceptibility to personal flattery is the least-sinister explanation for his bizarre, repeated acquiescence to Russian leader Vladimir Putin.
Soleimani may or may not have been plotting imminent violence against American targets, as the administration has vaguely claimed. But the whole operation could also have been the result of another well-known aspect of Trump's personality: his tendency to be swayed by the last person he's heard from. Has anyone checked to see if Sean Hannity was hanging around?
Underlying all Trump's other troubling personality traits is an instinctive cruelty that has already poisoned our domestic politics and could prove catastrophic in a major military conflict. Trump has previously suggested targeting combatants' families, has pardoned war criminals and thinks bombing museums is a valid military strategy. That this man has unrestrained authority to launch nuclear weapons should be viewed as a global emergency.
It's telling that war appeared to have been averted last week by cooler heads — not in Washington but Tehran. Trump no doubt will declare yet another epic victory to stand alongside the election he won with an asterisk and the growing economy he inherited.
He won't dwell on the smoldering aftermath: Iraq threatening to expel U.S. troops, the fight against Islamic State put on hold, and a previously divided Iran that is now united and furious. The president who considers pig's blood to be a legitimate weapon of war shouldn't pack it away just yet.