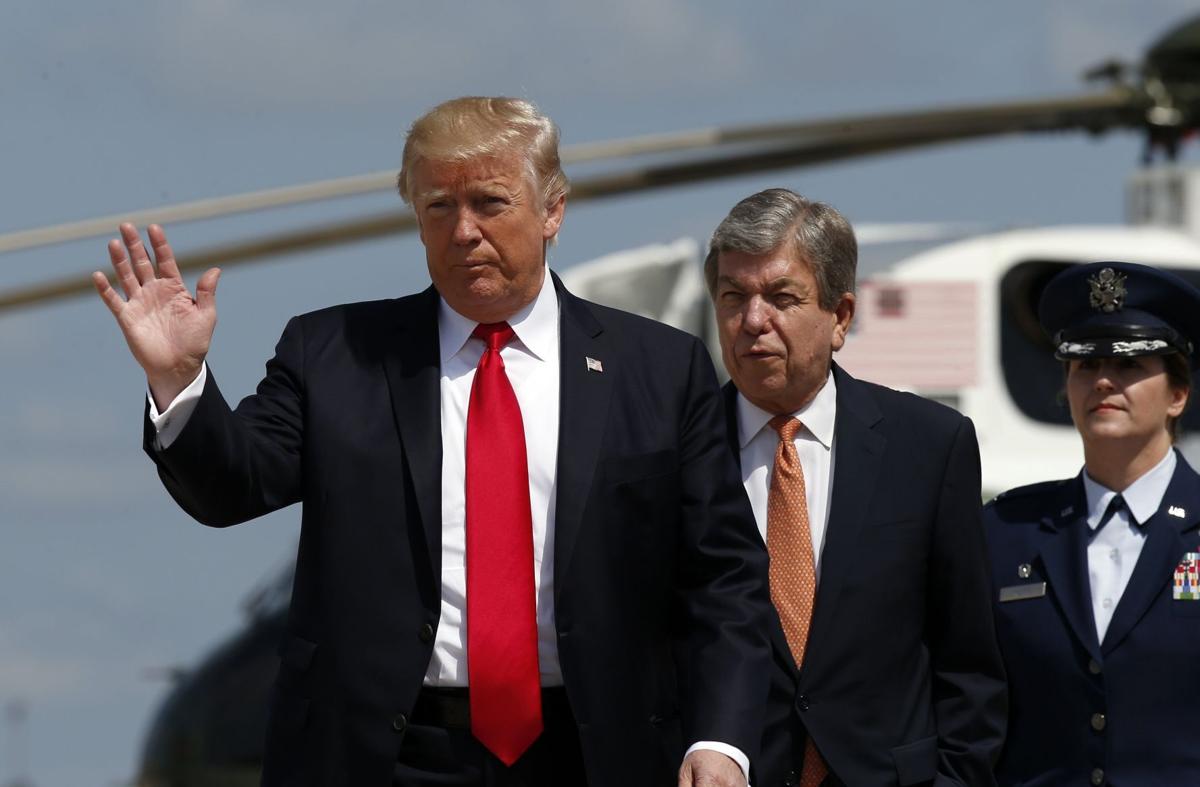 Any rational conversation about President Donald Trump's claim that he was robbed by a "rigged" election must begin with a simple statement of fact: His allegations are, and always were, not merely wrong but utterly baseless, dishonest and intentionally undermining to democracy. Trump furiously insisted he won states that he lost by five or six figures, offering no evidence beyond his now-classic Nov. 7 tweet-rant: "I WON THIS ELECTION, BY A LOT!" This was a madman howling into the wind. And all but a few congressional Republicans either howled with him or pretended not to hear the howling.
In the latter group is Sen. Roy Blunt of Missouri. The fourth-ranking senator in America, Blunt could have walked up to any microphone in sight during the past four weeks (or the past four years, for that matter) and said: Enough. This isn't who we are. I'm calling out this president before he does more damage. It would have made global headlines and, perhaps, stoked courage among other Republicans.
Or maybe it would have just ended Blunt's career. Alas, we'll never know. Blunt's public demeanor regarding Trump is opaque to the point of being sphinx-like. That demeanor didn't sharpen even as Trump blatantly tried to steal an election by openly imploring Republican state officials to just plain overrule the voters.
Post-election, Blunt has made national waves twice: After Trump's despotic tweet demanding that states "STOP THE COUNT!," Blunt said publicly that "every vote that was legally cast needs to be counted." In TrumpLand, that amounted to treason. Which may explain Blunt's subsequent olive branch: "The president wasn't defeated by huge numbers. In fact, he may not have been defeated at all." (Fact check: He was defeated. BY A LOT!)
So which is the real Roy Blunt? He has shown moments of independence before, as when, last year, he joined a handful of other Republicans to block Trump from abusing his emergency powers to build his border wall. On the other hand, the Republican-dominated Senate for four years has stubbornly defended and enabled far more abusive presidential behavior on an almost-weekly basis — with Blunt standing silently near the helm the whole time.
As with so many political questions, it's helpful to turn to Carl Bernstein. The veteran Watergate reporter dropped an explosive series of tweets last Sunday claiming that 21 GOP senators have "repeatedly expressed extreme contempt for Trump and his fitness to be POTUS," based on insiders. The senators who "have privately expressed their disdain for Trump," Bernstein wrote, are: "Portman, Alexander, Sasse, Blunt, Collins, Murkowski, Cornyn, Thune, Romney, Braun, Young, Tim Scott, Rick Scott, Rubio, Grassley, Burr, Toomey, McSally, Moran, Roberts, Shelby."
Bernstein's revelation was all about the hypocrisy. As such, it wasn't entirely fair to include Romney. The Utah senator's opposition to Trump has been very public, his lonely vote to remove him from office, historic. But the other senators on the list have offered varying degrees of public support for this deeply unfit president, while apparently acknowledging privately just how unfit he is.
True to form, most of these shapeless masses of political cowardice have offered no response to Bernstein's reporting. But Blunt has. Sort of. He answered an inquiry about it from The Kansas City Star with a two-sentence statement: "From the day I stood beside President Trump as he was sworn in as president, he and I have had a good relationship. He has worked effectively with the Senate to enact significant accomplishments as president."
Read that carefully, because it's a work of art. If Trump reads it, to the extent that he reads, he would find nothing to set off one of his autocratic rages. His base would find nothing to indicate that Blunt has any problem with their bellicose assault on democracy. And yet, if the specific question is whether Blunt has ever "privately expressed … disdain" for this disdainful president (and that is the question), notice how very carefully Blunt's statement doesn't answer it. Whatever Blunt's staff is getting paid, it's not enough.
Why bother with the tightrope act? My theory is this: The most mentally and emotionally unstable president ever to hold the office still has two months in power. It's not too late for Trump to do something that even Fox News Nation will find damning — not too late for him to decide that the best way to shift the narrative away from him being a loser is to nuke Iran, or whatever. At that point, a political survivor like Blunt would want to be able to point to some nuance in his previous support.
Missouri's Republican junior senator, Josh Hawley, presents no such nuance. Hawley will carry Trump's putrid water from here to hell, having clearly decided that cozying to Trump's base is his ticket to the White House. Blunt has been careful not to make that deal with the devil — but he hasn't tried to exorcise him, either. History will judge whether that's better, or worse.