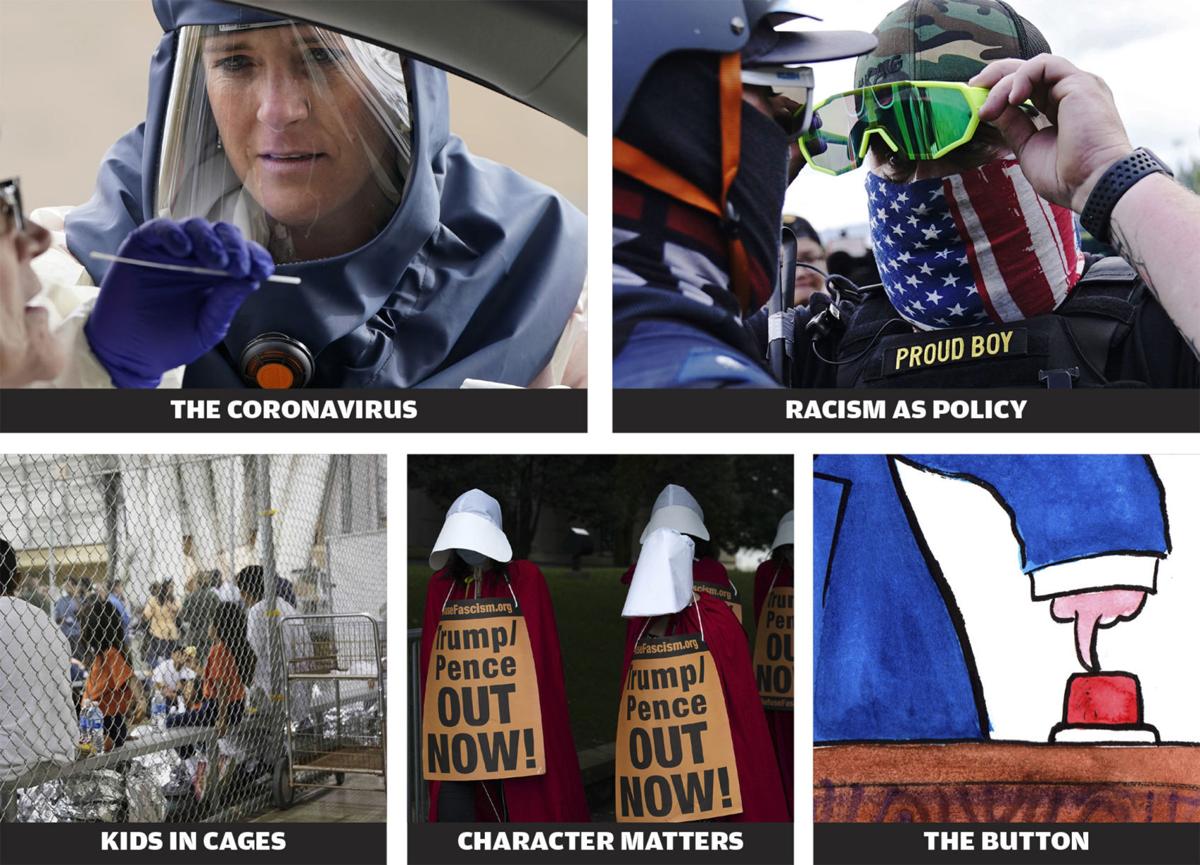 Every election that includes an incumbent is, first, a referendum on that office-holder. Tuesday's presidential contest isn't about whether Joe Biden is likely to be a perfect or even a good president — it's about whether he's likely to be a better president than the current occupant has already shown himself to be.
With that in mind, here is a final appeal to any undecided voters (to the extent those exotic creatures actually exist today), laying out just five of the many reasons it's crucial to the future of America to deny President Donald J. Trump a second term on Tuesday:
The coronavirus. Trump's catastrophic stewardship of America through the pandemic is among the most egregious failures of national leadership in our history. He may well have more blood on his hands than any peacetime president before him.
When the virus hit early this year, Trump initially offered nothing but a half-baked travel ban and wishful thinking that the virus would disappear on its own. In the ensuing months, he undermined the experts, bickered with governors and convinced much of red-state America it was all a hoax. Even now, he continues to host crowded, mostly maskless rallies.
Almost a quarter-million Americans are dead. A Columbia University study concludes it would have been well under half that many had the U.S. merely taken the basic steps that other developed countries took.
The coronavirus was going to be an epic challenge no matter what, but it didn't have to be an unmitigated disaster. Any minimally competent president of either party would have listened to the scientists, coordinated national strategies on testing and closures, and led by example on masks. Trump's bizarre refusal (or inability) to do any of these things has cost American lives. And it's not over.
Racism as policy. For four years, Trump has poked incessantly at America's deepest historical wound. He has emboldened the worst people in the country with his open sewer of barely concealed (or unconcealed) racism: Telling American-born congresswomen of color to "go back" to their home countries. Commending the "fine people" among the white-supremacist worms who slithered through Charlottesville. Denigrating Black Lives Matter while venerating the slaveholding traitors of the old Confederacy. Urging the far-right Proud Boys to "stand by."
It's more than just words. Both his Cabinet and his 200-plus judicial appointments are the whitest since the Reagan era; not one of Trump's 53 appointees to the federal appellate bench is Black. His Justice Department has all but ceased confronting voting-rights violations or police brutality. After nixing a housing anti-discrimination rule, Trump appealed to "suburban women" with: "I saved your damn neighborhood."
Former KKK leader David Duke enthusiastically endorses Trump, predicting he will "take our country back." Clearly, that effort is well underway.
Kids in cages. Shortly into his term, Trump quietly launched the most dystopian federal policy in generations: All unauthorized migrants at the southern border would be held and prosecuted rather than released with a summons. Their children would be taken, often held in fenced enclosures pending foster placement. More than 4,000 kids, including babies, were traumatized in this fashion. Many were lost in the system, their young lives in limbo because their parents committed a nonviolent misdemeanor.
No, this wasn't done under the Obama and Bush administrations; they took custody only of endangered kids, not all kids. And, no, this wasn't an unintended consequence of Trump's policy — it was the policy: to torment children as a warning to other migrants. "If they feel there will be separation," Trump explained, "they don't come." A vote for this man is a vote for the premise that the psychological torture of children is a valid tool to achieve a policy goal.
Character matters. By now, these assessments of Trump's persona should be beyond serious debate: He is deeply misogynistic, viewing women as either objects of desire or targets of derision. His self-interest outweighs any quaint notion of service to the nation, which is why he compromised the security of a U.S. ally (Ukraine) to seek a political favor. He thinks the rules don't apply to him, whether it's the constitutional prohibition against profiting from the presidency, accepting congressional oversight or paying his debts.
He lies more often, and more brazenly, than any previous president. He lacks the capacity for shame that prevents normal presidents from, for example, issuing pardons to cronies. In what is utterly unprecedented for an American president, but is common for despots everywhere, he routinely calls for jailing his political opponents. At a basic human level, there is something wrong with this man.
The button. Consider all the issues laid out above, and what they tell us about this incompetent, unstable, malicious president. Then ponder the fact that he has complete control over America's nuclear arsenal. He could launch it at any time, at any target, for any reason, or for no reason at all.
There's much more — we haven't even discussed Trump's remarkable impersonation of a Kremlin asset — but you get the idea.
If you haven't already, please vote on Tuesday.