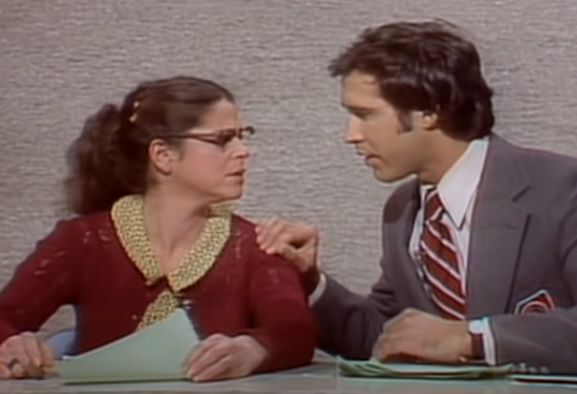 Regular Fox News viewers have recently been seeing something they're not used to seeing on the network: facts.
A short segment that has run several times is presented as a news interview with a voting-software expert, but it looks more like a legal deposition. "Have you seen any evidence that Smartmatic software was used to flip votes anywhere in the U.S. in this election?" asks an anonymous off-camera voice, referring to an election software company. A written version of the question flashes on the screen.
The expert, a bespectacled, academic-looking guy introduced as Eddie Perez, answers stiffly: "I have not seen any evidence that Smartmatic software was used to delete, change, alter anything related to vote tabulation." The disembodied voice asks if the expert knows of any connection between Smartmatic and Dominion, another election software company. The expert says he doesn't.
The interviewer then invokes the name that causes right-wing true-believers everywhere to adjust their tinfoil hats: "Have you seen any connection between George Soros and Smartmatic?" Nope, no "direct connection," says Eddie the software expert.
The strange segment — aired last weekend on the Fox shows of Lou Dobbs, Jeanine Pirro and Maria Bartiromo — starts to make sense if you know the unspoken backstory: The apparent sole purpose of the piece is to refute and correct, one by one, the lies that Fox has spread for weeks (or allowed guests to spread) regarding the Nov. 3 election.
It's as if Fox has suddenly been taken over by Emily Litella. That's Gilda Radner's elderly Saturday Night Live character from the 1970s, who would fume on and on to a TV news audience about something that had outraged her — like "youth in Asia" (euthanasia) — only to be informed that she had completely misunderstood the whole issue. At which point she would smile apologetically into the camera and croak: "Never mind."
The Fox segment has all the hallmarks of having been ordered up by the network's lawyers to lay defense groundwork for the defamation suits they fear might be coming their way. The lawyers have reason to worry.
Dominion Voting Systems is a Denver-based company that Sidney Powell, the wild-eyed former Trump campaign lawyer, has baselessly accused of "flipping" votes to steal the election from President Donald Trump. A Dominion employee last week filed a defamation suit against Powell, Trump lawyer Rudy Giuliani, the Trump campaign and the right-wing "news" networks One America News and Newsmax. Dominion security chief Eric Coomer alleges those outlets' airing of false conspiracy theories have spurred death threats against him and his family.
Fox isn't named in the suit (yet), but it has engaged in the same post-election poisoning of the national discourse as the two smaller media outlets. It could be the plaintiffs are saving the biggest trophy for last — which might explain Fox's preemptive quasi-retraction of its own coverage. Both Smartmatic and Dominion are publicly threatening Fox with litigation. Smartmatic's extensive letter alleges the network "has engaged in a concerted disinformation campaign." Which neatly sums up Fox's entire journalistic ethos.
Smartmatic had almost no involvement at all in the Nov. 3 election, except in Powell's fevered mind. She alleged last month that the London-based company was working in league with Dominion. (In reality, they have no connection.) She claims that together, Smartmatic and Dominion used election software to "flip" Trump votes to Joe Biden. (There's no indication that happened, nor could have happened.) She said Smartmatic was created to control the outcomes of elections at the behest of the late Venezuelan dictator Hugo Chavez. (Yes, Hugo Chavez.)
Powell's rantings are so crackers that even the Trump campaign — no bastion of sanity itself — ended up disavowing her. But Dobbs and his fellow Fox ringmasters provided her, Giuliani and others with microphones again and again and treated their deranged allegations as if they had substance. This is a big part of the reason a wide majority of Republicans today tell pollsters they believe an election-fraud narrative for which there is about as much evidence as the Tooth Fairy, and which makes about as much sense.
Defamation isn't easy to prove, and it shouldn't be. A vibrant free press requires room to make good-faith mistakes, which is why winning such suits requires showing not just that the statements were false, but that they were made negligently and were damaging. Dominion and Smartmatic might be deemed by a court to be public figures, meaning they'd also have to show that Fox and the rest knew, or should have known, the allegations were false. (Invoking Hugo Chavez should have been the first clue.)
Another option for the companies might be to sue for tortious interference — that is, interfering with business arrangements. Tainted "news" coverage that prompts death threats against company officials certainly seems like it could be bad for business.
Despite the high legal bar, some media experts think Fox and its imitators could be in deep financial trouble here. We can only hope. Fox's egregious undermining of trust in America's democracy for the sake of ratings should have consequences. They shouldn't be allowed to get away with just saying, never mind.