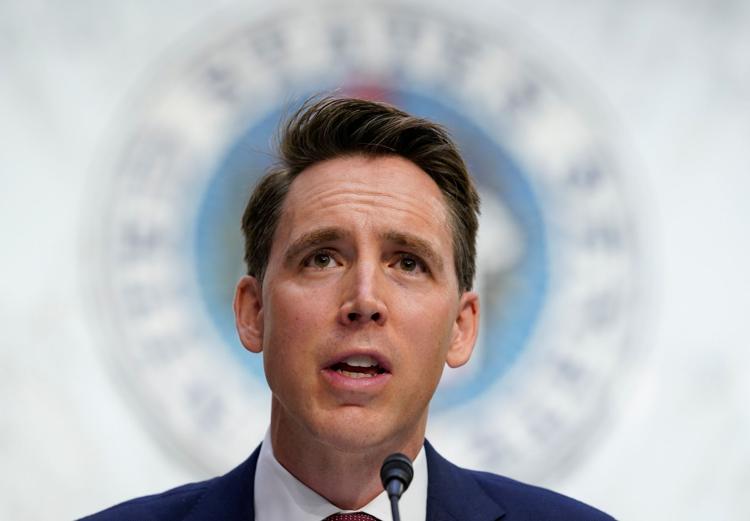 Josh Hawley on Wednesday finally answered the question of just how far he is willing to subvert democracy in his quest to inherit President Donald Trump's base. The answer is: there's no limit.
Missouri's junior Republican senator will do anything — complicate a valid presidential transition in the middle of a deadly national crisis, undermine public faith in elections, validate conspiracy theories about nonexistent voter fraud, ditch his own supposed conservative principles about federalism and states' rights. Anything. We now know, once and for all, that there is no bottom with this man.
But give him a little credit. In announcing Wednesday that he will challenge the certification of electoral votes from the states on Jan. 6, Hawley will be unintentionally performing a valuable service to America's political system. By forcing a Congressional vote, Hawley will compel his fellow Senate Republicans to confirm, for the record, where they stand: with the nation's sacred electoral system, or with Trump's corrosive lies about that system.
Hawley's announcement via Twitter tries to shrug off the significance of this affront to democracy (and to federalism) by noting that such challenges have happened in some past elections. This skirts the fact that in no past election has the sitting president and almost half the country been feverishly promoting false, toxic fraud claims that threaten to undermine our entire system of government. Playing with matches, and playing with matches while sitting on a powder keg, are two different things.
Hawley also used the announcement to decry "the unprecedented effort of mega corporations, including Facebook and Twitter, to interfere in this election, in support of Joe Biden." Translation: Trump outright lied again and again, stating as fact his allegations of mass election fraud despite the utter lack of evidence, and social media companies fact-checked him on that. And Hawley thinks they should be required to shut up and let Trump lie.
Let's start with a reality-check: Democrat Joe Biden won the Nov. 3 election by 7 million ballots and a decisive Electoral College margin. There has been no evidence or even indication that mass voter fraud, or any voter fraud, played any role.
Yet Trump, because he is Trump, immediately began claiming he won ("by a landslide!"), spinning wild tales of massive ballot dumps, vote-counting machines designed to steal the election and other nonsense that, court after court has found, simply didn't happen. Multiple recounts and unprecedented scrutiny by Republican judges and GOP election officials across America have confirmed that the most closely watched election in our history was also likely the cleanest. There is, simply, zero evidence to the contrary.
Trump (because he is Trump) will take this campaign of putrid lies to the grave, American democracy be damned, and polls indicate that way too many Republicans have bought into it. But the more responsible elements of the GOP — even that hyperpartisan granddaddy of them all, Senate Majority Leader Mitch McConnell — have started moving on, acknowledging Biden's win and shrugging off Trump's continuing histrionics.
True, a few House Republicans had already said they would challenge the states' electoral votes next week, during what is supposed to be a purely procedural, rubber-stamp process. But the House has always been home to some extremism on both sides. The Senate is, or is supposed to be, more responsible and duty-bound, less apt to jump into the populist cesspool with both feet.
Enter Hawley. A self-avowed conservative, he routinely ditches those principles whenever he can score a few populist points, whether it's demanding bigger stimulus payments to Americans regardless of need, or arguing for strict government regulation of social media companies. Or, as now, rejecting the principles of federalism so opportunistically it would make James Madison cry.
The electoral vote certification that happens next Wednesday was set by an 1887 law designed to simply confirm that the electoral ballots the states send to Congress to be counted are in fact the same ballots the states' governors have already certified. That's it. It was never intended to question the validity of ballots that the states themselves had already ruled valid.
Luckily, there's little chance the Senate will overturn the states' elections, and zero chance the House will. Hawley knows this. His point isn't to disenfranchise millions of voters, but to signal to the populist base that he's willing to disenfranchise millions of voters. He hopes they will see that as cause to put him in the White House. The rest of us should see it as cause to bar him from even visiting the place.
But, again, there's that silver lining to this cynical display: Hawley's fellow Republican senators won't be able to shuffle and mumble and wink and hint one thing to the base and another thing to everyone else, as so many of them have. They will have to declare, finally, with an up-or-down vote, which world they live in — the real world, or Trump's alternate reality of pathetic grievance, phony conspiracies and lies. Break out the popcorn.