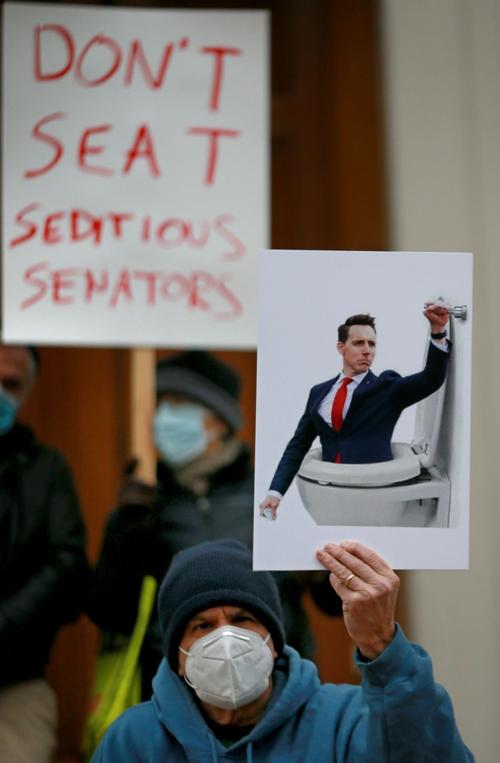 Look out, corporate America, Sen. Josh Hawley is coming for you. The Missouri Republican wants to break up Big Tech and limit mammoth corporate mergers. Yes, his motivations are punitive and partisan — punish social media companies for calling out Republican lies, punish "woke" corporations for standing up to Republican voter suppression. Even so, there are worse ideas than reining in these corporate behemoths.
So can we now expect Hawley to support other, more substantive reforms? Will he fight to reverse the Trump administration's corporate tax giveaways? And prevent corporations from dodging taxes altogether in offshore tax havens? Will he break the campaign-cash stranglehold that corporations have over Congress? And will he address the ever-widening chasm between corporate officers' pay and average workers' wages?
To give Hawley some credit: In his limited attacks on Wall Street and Silicon Valley, he has this pattern of taking the wrong path to the right place. Two recent pieces of legislation regarding corporations illustrate this.
One bill, entitled The Trust-Busting for the Twenty-First Century Act, would prohibit mergers and acquisitions by companies valued at more than $100 billion — a club that includes all the tech giants that Hawley has long vilified, but loops in many more traditional corporate goliaths as well, like Walmart, Exxon and Coca-Cola. On its face, it's a worthy suggestion. When companies become so massive that competing with them is effectively impossible, limiting such mergers is in the public interest.
But it's apparently not the public interest Hawley is interested in — it's playing to the populist mob. Here is how he tweet-explained his legislation recently: "MLB & the giant woke corporations keep telling Biden's big lie about Georgia & election integrity. They want to run this country. They've been coddled by government for too long. We need to bust them up …"
Let's translate: The state of Georgia, in the wake of President Joe Biden's victory there, is imposing new restrictions designed to hamper voting by minorities, urban dwellers and others who might vote Democratic. In response, Major League Baseball pulled the All-Star game from Atlanta, and Coca-Cola and some other big corporations have publicly criticized the restrictions. This is called free speech, which Hawley claims to cherish. Except, it seems, when it's free speech that challenges the very real specter of Republican voter suppression.
The other recent Hawley bill is entitled The Bust Up Big Tech Act, because when it comes to legislative titles, what's the point of subtlety? This one would prohibit tech companies that host search engines (Google) or virtual marketplaces (Amazon) from marketing their own products on their sites in competition with others that use the platforms. Again, not the worst idea. If you own a mall that rents space to stores, but you've also got your own store there in direct competition with your own tenants, it's not hard to see the potential for abuse.
But in describing the bill, Hawley randomly slams "woke Big Tech companies" that "censor political opinions." That's apparently a reference to his claims that social-media companies have engaged in "censorship" by blocking former President Donald Trump and others from spreading lies on their platforms. Not only are those claims silly, but they appear to have nothing to do with the bill at hand. It's like Hawley just threw some red meat in there for the MAGA crowd.
(And let's be clear on what "woke" means: It describes opposition to societal injustice. Martin Luther King Jr. was woke. Gandhi was woke. A certain religious figure who lived more than 2,000 years ago was, according to the beliefs of his religion's own followers today, woke. This is the concept at which Hawley sneers.)
Since Hawley has become so "woke" to the abuses of corporations, here are some suggestions for future legislation he could sponsor:
• The Quit Giving Away the Store to Corporate Giants Act: This would roll back the big corporate tax cut that Trump and congressional Republicans bequeathed upon corporate America in 2017, claiming it would "pay for itself" in economic growth. All it did was add $2 trillion to the deficit, to further enrich some of the richest people in America.
• The Prevent Corporations From Scurrying to Bermuda Like Rats Act: This would stop corporations from shifting their profits to tiny offshore tax havens to avoid U.S. taxes.
• The No, You Idiots, Corporations Aren't People Act: This would seek a constitutional amendment to undo the Supreme Court's boneheaded 2010 Citizens United decision that has allowed unchecked political expenditures by corporations — deeply warping politics and public policy for the past decade — on the daffy argument that corporations are people and money is speech.
• The You Unbelievably Greedy So-and-So Act: This would limit CEO compensation to its 1990 level of 60 times that of average workers' salaries — as opposed to the 300-fold that many of them make now.
Since Hawley is so attuned now to corporate abuse, will he step up on these issues? Don't hold your breath. For the most part, his anti-corporate crusade, like the rest of his populist schtick, is fake to its core. That's too bad, because someone really does need to take on the corporations.