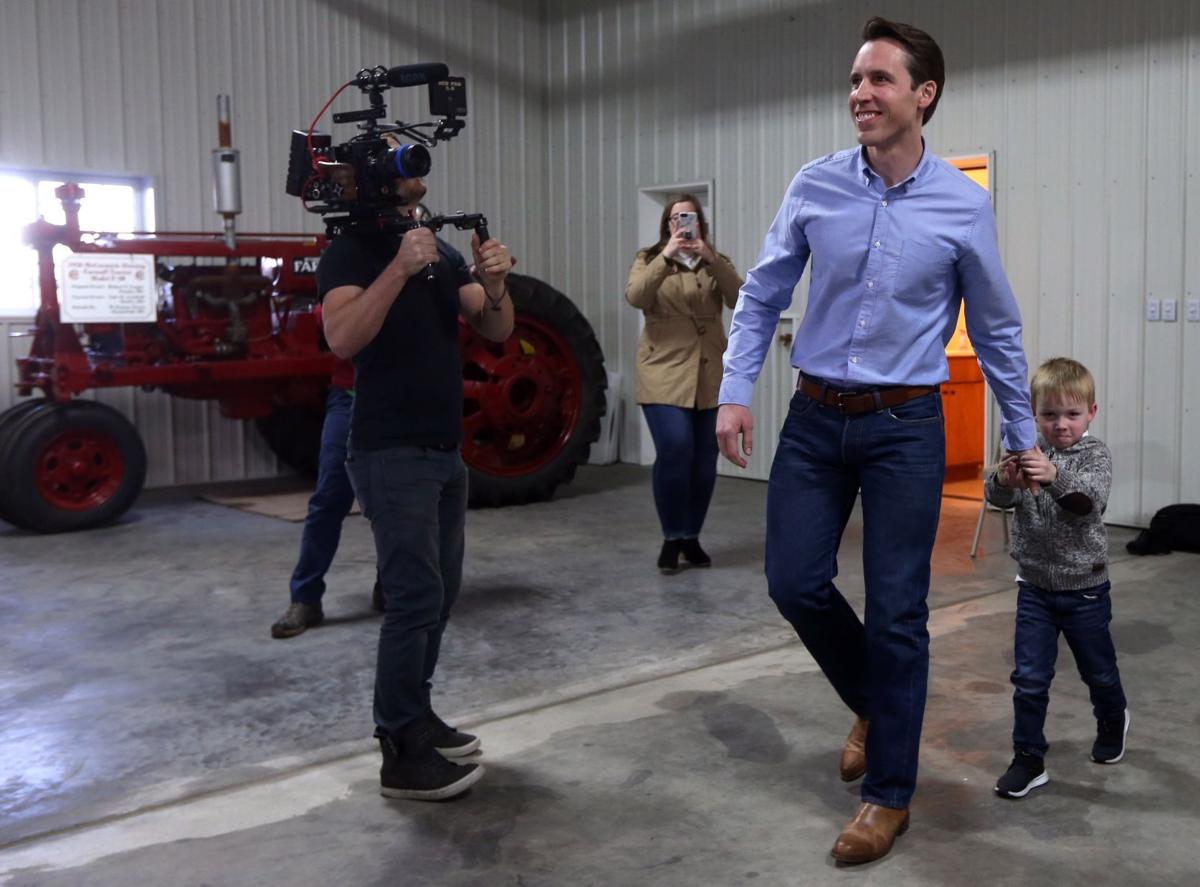 Hey, mister, put down that latte, uncross your legs and listen up: You're not being manly enough. And it's hurting America.
"The left want to define traditional masculinity as toxic," Sen. Josh Hawley bemoaned in a speech to the National Conservatism Conference in Orlando, Florida, last Sunday. "They want to define the traditional masculine virtues, things like courage and independence and assertiveness, as a danger to society."
Not to split hairs, but it's actually not courage, independence and assertiveness that have raised concerns about toxic masculinity. In the words of the comedian Amy Schumer: It's the rape.
"The problem with the left's assault on the masculine virtues," mansplained Hawley, "is that those self-same qualities, the very ones that the left now vilify as toxic and dangerous, have long been regarded as vital to self-government. Observers from the ancient Romans to our forefathers identified the manly virtues as indispensable to political liberty."
Except the one about refusing to ask for directions.
"We must seek a revival of strong and healthy manhood in America," added Missouri's epically masculine Republican junior senator. "We need the kind of men who make republics possible." Because women, as we all know, mainly just make cupcakes.
Hawley went on to ask: "Can we be surprised that after years of being told that they are the problem, that their manhood is the problem, more and more men are withdrawing in the enclave of idleness and pornography and video games?"
Hawley's comments have gotten national buzz from commentators who act like they've never heard anything so crazy. On that, I have to come to Hawley's defense: This is nowhere near the craziest thing he's ever said.
When Hawley was running for the Senate in 2018, he claimed that the Sexual Revolution of the 1960s is a root cause of human trafficking today. As Missouri attorney general, Hawley presented himself, straight-faced, as the candidate who would protect access to health care — even as he was suing to yank health care coverage from millions of Americans who rely on the Affordable Care Act.
This was the same campaign in which Hawley, a Yale-educated lawyer, tried to establish his blue-collar man-cred by donning jeans and standing among bales of hay on a utility trailer, which he kept erroneously referring to as a "flatbed truck."
Given Hawley's history of populist demagoguery, his manly-man schtick before an ideologically friendly audience of folks who wish it was still 1950 shouldn't come at all that much of a surprise. Here are some more tidbits:
• "Gillette infamously ran an ad campaign for its razors back in 2019 that included this voiceover: 'Bullying, MeToo movement against sexual harassment, toxic masculinity — is this the best a man can get?'"
So corporate America, which has for generations used its advertising to promote oppressive gender roles, is only "infamous" when it speaks out against bullying and sexual harassment? (Also: Since when is a self-proclaimed conservative in favor of politicians telling private businesses how they should market their products?)
• "Women now make up 60% of college students," Hawley noted ominously, adding: "Men, 40%." (I've checked that math, and it's correct.)
In fact, women first became a majority of American college students starting in the late 1970s. Before that, for as far back in the history of civilization as "college" or anything like it has existed as a concept, women were in the minority — for most of it, a minority of zero — despite consistently comprising half the population. But only now, apparently, is the gender gap in academia a problem.
• Hawley called for restoring manufacturing jobs "that can employ working men at living wages. I'm talking about wages that can feed a family and support a community."
Setting aside the question that anyone who didn't grow up sitting in front of a cabinet-sized radio would ask — what about working women? — does this mean Hawley supports things like a $15 federal minimum wage and expanded tax benefits for families with children?
To his credit, Hawley has actually proposed his own versions of both, against the overwhelming opposition of his own party. The best way to determine whether he's serious or that was just populist press-release fodder is to watch and see if he puts principle above partisanship and crosses party lines to support Democratic legislation on those issues. Wagers, anyone?
• "I'm not here tonight to tell you that men are victims," Hawley said, after spending about 15 minutes telling his audience exactly that. "The last thing we need more of in the United States today is the victim mindset."
This is the senator who whines that he was the victim of censorship because a publisher dropped his book after his pivotal role in the Jan. 6 Capitol riot. He's also the senator who whines that social-media companies victimize conservatives by banning Trumpian lies from their platforms.