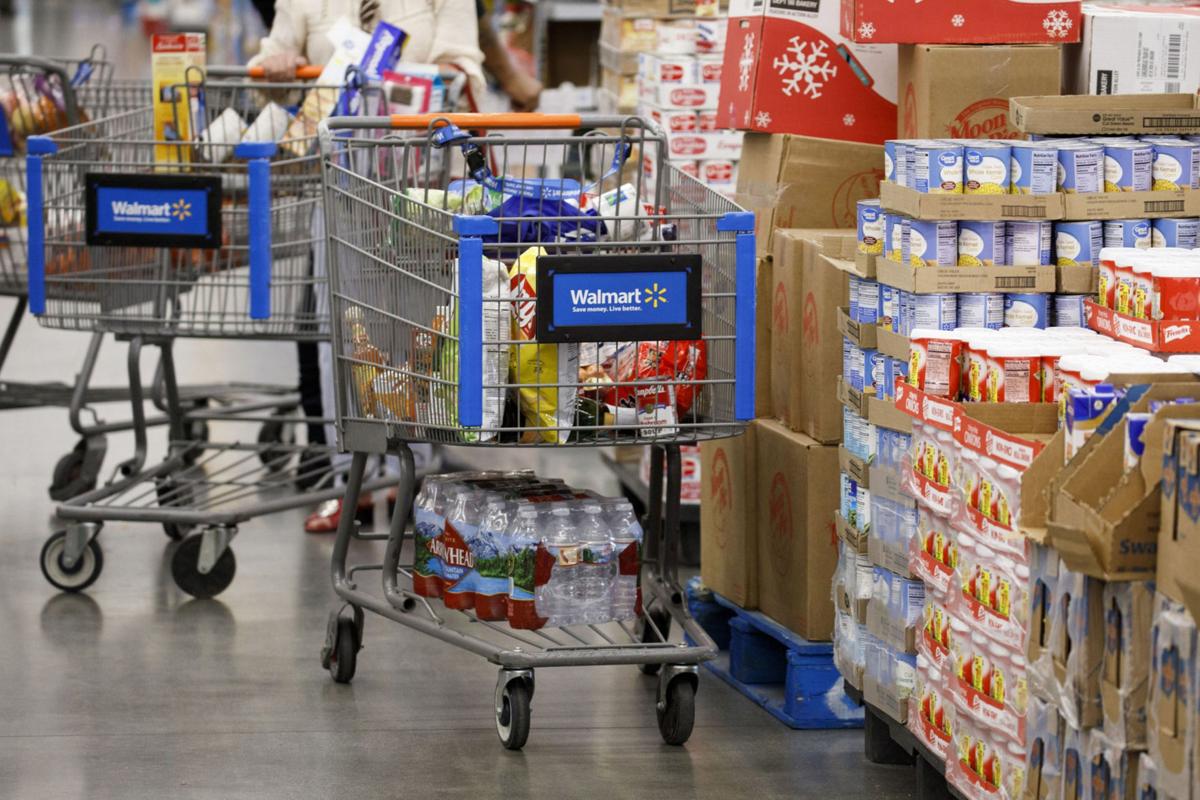 Walmart's slogan is, "Save Money. Live Better." But after its announcement last week, it might want to consider changing it to: "Save Money. Live Longer."
The big-box giant says it will stop selling handguns and ammunition for military-style weapons, and will discourage open-carry of guns in stores. It's also calling on Congress for stronger gun safety measures.
To put it mildly, Walmart isn't generally considered a socially progressive corporation. Which is what gives this announcement a certain Nixon-to-China credibility. If even Walmart, that defining icon of rural middle America, is standing up to the National Rifle Association and saying enough is enough, then the company has determined that, to a big portion of its customers — meaning, a big portion of America — enough is, indeed, enough.
The NRA, already on the ropes, issued a sputtering response dripping with desperation and empty threats. It's as if, after years of kneading congressmen like clay, they're not sure how to handle dissent from such a towering part of the private sector.
The six-sentence statement, under the heading "Walmart vs. The 2nd Amendment," is worth answering sentence by sentence:
• The strongest defense of freedom has always been our free market economy.
And with Walmart's decision here, you're seeing that free market in action. It was a month ago that a gunman killed 22 people in a Texas Walmart. That was followed by the Missouri man who strolled through a Springfield Walmart displaying his AR-style rifle and causing mass panic (but not, ludicrously enough, violating Missouri law). Events like these are known in free-market parlance as "bad for business."
• It is shameful to see Walmart succumb to the pressure of the anti-gun elites.
As already discussed, Walmart isn't what you'd call a monument to political correctness. The chain caters to a blue-collar, largely small-town customer base. The company is unlikely to do anything to antagonize that base — and yet it decided to scale back its weapons sales, lobby for gun control and ignore the NRA's bullying tactics.
Does that make you nervous, NRA? Because you sound nervous.
• Lines at Walmart will soon be replaced by lines at other retailers who are more supportive of America's fundamental freedoms.
Walmart is, by far, the largest retailer in the U.S., at more than $374 billion in sales annually. The chain's earlier moves to stop selling assault-style rifles and to raise the minimum buying age clearly haven't hurt it.
Oh, and the second-largest retailer? Kroger? It announced last week that it, too, will ask customers not to bring weapons into its stores. (NRA, you look like you're sweating.)
• The truth is Walmart's actions today will not make us any safer.
The truth is, one of the things Walmart is calling for — expanded background checks — would save lives, closing a loophole that the NRA and its congressional lap dogs have protected vociferously.
That loophole allowed the killer of seven people in west Texas last week to obtain a semi-automatic rifle. He'd earlier attempted to buy from a licensed dealer but got stopped by the background check. So he got around it by just seeking out an unlicensed dealer, as current federal law — insanely — allows.
Wash your hands all you want, NRA, it's not coming off.
• Rather than blame the criminal, Walmart has chosen to victimize law-abiding Americans.
Only in the NRA's upside-down world are the "victims" not the 30,000-plus Americans killed by firearms annually, but gun buyers who might be inconvenienced by having to show they aren't psychotic.
• Our leaders must be willing to approach the problems of crime, violence and mental health with sincerity and honesty.
Every industrialized nation in the world has crime and mental health issues similar to those in America. Yet none of them — not one — has firearms death rates anywhere near ours. Might it be because America has more guns in circulation than it has citizens?
Or maybe it's just something in our water. Right, NRA?
Walmart isn't the only crack in the NRA's armor, or course. The organization is beset by internal squabbling and financial scandal and out of step with large majorities of Americans who want reasonable gun regulations.
There are signs of political movement. In Washington, Senate Republican Leader Mitch McConnell has signaled he might be willing to, finally, entertain serious gun-safety measures, if the White House supports them (which could well be determined by which day of the week it is). Even Jefferson City Republicans are toying with possible hearings to address St. Louis' epidemic of child killings.
But in the political realm, the NRA, wielding dogma, money and its own mythology, still holds far more sway than it ever should have. Which is why what's going on in the private sector is so encouraging. Wouldn't it be ironic if, after all this, the solution to America's gun carnage comes not from the halls of government but the aisles of Walmart?