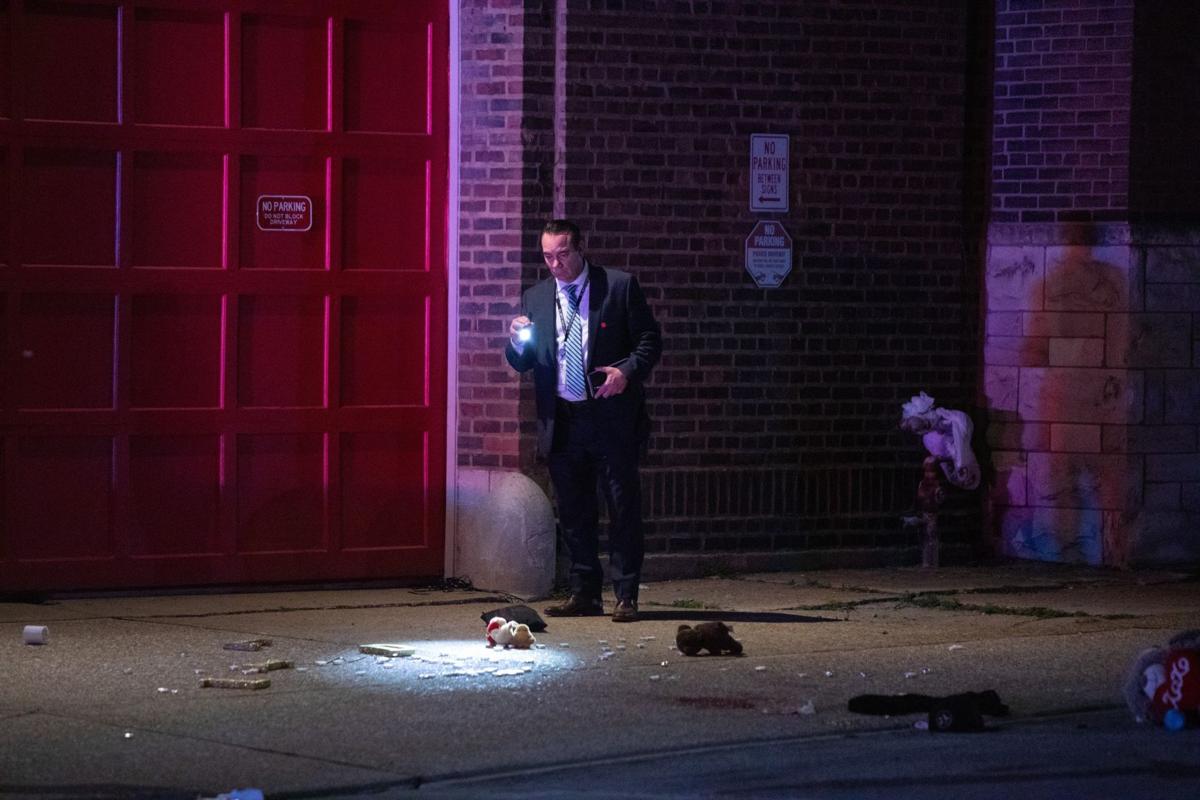 There was an unfortunate but telling juxtaposition of headlines on the Post-Dispatch's website early last week. "Man killed, three hurt in 'egregious' shootings at vigil in Downtown West neighborhood," read one. Another announced: "Social justice groups criticize Jones' plan to boost downtown St. Louis police presence."
That's Mayor Tishaura Jones, who finds herself in the crossfire, so to speak, between the "defund the police" philosophy that got her elected — and that her base still demands of her — and the reality of leading one of the most violent cities in America.
Jones was swept into office this year with the strong backing of progressive activists like her, who believe the way to address violent crime is by alleviating its root societal causes: poverty, racism, lack of education, lack of opportunity.
There's no doubt that those factors are, in fact, at the root of violent crime. Anyone who believes criminals are born rather than made must also believe it's mere coincidence that today, as throughout history, the most impoverished areas just happen to be the most crime-ridden, with no cause-and-effect there. If you believe that, I have a big steel arch to sell you.
Another pillar of belief among Jones and her base supporters is that traditional police culture is so rife with racism, so prone to abuse its power when interacting with people of color, that communities are better off with fewer cops.
While most Americans — including most of us who consider ourselves liberals — don't fully embrace that belief, it isn't baseless. The whole country watched last year as George Floyd's life ebbed away under the knee of a Minneapolis cop, the crescendo of a pattern of horrific police killings of Black men in recent years that winds through Baltimore, Cleveland, New York, Chicago and, of course, Ferguson. Anyone who says there's no racism problem in America's police culture should also get in line for that arch sale.
But the fact that Black citizens are disproportionately victimized by police violence (and they are) shouldn't obscure the fact that they are also the primary victims of violent crime in general. Arch City Defenders, one of the social-justice groups criticizing Jones for sending more cops downtown, has documented 179 deaths, the majority of them Black, in police custody or in jails in the St. Louis region between 2009 and 2019. That's an average of about 18 police-involved deaths per year, which is appalling. But St. Louis city has logged more than 140 homicides so far this year alone. And 130 of those victims were Black.
Most violent crime doesn't happen in a vacuum. When general chaos is allowed to reign, as it has downtown all summer, it provides an environment for tragedies like last week's quadruple shooting at a Downtown West vigil for still another homicide victim.
In that light, Jones' plan to rotate in 30 additional officers to patrol downtown on weekends in response to the mayhem there isn't a threat to Black residents, but a lifeline. Though you wouldn't know that from the statement put out last week by a coalition of social-justice groups.
The statement said that "doubling down on increased policing endangers vulnerable St. Louisans instead of keeping our communities safe." It noted that the organizations have been supportive of Jones' initial moves to shift money away from police staffing and toward things like affordable housing and victim support services, but bemoaned that the addition of cops downtown "is not in line with a transformative approach to public safety."
This feels a little like chiding firemen for turning their hoses on a burning building, insisting they should instead be pondering the root causes of the fire.
Philosophical purity untethered to messy reality is a luxury that activists can afford, but sitting mayors generally can't. Not long ago, Jones herself might have been expected to be an author of that kind of activist statement, instead of its target. But she has by no means turned her back on their core beliefs. She's not hiring new cops, for example (even though the strong case can be made that new hires are needed), but is just increasing police visibility in a crime hot spot in order to cool it down. That's not some betrayal of progressivism; it's common sense.
To those on the left who are upset about it: What would you have her do? Seriously. When a city's people — poor people, Black people, children — are being effectively terrorized by criminals, mayors don't get to shrug it off as a symptom of long-term societal illness that will be cured over time with "a transformative approach to public safety." People are scared, now, and they expect their political leaders to do something about it.
Jones deserves credit for having the guts to look past her base, to her city. If posting more cops downtown turns out to be merely a stopgap measure to stanch the blood until society can address the underlying issues that drive the violence — good. Great. But in the meantime, just ignoring the bleeding in the here-and-now isn't an option.